By Gary Wien
originally published: 01/26/2012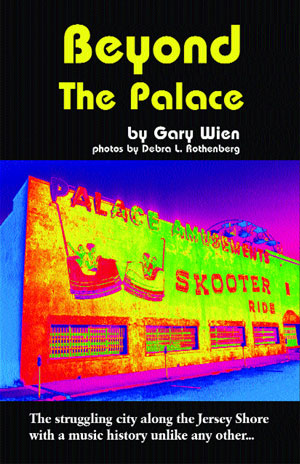 Well of Souls was a band on the verge of success for many years.  They won the East Coast Rocker "Unsigned Band Contest" in 1989, had a radio hit with the song "No More Rain" and spent countless nights in New York City showcasing in front of music industry people, but never managed to get signed to a record deal.
The band was formed by Tom Kanach, a talented songwriter and electrifying live performer.  Joined later on by John Pfeiffer, the two paired up to take Well of Souls as far as it would go before continuing on as the band Grimace and then Lustre.  I spoke to Tom Kanach via phone about this great punk rock band and to find out what he's been up to lately.
When did Well of Souls first get together?

Well, I was in a band called Mischief until 1987 and then Well of Souls started in '87 or '88.  There were a couple of different lineups but the first  lineup, the "No More Rain" period, was a bunch of younger guys that were just 19 or 20 who I recruited to play with me.  They played my songs my way, but after a while I wanted to play with guys that were a little bit better musically.  As a result I had to give up that authoritarian control.  So the "Whisper" time period was more of a band.
How would you describe Well of Souls?

I thought that we were like a bunch of punk guys trying to play pop music.  My big influence was the Beatles.  I really liked that and that was what I was trying to write like. But I wanted to play it a little more aggressively... like aggressive pop.  That's what I listened to and to me I wanted to play fast, edgy Beatles songs.  During the "Killing Frost" time period, I was trying to create the masterpiece.  That was almost put together like a concept album.
I'm proud of all of it.  I know this sounds arrogant, but I consider myself a great undiscovered songwriter.  I mean, people hear the stuff that I do now and say "Wow, this is great! Why aren't you signed?"
How close did Well of Souls get to a deal?

We went to New York, had a manager and had real photographers take pictures of us.  We used to showcase at places like CBs, we played at the Limelight, we played in Philly and Hoboken a lot.  At one point in time, right as the Parrot started to end and the lineup in Well of Souls changed, we were playing in New York, Philadelphia and then playing around here in between shows to build up a fan base.  We won the East Coast Rocker "Unsigned Band Contest", I think it was in 1989, at the Stone Pony.  Then we played at the Cat Club in New York City in front of all industry people. 
---
The article continues after this ad
---
---
I remember one point of time when I was in a building in New York City with a woman who was the lawyer for Elvis Presley's estate.  We were there with a guy that was pseudo managing us at the time and a couple of other people.  I could see Central Park all laid out behind her as she said, "You're gonna have to make a decision which guys in the band you're gonna get rid of because this guy's this way and this guy's that way." And she was basically telling me to get rid of my friends.  I remember thinking to myself that I probably don't have that killer instinct to go to the next level.  And yet music is who I am.  I write music, I write songs, I spent a year recording an album called Undertoe and it was all me done at home.
We had a production deal with Jack Ponti who is a Toms River producer.  We did a bunch of stuff with him and Dennis Birk.  There was a falling out with those guys and we went through some legal hassles to get out of our production deal with them.  That legal stuff killed us.  
Do you ever plan on releasing your new stuff? Maybe as an independent record?

I've thought about it.  People have asked me about it.  There's a publishing company in New York that's been trying to get me to do something with this stuff.  I would like to, but at the same time, I'm very happy with my life.  I'm married with four children all under the age of four.  At night, I come up here and put my ideas down.  It's a part of me.  It probably will always be a definition of who I am.  I'm a musician and a songwriter, but while I liked the rock star stuff on stage there was a lot of other parts I didn't like.  It got to the point for me in the Parrot days where girls would be willing to sleep with me just based on what I was doing on stage.  They wanted me to be that intense singer person 24-hours a day and I couldn't do it.  I couldn't be that everyday.  When I was on stage it was no problem, but I couldn't live in that world all of the time.  It was just too intense.
Where did Well of Souls play?

Around that time period we played the Brighton Bar in Long Branch, J.P. Trolley Stop in Red Bank, which was booking original bands for a while back then, the Fast Lane, the Green Parrot, the Pony, the Court Tavern in New Brunswick.  We played a lot of colleges like Kean College and universities in upstate New York.  The band had a regular college thing that we would string together.  We'd leave on a Thursday and come back on a Sunday and just try to play as much as possible, try to get our CDs in the local stores and get some college airplay.
Right around the time that the Parrot went down we were doing really well in terms of draw.  We opened up for people like Julian Cope, Live, Big Country... a lot of those types of bands that were headliners for smaller clubs on their national tours.
We played Christmas break at the Stone Pony one night and opened for Live.  I remember being on the stage, the Pony was packed and the fire marshall came and closed the door.  No one else could go in.  We were the band playing directly before Live.  Here I am on stage and girls were screaming and grabbing my legs and they were singing my lyrics back to me. It was cool.  I loved it!  I think the Green Parrot and WHTG and all of the talent in the area sort of all bubbled up to the top at the same time.
What do you remember about the Green Parrot?

I remember there was a lot of shenanigans and wackiness going on.  I had a great time as a single guy around 25-26.  I was the singer in a band.  I had long hair... It definitely helped me to appreciate being married by getting all of that out of my system!
One of the things I really liked about that time period and what I thought was important was how everybody went out to see everybody else.  It was more of a scene.  There was a number of good bands who went out and saw the other bands and got along relatively well.  That really helped it.  As a band, we played a little bit different.  We weren't as polished or as commercial as some of the bands, but on stage I'd do the big dramatic things like pouring water on my hair, dropping my guitar and jumping around.  I had a lot of psychopathic girls fall in love with me from that.
What was the worst thing about that period of time for you?

It was draining... I had a lot of girlfriends at the time and all at once.  It was sort of difficult not to lose yourself in that world because it's not real. I would work as a waiter when I needed to, but the rest of the time I would just goof off and live with girls or off of band money.  I did whatever I could get away with.  It was a really great, free lifestyle and I loved it, but I was very frustrated by the fact that I thought we were really great and we couldn't take that next step.  I was actually told from somebody at a record company once that "you're from New Jersey, so we're not interested."
It was frustrating because I think for a long time we hated the Bon Jovi's and the Springsteens of the the world simply because people had a pre-conceived notion of what a New Jersey band was and that was it.  I always thought it was really cool that you could go to the Brighton Bar on a week night and see three completely different bands that were all fundamentally very good bands.
The other thing was that I had been in clubs since I was 16 and I got tired of it.  I was never a big drinker and I saw friends go through problems and die from drinking or drugs.  It didn't lend itself to a lot of stability.
When did you first start out playing?

The first place I ever played was in Asbury Park in '81-82 at a place called Garp's back when I was in Mischief.  It was a go-go bar and we played in between dancer sets.  It was funny because the girls would try to dance to our music and they kept coming over to complain that we were playing too fast and tiring them out.  They were all skanky, biker go-go dancers.  The place had fights every night.  There were knife fights and all these Harley Davidson's parked outside.  It was a very dark and seedy place.  It was located around the corner from the Fast Lane.  I think it became a Mexican restaurant. 
Joe DeLorenzo (later of the Blases) was in the band as well.  We started when we were 16.  I was in that band for seven years before Well of Souls.  So, by the time that band ended I instantly had a ton of material which the other band wasn't playing.  That's where songs like "No More Rain" and others came from.
Well of Souls eventually changed their name to Grimace.

Grimace was the same lineup as Well of Souls.  The President of Virgin Records sent us a fax saying he really loved our stuff and that my songwriting reminded him of Elvis Costello meets Kurt Cobain.  He wanted to sit down and have a private showcase with us in New York City.  Then our manager got into trouble and we were there through him because he set it up, and that was it.  It went away and we changed our name to Grimace to disassociate ourselves.
How long did Grimace play?

We played for about a year and a half.  We had another legal deal that we were in and it got to be really prohibitive in terms that the producer wanted to change what we were doing.  He was trying to make it as commercial as possible.  We were artists and we didn't want to do that.  So, that ended and then the drummer left and the bass player left.  I wound up taking some time off.
We sort of petered out in '95.  I continued writing the whole time and I played with the guitarist John Pfeiffer in a band called Lustre.  We did a CD that we basically gave out to our friends.  There was a song called "Isn't She Pretty" which was a finalist for the TV show "Ed" for their first season-ending show. 
They were looking for a specific song and we wound up in the top three.  We got all the way to the end and they picked a different song.  They said, "Your song's really good, but we went with this song because it's a known artist."
Did you ever have a song publishing deal?

I've had pseudo publishing deals with guys who didn't have any money to give me, never with a really big company.  But we're dealing with somebody in New York now that has a real company.
We're actually getting ready to put the band back together and start playing sometime this summer.  It's all new material that we've been recording in my home studio.
What are your plans with getting the band back together?

Just to play a few shows.  I've been writing all along, I have a ton of new material.  I write about 50-60 songs a year and I always have.  I'll throw them into my home studio on the computer and meet with John Pfeiffer and we pick the ones we like and play them.
What will the band be called?

I don't know.  There's a band in Chicago called Well of Souls.  It's an industrial metal band and they have a website and some other stuff.  So, we're not really sure.  I used to own the name for a long time.  We were incorporated and a whole bunch of stuff.  We tried to be businesslike back then, I guess.
How would you like people to remember Well of Souls?

If somebody remembered them I think it would be good.  I think we were a really good band.  I thought at the time that we were a little ahead of ourselves in terms of what happened afterwards.  People were saying after Nirvana came out that our old stuff sounded like Nirvana, although I don't necessarily agree.  It was just a fun period of time and I don't know if it will ever happen again around here.  It seemed liked everything happened - the radio station and the club - at the right time.
---
From the book Beyond The Palace by Gary Wien
---
---
Gary Wien has been covering the arts since 2001 and has had work published with Jersey Arts, Elmore Magazine, Princeton Magazine, Backstreets and other publications. He is a three-time winner of the Asbury Music Award for Top Music Journalist and the author of Beyond the Palace (the first book on the history of rock and roll in Asbury Park) and Are You Listening? The Top 100 Albums of 2001-2010 by New Jersey Artists. In addition, he runs New Jersey Stage and the online radio station The Penguin Rocks. He can be contacted at gary@newjerseystage.com.
---