By Gary Wien
originally published: 01/26/2012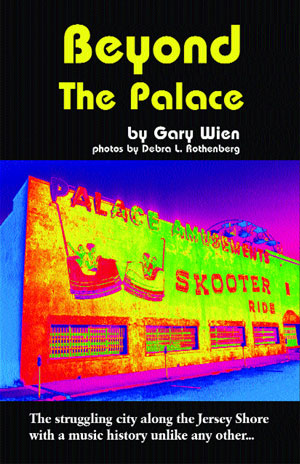 The Outcry started playing the clubs in the early 90s at a time when the Asbury Park scene was in trouble.  But the band certainly made the most of their opportunities.  They had regular gigs at the Fastlane and the Stone Pony as well as clubs in Long Branch and musicians like Bruce Springsteen and Brian Setzer jammed with them.
Fans came to see them wherever they played.  The were named the "Best Unsigned Band" by readers of East Coast Rocker.  In 1995, the Outcry independently released their first record called Wentworth.  They released a follow up three years later called This Side Of Anywhere which received great reviews and was picked up by the major label Eureka Records and contained the hit "On and On."
Jon Leidersdorff, the band's drummer, had begun writing his own material and wanted a larger place in the band's set.  Ultimately, this led to the end of Outcry and to the creation of Blowup, which features the songwriting and lead singing of Leidersdorff.  The band has released several records independently and is attracting major label interest and significant radio airplay as well. 
I caught up with Jon Leidersdorff for a phone interview to talk about his new band Blowup and his memories of the Outcry.
When did the Outcry get started?

Well, the singer and I were playing together when we were 12 in various different bands.  The bass player came when we were 14, the original bass player.  We went through different bass players along the way.  Rob, the bass player for Mr. Reality and now Highway 9, was with us for a bunch of years.  We had another bass player, Jerry Stanick, who was popping around here.
The Outcry really got going when the scene around the Shore was pretty much dying.

It was dying.  It was very much dead but we were doing really well because we were playing a lot and we had steady nights.  We played at the Stone Pony and started off when I was 17 or 18 playing every Wednesday night with Bobby Bandiera.  We played all the time.  That's all we did.  We did every Wednesday at the Pony with him and then when he stopped playing we took the night over.  The Pony shut down and we went to the Fastlane and played the Fastlane every week.
---
The article continues after this ad
---
---
Then the new Pony opened up with Steve Nassar and we went back and did every Thursday at the Pony.  We were also doing every Sunday at Cheers in Long Branch.  So we had two steady nights.  We did really well.  We also played Cafe Bar and Tradewinds on the weekends.
Outcry had a huge fanbase.  Was your mailing list in the thousands?

At least... Probably more than that.  We would play the Pony and have 700 people some nights there.
The band took some shots at unsigned band contests in New York and Philly.

Yeah, we did all kinds.  We won the first one for the Discmakers competition and ended up 2nd overall on the east coast.  We had an independent record deal through a major label too.  We ended up signing a deal with a label called Eureka which was a Polygram subsidiary.  Eureka bought our 2nd CD which was called This Side of Anywhere.
We put two independents out by ourself and other things that were small like cassette only before CDs became popular.  We put out a couple of cassettes.  One was a live DAT recording and another was a 4-songer.  We actually put a record out in 1989 called Legend.  That was when I was 18 years old.  There were two other guys playing with us then, a keyboard player and a guitar player.
What do you remember about those early shows along the Shore?

I remember going to see Bobby Bandiera play and just thinking that he was amazing.  I remember we had a night where we played at Cheers in Long Branch and Bruce Springsteen played with us.  He came up and we did an entire set with him on the fly which was really neat.  I mean, I was young and he was amazing.
I grew up in Freehold Boro and went to the same high schools that Bruce went to.  We used to go to his shows at Giants Stadium and I covered his songs when I was 14.  It was an original band but we played covers too.
Are there any other Outcry shows that really stand out for you?

There's a lot of them.  Brian Setzer came and played with us one night which was great.  We were playing at the Cafe Bar in Long Branch and we were just about to close.  Brian Setzer was in town to play one of those WNEW things on the beach.  He heard about the band and came over.  They locked up the doors and we played a full set with him.  It was neat.  Outcry used to open up shows for the band Verve Pipe before they had their deal.  We got put on before them at Michigan State University for a college show there once.
There were so many shows.  There was a show that we opened up for the Spin Doctors at Lehigh University and they didn't make it.  The Spin Doctors were late and we wound up playing for 3 1/2 hours.
Who would you say were some of the influences of Outcry?

I think different guys were influenced by different artists.  I know my singer was a huge U2 and INXS fan.  My guitar player was a huge Pat Methany fan.  The bass player was... I don't even know what the hell he was listening to! He was studying bass so much back then.  But everyone was influenced by different music.  We would just get together and play every day.
How difficult was it for the band when you were kind of on the verge of breaking for a couple of years but never quite made it over that hurdle to take it to the next level?

It was very difficult.  We felt that we were mismanaged.  Some crucial mistakes were made.  We probably could have had a lot more success if we had some better decisions made.
Did you feel that the local radio stations like WHTG or WRAT helped support the band?

WHTG didn't support our band much at all.  They played one of our songs for a while but WRAT was very supportive.  As soon as they opened we approached them and they played our independent release before Eureka picked it up.  And they played it a lot.  They were a radio station that really supported us.  It was a great thing.  We would be touring around the country and call them up in the morning and they'd put us on the air.  We'd tell them about all of the crazy things that were going on.  We charted at rock radio in the trade publications.  I think we went as high as #31 for "On and On."
What ultimately led the band to call it quits? Was it a group decision?

Well, I don't think that we ever made a conscious decision to call it quits.  I had started writing on my own and singing on my own and the guys in Outcry didn't want me to sing for the band.  So, I started doing my own band and I think me taking my energy out of one and putting it into the other affected the whole equation.  
Did you always want to be the singer?

No, what happened is that I just wanted to always do it and if you're not the singer and you're not the writer then you're at the mercy of other people.  I think I needed to be self-reliant.  I needed to always be creative.  And I couldn't.  And I would get frustrated having to have other guys.
How difficult is it for a band around here to make it doing originals?

Umm... I think the area does not lend itself to support original music but there's so many people in the area still trying to do it.  There's some real talent in this area. There's no great college music scene which I think is one detriment.  There's no indie radio station.  There's not a hub.  There's no independent record labels except for Indian down at Gig Records.  There should be an Asbury Park Records.  Think about the independent record stores... there's not many here.
Blowup already has four CDs out.  You're quite a prolific writer, do you try to write every day?

It depends where I am at in my life.  There were times where I was trying to write every day and times where I'm not.  But I do try to stay creative every day.
What are your plans for the new CD? Are you shopping it around to record companies?

We're interested in more opportunities, definitely.  It's going well, there's a lot of interest.  There's a bunch of radio stations playing the new record.
Do you think the scene will be different without the Tradewinds?

Well, I don't know.  I think what's going to change it is the fact that Asbury's changing and the perception of Asbury is changing.  Harry's Roadhouse is doing so well that people are coming to Asbury Park.  So, when people start coming to Asbury the Pony can get some of that business.  They really need that energy. 
The perception of the Pony is that it's an old man's club.  There's not a lot of young people that are going to go there.  I think it's just in a transitional phase.  It could change again with a couple of good artists coming out of this area and with the clubs refocusing on creating an identity.  A new identity... an evolved identity.  It's a possibility.
What would you like people to remember about the Outcry?

Just that there were a lot of great songs.  That there was a band that was writing their own stuff and not compromising, working hard and playing so much - creating a scene.  And there was a scene.  You'd go to see us Sunday night at Cheers and it would be packed.  You could see us on a Wednesday night at a big club like the Fastlane or a Thursday night at the Pony and there would be a good crowd there as well.  There was a great scene and a lot of people were part of that and remember that.
The most important thing was it was a way of life.  It was a great way of life for us to be creating music and doing it full time.  There's more than one music scene.  There's the popular music scene that everybody knows because it's out there and it's popular.  Then there's the music scene of people who are in this way of life.  People make a decision to be in it or not to be in it.  I'm one of those people that made the decision to stay.  It's not about the money for us.
So you're ready to stick it out? There's no timeline in mind.

There's no timeline.  This is what I do.  It doesn't mean that I'm going to die if I don't get the success from the entire world.  I feel successful now when a person like yourself says to me that you like the music and you're enjoying it.  I mean, I enjoy making it.  The process for me is very fulfilling.  It's been a vehicle to help me evolve.
I started off being in a band and by being in Outcry I learned how to arrange and cover.  I'm a session drummer too.  I make money as a session drummer playing on a lot of records on major labels right now.  From being with Outcry, I learned how to play the drums.  I took lessons and from the band itself we started playing with other people and listened to music together.  The band members changed and I evolved and became a good enough drummer that I could make a living as a studio drummer now.  That was a great process and as I evolved musically I grew in every other way.  My whole psyche changed.  It's really given me a lot to make the transition from being a drummer to a songwriter and a singer and a frontman.  I've learned a lot again.
When you evolve you may have enjoyed a period of your life but you don't ever want to be lesser you want to keep growing.  Were there mistakes made? Yes.  Could we have had more success? Yes, but I'm very happy to be where I am now and I wouldn't be where I am now if I didn't go through with this story and this process.  I'm very happy.  I have a tremendous band.  The guys are great players and they're great guys.  And the guys in Outcry are still great friends.
Is there anything that you miss from your days in the Outcry?

I miss that I was playing so often and that I could play so much but I think that's going to happen to me again.  Like when I went on tour with Blowup and we played 12 shows in 2 weeks in the UK.  That was just a great moment for me.  I'd love to have a record and be able to tour the country and the world 300 nights a year!
---
From the book Beyond The Palace by Gary Wien
---
---
Gary Wien has been covering the arts since 2001 and has had work published with Jersey Arts, Elmore Magazine, Princeton Magazine, Backstreets and other publications. He is a three-time winner of the Asbury Music Award for Top Music Journalist and the author of Beyond the Palace (the first book on the history of rock and roll in Asbury Park) and Are You Listening? The Top 100 Albums of 2001-2010 by New Jersey Artists. In addition, he runs New Jersey Stage and the online radio station The Penguin Rocks. He can be contacted at gary@newjerseystage.com.
---