By Gary Wien
originally published: 01/26/2012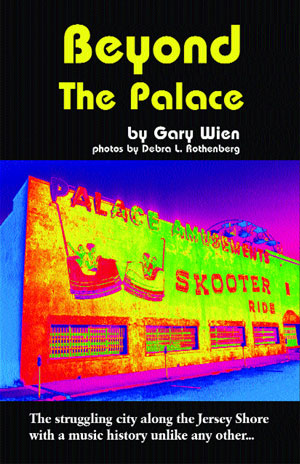 When and how did you first join the Jukes?
I joined the Jukes in 1980.  What happened was that the tour player, Stan Harrison, had decided to leave the band and do something else so I got called to do an audition. 
Did you leave after the live album Reach Up And Touch The Sky to join Gary U.S. Bonds for a while?
Yeah, because Southside broke up the band for a while at the end of 1980.  He had decided to pursue a soap opera acting career, believe it or not.  The band actually appeared on "All My Children" for a couple of episodes.  So, he went out to California and was staying out there for a while and trying to do that.  He came back about 3-4 months into 1981.  By then, the Jukes horn section had been asked to play on Gary U.S. Bonds Dedication album. They asked the Jukes' horns to play on that record and we played on two cuts, but only one of them was released.
Basically after that they had the Jukes' horn section and they needed a tenor player.  And from what I understood at that point Southside had broken up the band.  He didn't say he was gonna put it back together again.  So, I was asked to join Gary U.S. Bonds' band and I did.  I worked for him for around four years from 1981-1984.  Then in the beginning of 1985, the tenor player who had taken my place in the Jukes (Frank Elmo) got the offer to go in Julian Lennon's band and Southside gave me a call and asked me if I wanted to come back.  And I said yes.  I went back in the beginning of 1985 and I've been with him since.
Did you ever imagine being in a band so long?
---
The article continues after this ad
---
---
Umm... I didn't think so, but I've enjoyed the band so much.  He works and then he takes some time off.  And when he takes time off I work with Bobby Bandiera, who keeps some of the rhythm section together.  He has me and Muddy who play in the Jukes and Joe Belia on drums who used to be with the Jukes.  So, it's almost like the Jukes band without Southside and a few other people.  And I still do gigs with Gary Bonds whenever they don't overlap and I can do a gig with him I do. 
The Jukes are going on 30-35 years now.  Why do you think the band can keep going?
Well, because we have a good underground following, especially in Europe.  We go to Europe and we can sell out.  We went there last year, the year before and we're going again this year.  The thing is that in Europe we sell a lot more records.  Even when we came out with the Better Days album we had songs on the charts over there.  So, we've had enough hit records in Europe to just keep the band going.  And we have enough of a following through the East Coast and through part of the West Coast and, of course, Cleveland, which is our biggest center.
Speaking of Europe, what was Jukestock like? Lots of Juke fans from Europe made the trek to see you guys.
Oh, Jukestock was really nice.  We had a great time with that.  I know the fans want it to happen again.  We got to mingle with the fans because we stayed at the hotel for about three days or so.  We'd walk around and have breakfast with them, sign things, we were able to be a little more personal with them and that made a difference.
And I heard that Southside kind of gave you a little push to get your record, Family Tree, done in time?
Yeah, it was amazing because he was over at the house when I told him I was doing my own CD.  He said, "Let me hear it." So, I brought him to my studio and put it on.  He said, "Man, I really like this stuff.  How many songs do you have?" I said ten.  He said, "If you can get it together in time you can sell it at Jukestock."
I didn't think I'd have it ready, but I got it finished just in time.  That's one thing about Southside he'll let you sell your products too, he doesn't have a big ego about that.  Anything to help anybody in the band individually, like selling our records or promoting our stuff he's like go ahead and do it. 
You've been with the band for a while now, have you noticed a difference with the shows nowadays?
The people seem to like the new songs a lot because a lot more of them are coming from Southside and what he really likes to do as opposed to what the record company tells him to do or somebody else's songs.   I mean, the Jukes have been based around Little Steven and his songs but these last two CDs were what Southside wanted to do.  He was in complete control of it for the first time ever and the audience really liked that.  They liked that he decided to do a blues album because they were telling him to do one for a long time.  He's really having more fun like this.
One thing that has always changed is the band's lineup through the years.  How crazy is it to have so many musicians come and go? The Jukes are like a Jersey institution...
Yeah it is, but the good thing about that and one of the reasons why Southside does the changes is to keep it fresh.  It's like if some guy starts getting bored or whatever and they don't give him 100% on stage then it's time for them to go.  He's let a lot of musicians go like that.  So, making the changes keeps everything fresh and it keeps everything fresh for him, which means he has more fun with the whole thing.  If we had all the same players all of the time and they were just going through the motions and not getting into the music, it would be a drag for all of us.  We bring fresh blood into the band and the songs become a little bit different, we feel a little bit different and everyone gets excited again.
Southside is into it more now, I think, than ever before.  Especially since he's been doing his own music and just completely taking control of the band.  He's mellowed out a lot and he's just having a lot more fun.  I've seen him change from the times in 1980 when things were spinning all around.  He's calmed down and seems to enjoy things more now.
You're from New York City, did the Asbury Park history mean anything to you before you joined the band?
I was not really aware of what was going on with that until 1980 when I finally joined the Jukes.  Then I got the whole history of everything.  That's when I started learning about what was going on here and I started playing in the Jersey places.  Before that it was all New York.
Speaking of Jersey places, is it still special for you to play the Pony?
It's special to play there because of its history.  It's the history of the Jukes and Bruce Springsteen.  It's just been the history of the New Jersey sound. This was the center.  So, it's a special place and it will always be a special place.  Especially to the fans in Europe where they were like, "We can't let the Stone Pony go down." And they came over here and tried to get the officials to save it and Tillie.
Do you almost get the feeling that they care more about it over in Europe than people around here do?
I think they do actually because they feel a part of the history too.  It's almost like bigger than life to them because they didn't experience it but they've heard so much about it that it's just grand to them.  They really don't want to see it go down.  It's just that whole history.  It's more like a museum to them.
In addition to playing with the Jukes, you're also a regular member of Bobby Bandiera's Band. How are those shows different from Jukes shows?
I love playing with Bobby, he's great.  It's just a smaller level of it because Bobby has the fans too and his fans really like the music.  But when you're playing a club it's still a club.  It's still playing two or three sets and it's the most fun for a band to play that doesn't have records.  It's nowhere near what a show is with the Jukes because the Jukes play a 2 1/2 to 3 hour show and it's a lot more intense.  The show with the Jukes are on a bigger stage with a light show and a sound man, it's a whole production. I guess the difference is in the way it's produced and the size of the audience.
Does it ever surprise you that Bobby kind of shies away from taking that leap?
Yeah, it does.  I'm not quite sure why he's like that.  Whether he likes to take the easier seat and just work with Southside and not be bothered with it or what exactly is going on with it completely.  But he does shy away from it.  He takes it to a degree, but he's also not a real businessman.  It seems like he doesn't want to get a good businessman because I've said that to him.  "Why don't you get someone to take charge of your career?" And he's like nah.
I guess for whatever reason he feels more comfortable working with Southside.  He's been approached by people who could really do something for him and he just doesn't take it up.  Musicians, in general, are not good businessmen.  We're just not.
If you were writing a bio on the band, how would you describe Southside Johnny & the Jukes?
It's the same thing that a lot of people say, I think it's the best big-time bar band in the world.  I really do.  A lot of people love us for that because we don't just go ahead and play the huge shows.  Southside, personally, likes the smaller situations where he can make better contact with the audience.  He likes to feel the response of the audience on a closer, more personal level.  And because of that he really likes more of the places that might only hold 1,000-2,000 people as opposed to doing the places that hold 10,000-20,000.  He likes the smaller audiences. 
That seems to be the big thing with him and that's why the Jukes are called one of the best bar bands going because he wants to feel the audience... to look into their eyes and get the direct reactions from them.  He really enjoys that.
---
From the book Beyond The Palace by Gary Wien
---
---
Gary Wien has been covering the arts since 2001 and has had work published with Jersey Arts, Elmore Magazine, Princeton Magazine, Backstreets and other publications. He is a three-time winner of the Asbury Music Award for Top Music Journalist and the author of Beyond the Palace (the first book on the history of rock and roll in Asbury Park) and Are You Listening? The Top 100 Albums of 2001-2010 by New Jersey Artists. In addition, he runs New Jersey Stage and the online radio station The Penguin Rocks. He can be contacted at gary@newjerseystage.com.
---