By Gary Wien
originally published: 01/26/2012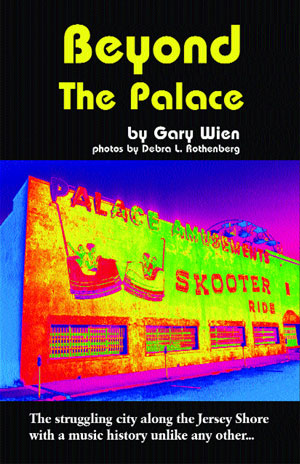 Every good music scene needs that one person who goes out of their way to support up-and-coming bands, in Asbury Park that person is Scott Stamper.  In the eighties, he was responsible for booking the bands at T-Birds Cafe, an intimate venue located on Main Street.  After that club closed, he opened up the Saint and continued to provide new talent with a great place to play.
T-Birds Cafe was a very unique place in town.  It had a look and feel all to its own.  The club was dark with black lights so anyone wearing white clothing would literally glow in the dark.  The walls were decorated with things like pinball machines cut in half and other weird things.  It was small, but very eclectic and the shows were usually incredible and very memorable.
"I remember that when we would play there we'd usually end up doing pretty long, raucous shows there because it just seemed like that kind of place," said Bruce Tunkel, who played with the band Red House.  "You'd maybe drink a little more than usual and just have a lot of fun there.  I have great memories of playing T-Birds."
One thing that virtually every musician that ever played T-Birds remembers is the pole.  In front of the stage there was this pole that the musicians often had to work around.  "It was like dancing with an inanimate object," said Greg Di Gesu.  "If you were set up near the front of the stage you would inevitably have to do some maneuvering around in order to see and be seen.  But then again, with the bar about 5 feet or so across from the stage, there was never a question of not feeling intimate with the audience."
Mimi Cross laughs as she recalls the pole.  For her, there were other obstacles to overcome as well. "The bar was so close to where you were playing and there was always some guy leaning against the bar with that music industry stance of arms folded and kind of glaring at you.  So, you'd have to do this little psyche thing on yourself.  He must think I'm cute... He thinks I'm cute that's why he's glaring."
Mr. Reality, a band which now performs as Highway 9, played their very first shows at T-Birds. "It was great," said Gordon Brown of Highway 9.  "It was small and very dark in there.  It was very cool.  You could just walk in and do your own thing.  I went with the Bon Jovi guys one night and we saw Jeff Buckley.  To watch Jeff Buckley at that club and sit there and be like this guy's unreal and know that you have a room in town where you can have that kind of experience was great."
---
The article continues after this ad
---
---
Artists like Peter Himmelman took advantage of the unique vibe at the club.  He once decided to take everyone outside and simply grabbed his guitar and started playing as the crowd and him walked up the block. 
T-Birds was a place designed for spontaneous jams and, for a while, there was even a night set aside just for that purpose.  James Deely recalls one jam in particular. "Me and Bruce Tunkel and my bass player, Paul Ford, went down to T-Birds one night to rock with Vini Lopez at his jam night," said Deely.  "We had played some covers like 'Here Comes A Regular' and 'Like a Rolling Stone' when Bruce goes, 'Ask Vini if we can play 'Incident on 57th Street.'' I was a little nervous but I said, 'Hey Vini, let's do 'Incident on 57th Street.'' He thought for a second, then said, 'Yeah, let's do it!' So guitar man Al cuts into the intro/lead and we start playing.  All during the song I kept hearing this gorgeous vocal.  I kept looking around trying to see who the hell was singing this great high part.  Then I look over at Vini and he's back there singing his ass off! Just like the record!"
"It was just one of those places where you would stay all night listening to other people," added Mimi Cross.  "And people actually listened, that's the thing.  I would go and play, but I would also stay for the other bands and really listen... Everyone listened."
"I only really got to play there about four or five times before it closed down and then it was the Saint," said Danny White who was starting out in Shore clubs when T-Birds was on its last legs.  "I remember the first time I played the Saint, I was like, 'This place is huge!'  Because when you go from T-Birds and then you go in there...  Scott pretty much said we're closing and we're gonna open down here and I'll call you when we do.  He did and I played there a lot.  It's like you move on."
The scene did kind of move on when the Saint opened further up the street.  For years, T-Birds was left abandoned with just its sign and a message saying "reopening soon." The club never did reopen, but the arrival of the Saint made it easier to take.  Dozens of national acts have played the Saint throughout the last decade.  Some of the acts to grace its stage include Ben Folds Five, Chris Whitley, Creed, D-Generation, Everlast, Fun Lovin' Criminals, Incubus, Jewel, Jill Sobule, Superdrag,  The The, and Matt Keating.
Clubs like the Saint are the life blood of new music.  They can be found throughout the country, but rarely last as long as the Saint has.  The club is entering its 10th year - a great feat for an establishment based on presenting acts largely unknown.  Mike Sauter, a former disc jockey at WHTG and currently at WBJB, says that clubs like the Saint are "absolutely critical to a vibrant music scene and to live music in general.  Clubs that take a chance on new bands even if they run the risk of selling few tickets are the live equivalent of the old 'HTG' - nurturing new talent even at the expense of the bottom line."
One of the most unique things about the Saint has been the addition of its Asbury Cafe shows.  During these shows the crowd is asked to refrain from talking to create the effect of a listening room.  Shows at the Asbury Cafe are also smoke-free, something unique for a rock club.  There are chairs lined up as in a listening-room setup.  The overall atmosphere is perfect for lyrically-driven performers.
New York singer-songwriter, Matt Keating, played an Asbury Cafe show early in 2003.  "I was doing an on-air performance/interview with Jeff Raspe from 'the Night' (WBJB) radio station and he mentioned the club," explained Keating.  "I was getting airplay there and wanted to do a show in the region.
"The last time I played at the Saint with my band it was a little overkill.  Doing what I do in front of smaller audiences is much easier in a 'listening room' type of experience  It's more intimate and helps you connect better with the audience.  They had a great sound system, really nice people and I really enjoyed it."
"The thing is everybody is silent," added Mimi Cross.  "It was the Saint, but if anything it reminded me of T-Birds because the people were really listening."
Rich Robinson, the former Program Director at WHTG, believes that clubs like the Saint clearly benefit from local commercial radio station support.  Unfortunately, the only station in the area that really tries to promote the local music scene is the public radio station WBJB 90.5 The Night.  Robinson recalls the period of time in 1996 when he returned to WHTG and got Everlast to stop by the station. "I really liked that song 'What It's Like' and I was friends with one of the guys on the label so I asked them to come by and do an interview before the show," said Robinson.  "He came in and we hit it off really well.  So what was supposed to be a 10-minute interview ending up being an hour and a half interview and his record hadn't even come out yet.  That night when he played at the Saint there was a line outside the door and you couldn't get in.  And when he broke into that song everyone went wild.  We had debuted it on the air less than two hours before.  I was like wow, the station still has it."
"Scott, bless his heart, is one of those guys that has done everything he can to keep original music fresh and cool and just support the scene," added Brown.  "We need more people like that."
---
From the book Beyond The Palace by Gary Wien
---
---
Gary Wien has been covering the arts since 2001 and has had work published with Jersey Arts, Elmore Magazine, Princeton Magazine, Backstreets and other publications. He is a three-time winner of the Asbury Music Award for Top Music Journalist and the author of Beyond the Palace (the first book on the history of rock and roll in Asbury Park) and Are You Listening? The Top 100 Albums of 2001-2010 by New Jersey Artists. In addition, he runs New Jersey Stage and the online radio station The Penguin Rocks. He can be contacted at gary@newjerseystage.com.
---