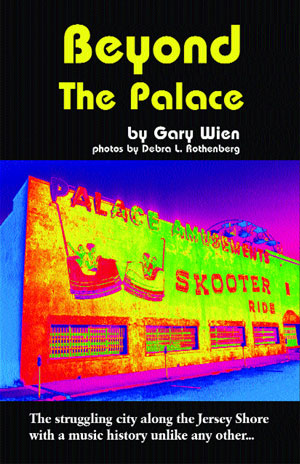 Few people were as instrumental in creating the "Asbury Sound" as Steven Van Zandt.  He was a lead guitarist with Bruce Springsteen and the E-Street Band, a key member of Southside Johnny and the Asbury Jukes and basically left his fingerprints on the entire Jersey Shore music scene.
Steven Van Zandt grew up in Middletown and played in several of the area's most popular bands in the 60s.  He was a member bands like the Shadows, the Source, Steel Mill and Dr. Zoom and the Sonic Boom.  In the early 70s, he was part of the Blackberry Booze Band with Southside Johnny.  Back then, everywhere you went you heard disco music and the recently opened Stone Pony was no exception.  But Van Zandt talked the owners into letting the band play on the off-nights.  Gradually, the band built up a large following.  Eventually that band became the Asbury Jukes.
"Steven actually created the scene," said Tony Amato.  "Well, not the scene, but he changed the Pony from disco to rock and roll."
Van Zandt joined the E-Street Band for the Born To Run album, but continued to play a large part in the Jukes.  He wrote, played and produced the band's first three albums including the classic Hearts Of Stone, which was once named one of the best records of the last twenty years by Rolling Stone Magazine.
In 1982, he branched out on his own as Little Steven and released his first solo record entitled Men Without Women with a band called Little Steven and the Disciples of Soul.  As his career progressed, he became more and more politically active.  He left the E-Street Band after the Born In The USA tour to concentrate on his solo work and his emerging activism - something which, unfortunately, has kept him from becoming a bigger name in the industry.
Little Steven has been working to further human rights since the early 1980s.  He spearheaded the hugely successful anti-apartheid Sun City Project and established the Solidarity Foundation in 1985 to support the sovereignty of indigenous peoples.  He has been honored twice by the United Nations for his human rights achievements and received the International Documentary Association Award for his film The Making Of Sun City.
---
The article continues after this ad
---
---
More recently, Little Steven has seen his career take a new turn when he landed the role of Silvio in the hit television show "The Sopranos." He also started a weekly radio show called "The Underground Garage." And as if acting and being a nationally syndicated DJ wasn't enough, he somehow found time to release Born Again Savage and returned to record and tour with the E-Street Band for The Rising.  Busier than ever, Steven remains one of the most important members of the Shore scene.
---
From the book Beyond The Palace by Gary Wien
---