By Gary Wien
originally published: 01/26/2012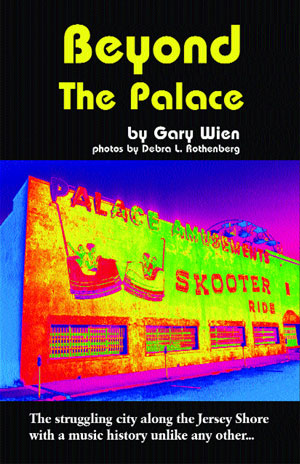 Mimi Cross is not just another pretty face, she's also one of the most talented singer-songwriters on the Jersey Shore.  Born in Canada, she now  lives along the Shore and is a veteran of the local music scene.  Mimi has graced stages from local clubs like T-Birds Cafe, the Saint and the Stone Pony to Maxwell's and the Liquid Lounge in Hoboken.  She's played in clubs from New York to Boston, Philadelphia on down to Washington, DC and has opened for such artists as Sting, Bonnie Raitt, Lauryn Hill, Jeffrey Gaines, Jill Sobule and Chris Whitley.
She released her first record, Monkey Trap, independently two years ago and is currently working on her follow up record.  As an independent artist, Mimi's songs have been heard on local radio stations and college stations across the country.  She has had songs placed in independent films including the documentary, Greetings From My Home Town, which was directed by Takaharu Macky Makiura.  And she's a two-time Asbury Music Award winner, which shows her standing in the area.
I had the chance to visit with Mimi to discuss her career and find out why she believes that men rule the world.
Your bio says you're Canadian.  Where exactly are you from?  How did you start out playing in Asbury Park?

Who are you? (laughs)  That's just sort of to make me sound a little more interesting... that foreign thing.  I lived in Toronto when I was a little kid.  But I really grew up about an hour from here in Millburn, New Jersey.  I went to school out west in Arizona and did grad school at NYU. 
I started playing in Asbury Park because I was living on Long Beach Island and I didn't want to drive to New York.  There was really no places except for the Tide that played original music in LBI.  At the time I was in the reggae band, No Discipline.  I was doing backup vocals and percussion.  That was a hard working band man, we played six nights a week.  Mostly it was reggae covers, but they had original stuff too.  And they've been together forever.  I ran into one of the guys at this gig I did at Rutgers last fall and I was just amazed that they were still doing it.  I was like, "When are you going to retire to the islands or something?"  I remember the coolest gig that I did with them was playing at the Stone Pony with Peter Tosh's son.
No Discipline was the first gig I ever had, I think.  After that I started writing with bunches of people and also writing on my own.  Then I hooked up with Will Herceck and we put together this band called Pictures and Stories, which was good.  We played places like T-Birds and the Bitter End.  And then I had my own band.  I remember I started doing these gigs where I'd have Pictures and Stories do the first half of a gig and then I'd do the other half. 
---
The article continues after this ad
---
---
Was it difficult to be a female performer around here? There haven't been that many throughout the years.

Scott Stamper used to bring in people for us like Kristin Hall and May Moore at T-Birds and later Jill Sobule and Laurie Sargent at the Saint.  These were all shows that I was on.  Well, think back now when did it really start? I remember hearing Suzanne Vega for the first time and going, "Oh yeah, that's it," because you had all these women trying to be men.  I was never really into the rocking women like Janis Joplin, I think she's great but I never really loved what she did.  Suzanne Vega came along and she had that alternative kind of edge while all the other women I would hear had more of a folky thing or a Joni Mitchell jazz thing.  So, finally there was a woman doing something alternative.  Say you start with her, how long did it take to get to Alanis Morissette? There was like this little push, push, push and then Alanis just broke it open. 
Now it's fair game, but it's still not really fair.  I mean, just turn on the radio any given day with any given station except for maybe a college station.  Turn on the radio and count how many guys you hear in a row.  
Why do you think that is?

Because men rule the world! (laughs)  Men are still in charge, it's really true.  I also think that - and this has happened to me countless times over the years - when people write about my music, they compare me to every woman with a guitar from Ani DiFranco to Joan Osbourne to Joni Mitchell and I could go on and on.  Now, some of those people have influenced me and maybe I do sound a little like some of them, but some of them I don't.  As my Sister said, "Basically any chick with a guitar."
It's almost like that we're categorized where they really are all these different genres of music and there are clearly men in all of these genres.  I think there are clearly women in all of these genres as well, but for some reason when people see a female with a guitar they only see it one way.  It's definitely starting to shift, it really is, and the same thing's happening in sports.  It's just a timing thing, I think.  I think there's a lot of chicks playing, a lot of women playing gigs.  I'm allowed to say chicks because I'm a chick.
And I'm allowed to quote it because you said it!

I better watch myself!  (laughs) There's just more guys out there playing, although I think women are coming more into their own and being more assertive.  I also think, in general, the women that you do hear on the radio are better than a lot of the men you hear.  For some reason, there aren't a lot of mediocre women on the radio and that's a good thing. 
Look at all of the boy bands, look at all the bands that sound like either Pearl Jam or the Counting Crows, why do we have that? Why don't we have just one Pearl Jam and one Counting Crows? You only have one Suzanne Vega.  You don't have ten women on the radio that sound like Suzanne Vega.
Well, who would you say has influenced you?

Wow, I mean, there's so many people... I love great songwriting.  So, Joni Mitchell, Neil Young, Bruce Springsteen, bands like the Smithereens - I love that poppy, hooky kind of stuff.  I love the Beatles.  In fact, on my new CD I have a cover of a George Harrison song.  There's so much great music out there.  My CD collection is incredibly eclectic.  Another big influence is Rosanne Cash.  She's sort of a mentor, I take writing workshops from her.  Chris Whitley has got to be my favorite artist and he's influenced me a lot, but there's a million people.  
Tell me about your record Monkey Trap.

I released it about four years ago, it's old now so I'm working on a new one.  I have it about halfway done.  I'm taking a long time because I really have no money.  But I love being in the studio because I love collaborating with other people.  I wrote all of the songs on Monkey Trap.  I used to have a songwriting partner  in Will Herceck when we played in Pictures and Stories, but basically I haven't been writing with anyone in a long time.  So, when I go in the studio I love getting the collaboration from other musicians.  There's nothing better than working with great musicians.  They'll come up with a bass line or a guitar part or a really hip drum groove and that, to me, is just the greatest thing.  
Do you have a steady band now or just play solo?

I don't have a band now, I'm just solo.  I had a band about a year and a half ago and we just went by my name.  It was good, it worked.  In fact, it was really working until it sort of imploded.  Being in a band is like being in a four way relationship, it can be intense.
What do you hope to do with the new CD? Will you release it independently or shop it around?

What am I doing? That's a good question.  The thing is that I'm really a writer so I'm always like I'll worry about that stuff later and just sit down and write another song.  Unfortunately, I've always done that.  But what I'm trying to do now is just be really open and reach out.  I feel like I've opened myself up recently and a couple of things have happened. 
I just wrote two songs for an independent film.  A friend of mine who has a film and video company ended up passing my music to the director.  We ended up chatting and I met one of the writers who gave me the script.  So, I wrote a couple songs and that, to me, was a complete blast! You have some interesting parameters and you get to meet some new people that have a lot of energy.  I liked the script so that got me excited.  And a guy I know just did a documentary and one of my songs is in that.   I love movies, so I would love to do more stuff like that.
How often do you write songs?

A lot.  I go through phases.  It's like if I have a gig I usually practice, if I'm practicing I'm picking up the guitar and if I'm picking up the guitar then I'm going to write.  One of the main reasons I do shows is to inspire my writing.  And, what are you going to do with the songs after they're done? I make demos on my computer, but you can really isolate yourself with that stuff - let me add another harmony part here or throw in some Tibetan bells..
But you've got to do it, you've got to play.  It's always surprising to me that I ended up being a front person at all.  I mean, I love to sing and I love to write, but I don't love performing.  It's just part of the process.  You have to do it.  Some people are lucky, they love it and they're great on stage.  They have that thing about them.  To me, it's part of the process.  It's nice to get that feedback.  It's important because when you finish a song and there's that moment where you're entrenched with the audience and you know... you don't even have to look at them, you just know that they got it.  We all want to be recognized by our culture and we all want to know that we're not the only ones that feel this way.  It's like when you're reading a book and you see something you relate to, you just love that feeling when you discover something that you can connect with.  It's all about connecting.  So, you've got to share your work.
I know I'm not 20 years old.  I'm not going to be the next Madonna or Britney Spears and I never wanted to be, but I do wonder now about what I am doing with a record.  I think I'll just keep doing what I'm doing; playing out some, recording and trying to do movies and television.  And I love festivals and playing outside, that's another thing.  I'm always thinking I should get off of my butt and do a summer festival tour or something.
I'm definitely looking for something different now.  I think it's like when you're in your thirties you begin to wonder if it's gonna happen? Has it happened already? Is it going to be something different? Will it be something different than you thought, maybe a different opportunity? Like I would love to write for other people.
The best compliment I ever got was when Peter Scherer started playing solo again and he played a song of mine called, "Invisible Things." That was the greatest to hear someone like him sing one of my songs.
A friend of mine said that when you get in your thirties a lot of people just give up.  They stop what they're doing, but there's still a place for us.  People still love our music, and we should keep doing it because all those people that stop leave a void.  And that void can't be filled by 20-year olds because they're doing something different.  I've seen friends of mine drop right through the cracks.  They get their records recorded and then either get dropped or fail to have their records promoted.  I've seen it happen, so maybe it's a blessing that I never got some kind of a major deal.  
What are the shows like for you now in the city?

Well, I just played Friday and it was a really different kind of show for me.  I played with some songwriters that I know, so it was really fun.  I played a lot of new stuff and had a lot of laughs.  I haven't been playing too much.  It seems like down here I've just done a bunch of benefits.  I'm really in this weird place where I'm like I don't have a new band and I don't have a new CD, so why should I play? 
I go through different phases in my career where it's like I'm only going to play here and here because I know certain music industry people will come.  And I went through the playing for money phase where it was like I took any gig I could and I made a lot of money doing that.  I played some weird shows and some really good ones.  It's funny because when you go out of town you realize how tough New York really is.
Back when you started out playing in Asbury Park, did the town's history mean anything to you?

Oh yeah, absolutely.  I'm a real sentimental person and I want things to mean something and Asbury Park definitely meant something.  I knew that Bruce Springsteen had played at T-Birds and I knew about that whole Stone Pony thing.  In the beginning when I would go to T-Birds I would only go at night.  I would just play and then leave.  Then one day I had to meet someone in the afternoon and I couldn't believe it when I drove into that town.  I fell in love with the abandoned boardwalk and the buildings with their architecture.  I loved it.  I used to go for walks on the boardwalk and swim there.  The town's definitely got a vibe.
I think Bruce Springsteen is the reason a lot of us are in this area. People like us that are serious about our writing, we listen to his songs and we really look at those lyrics.  We've been influenced by him and we appreciate what he's done.  And that's kind of what drew us to the area.
---
From the book Beyond The Palace by Gary Wien
---
---
Gary Wien has been covering the arts since 2001 and has had work published with Jersey Arts, Elmore Magazine, Princeton Magazine, Backstreets and other publications. He is a three-time winner of the Asbury Music Award for Top Music Journalist and the author of Beyond the Palace (the first book on the history of rock and roll in Asbury Park) and Are You Listening? The Top 100 Albums of 2001-2010 by New Jersey Artists. In addition, he runs New Jersey Stage and the online radio station The Penguin Rocks. He can be contacted at gary@newjerseystage.com.
---