By Gary Wien
originally published: 01/26/2012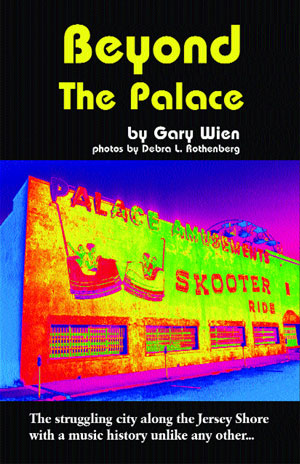 James P. Dalton Jr., or JPAT as he's known, is one of the most interesting musicians along the Jersey Shore.  An extremely talented singer-songwriter, he plays guitar, mandolin and harmonica and brings back the spirit of the Upstage Club to Asbury Park.  Since there no longer is a place like Upstage where young musicians can go and jam, he's created his own version of that club.  One night you might see him adding mandolin to the songs of Nicole Atkins, the next night he might be playing harp with Matt Witte.  He's known throughout the musical community and he's jammed with just about everybody.
Outside of his solo career his focus is with the band Secret Sound and his shows with Josh Zandman.  Secret Sound is a popular "jam band" around the Shore.  They've had house gigs at the Saint and have played the Stone Pony plenty of times.  Josh Zandman is a singer-songwriter who has peaked the interest of several record labels.
I caught up with JPAT on the boardwalk in Belmar where we talked about the Asbury music scene from an insider's perspective.  And you don't get more inside the scene than JPAT.
Back in the old days the musicians would jam at the Upstage Club. I guess since there's no place like that anymore, you've kind of taken it upon yourself to jam with bands all over the place.

I have a lot of friends that play music around here and there's a lot of guys I go and jam with. That's the great thing about Asbury Park right now, there's tons of people playing and since I live around here I know everybody.  Basically, it's if it wasn't like somebody saying, "Dude I heard you play harmonica, do you want to come play?" I would say to them, "When are you gonna let me sit in with you guys and fool around a bit?" I just try to play with everybody because that's what really makes me happy.
How did you get involved with the mandolin?

Actually, I'm a bad guitar player.  So, basically what happened was that I was dating this girl a few years ago and somebody at the house she was staying at left a mandolin there after a party.  I picked it up and started fooling around with it and said, "I can make this work!" So I asked the girl if I could I borrow it? She said, "Yeah, just bring it back." 
So, I went out and got a book, tuned it and just started playing.  I actually took it out later that week to play a gig with it.  I really didn't know how to play it, but I made something happen.
---
The article continues after this ad
---
---
So there's hope for bad guitarists?

Yes, there is hope.
Is it almost like playing with a 12-string guitar? I mean, is it hard to make it sound bad?

No, it can sound bad.  It really can.  The thing about the mandolin is you don't need to play a lot of it.  The novelty of the instrument, a lot of times, is that is just has to be there.  You only need to strum a little bit and it sounds nice.  So, I put subtle touches on things and that's what I do with the harmonica as well.  When I play with all these different people I know that I can't try to be a giant foundation to a song,  I've got to add touches or add a little color.  Mandolin is the perfect instrument for that because you don't need to be too loud or too big, you just have to sound nice a bit.  Just a couple of notes here and there to break the chords up.
So, that's how I got into playing mandolin.  I would bring it anywhere and play with anybody that would have me.  And that's what I do with the harmonica, I ask everybody can I play? I mean, I'm a singer and that's what I do but years ago I was really self-conscious about being good enough to be just a singer.  The music that I listened to was bands like the Allman Brothers, Phish and Pink Floyd, which has everyone in the band playing an instrument.  So, I thought I had better get myself an instrument as well.  
I can't remember the last time I saw a mandolin on the Shore.

Yeah, there's not many.  I'm one of the only games in town.      
What do you think of the Asbury Park music scene right now? It seems like we've got some action around here again...

I think it's fantastic!  A lot of people will argue with me, but I don't think they want to admit that things are going our way.  There's a lot of bands signing major deals.  It's crazy right now.  All of the old school is getting looked at and, at the same time, you've got guys like Matt Witte, Borealis, who's a completely untraditional Asbury Park sound and Sprout. Sprout's not a band that you would think would come from Asbury Park or would be a Stone Pony house band, but they are, and that's what excites me. 
There are bands coming out of here now and just a lot of really good players.  New Jersey's been a hotbed for years that no one's ever noticed because everyone seems to go to New York.  It's like everyone forgets they lived and grew up here, even though they made it big in New York. 
I just see it as a great time.  People can argue that bands signing deals is not what makes a good scene, but when you go to the Asbury Music Awards there's a ton of bands in the audience and they're just applauding like crazy for each other.  Everybody knows everybody and that's what matters.  That's what excites me. 
Do you think there are enough clubs around here?

I think there's plenty.  The one thing people need to do is support the venues that are there, places like Crossroads and the Saint specifically.  The Saint's a fabulous venue.  The Stone Pony is a great venue.  There's enough clubs that people don't need to try building many more.  But, hey if they want to build more that's fine too...
Are there enough places where you're confident you can play a show built around original music?

I think there are.  There's a ton of places in the Jersey Shore area that already cater to the bands that are bringing covers in, but there aren't many in Asbury Park.  The covers aren't really brewing there.  I mean, no one's really doing Jimmy Buffet in Asbury Park.  
What's your favorite place to play around here?

I like the Stone Pony.  It's a big room, big stage, lots of space, the sound system's good and the stage is comfortable.  I also like playing the Saint.  I can really hear myself well there, but the stage is tight.  I've got five guys in Secret Sound along with me and one of them plays a lot of keyboards, which takes a lot of room. 
When you're playing originals around here you've got to showcase if you're on a bill where it's not just you all night.  Opening bands at the Pony get about 45 minutes to be really good.  You can't drop the ball on any song, you've got to play your strongest material everytime you're there.  It can be stressful but I really dig the Pony having played there so much, and having worked there for a little while, it's kinda like hanging out with friends.
Every place has something special about it.  The Saint brings in a lot of the newer names that were nobodies in 1995 but are big today.  It's one of those little rooms that are all over the country.  Rooms where if you sell all your tickets and 20 people show it makes for a full house.  At the Pony if you've got 20 people in the room you're not getting hired again!
The Saint gives everybody the idea that they could own a bar someday.  It's like, 'this place isn't much bigger than my living room.'

Well, that's the great thing about it.  We were spending so much time trying to sell tickets and drag 100 people to a show every month.  I'm glad we did those shows because we learned a lot and we opened up for a ton of big names, but we'd go in and there's this stress of did we bring enough people? Have all of our people shown up yet? Did every song sound good during the 45 minutes we were allocated? At the Saint, we can just relax, play a set and jam.  
What do you think of the title "jam band?" Would you call Secret Sound a jam band?

There's about a zillion styles of music involving improvisation.  Jam band basically means any combination of the styles where improvisation is the most important thing.  I wouldn't necessarily call Secret Sound a jam band, but sometimes I do when I can't search for anything else.  A lot of times I'll say, "We get down."  It's like what do you guys do? "Oh, we get down.  We play a little funk, a little jazz, a little blues... not in that order."  I think the safe thing about being a jam band is that we can really do anything.  We can play whatever we want.
So jam band is like a way to categorize the uncategorizable?

Exactly! The only thing a jam band does is improvise.  Sometimes we improvise a little and sometimes we improvise a lot.  So the term jam band is really the safest way to describe us.  I don't think it's a bad term.  A lot of people use it nastily and sometimes it comes out derogatory because there's a lot of stereotypical bands that try to sound like they're a jam band.  We like funk and jazz and blues and other things that involve improvisation, so we just sort of fell right in to that kind of market.
That improvisation sounds similar to the music that was around at the Upstage.  How would you describe the jam band scene now?

Well, it's just starting to come along.  The one guy that has been spearheading that is Kyle Brendle.  He was the guy that really said, "Look Stone Pony you need to do this."  It was like, "We're going to do this night and that night and these are going to be our regular nights." 
I think it's being accepted because it's good music.  It's not just Solar Circus, which was the only band for a long time.  It's gotten to the point where people are seeing beyond the "oh, that's a Grateful Dead cover band."  There's actually bands that fall into the jam band world that hate the Grateful Dead and hate Phish and hate anything to do with any of the bands that the people that listened to them did.  There are even some bands playing electronic music like techno and drum 'n bass and sounding like DJs.
Is there a danger for you to be guesting with so many artists?

I'm seeking a life in music.  Well, I live a life of music, but I want to seek a living as well.  I want something to move forward in a position where that will be my job.  Sometimes when I'm playing with a zillion bands the mentality is that I'm having a really good time playing but there's also the mentality of well this guy might take off and so might that guy. 
Playing with anybody on any stage from a business standpoint is good for business.  It's always good to be out there playing with other people.  It's also good for my reputation so to speak.  Any guy that's playing music not just for fun, which is what I'm doing, has to keep all that stuff in mind.  I'm an idealist, but I also have to be a businessman.   I have to be considerate of finances as well.  I can't run around and sit in with everybody all of the time.  I need paying gigs too.
Sounds like you just really love music...

Music today is brilliant... it's wonderful.  I can't bear listening to people when they say, "The music scene sucks, it's not as cool as it was in the sixties.  Where's our Jimi Hendrix? Our Janis?" I believe they're all around us.  With the way the world is now I can listen to any kind of music I want to at any given time.  Great music is everywhere and you don't even have to look that hard to find it.
I don't drink so I can't just get drunk and go to a show and be impressed.  I'm a really critical bastard!  I stand absolutely still when I see a band.  I'll stand about four feet away from the stage with people dancing all around me and I'll just stare.  The drummer from Brown once told me, "Man, when you were watching us I didn't know whether we did something really bad or we did something really good." That's the way I am.  I'll stand and watch and I won't move.  I'll watch what everybody's doing.  I'll listen to every part of the song... I care.
One of the great things about Asbury now is that a lot of the emphasis has been put on the local history.  People are really looking at what happened within the past such as the Bruce days and stuff.  And more than ever people around here are finding it easier to do that.  With things like the Internet you can look into the past and also kind of look towards the future and see how things are going to sound.  I dig into everything.  I dig into old jazz tunes, old blues guys, folk music.  I take the old and the future comes out later for me.  Bands are building up now from listening to all that stuff and pointing it to a new direction.  I've been loosely calling it the "New Asbury Sound" because it just means it's coming out of here.  It doesn't sound like anything that came from here before.
---
From the book Are You Listening? The Top 100 Albums of 2001-2010 by New Jersey Artists by Gary Wien
---
---
Gary Wien has been covering the arts since 2001 and has had work published with Jersey Arts, Elmore Magazine, Princeton Magazine, Backstreets and other publications. He is a three-time winner of the Asbury Music Award for Top Music Journalist and the author of Beyond the Palace (the first book on the history of rock and roll in Asbury Park) and Are You Listening? The Top 100 Albums of 2001-2010 by New Jersey Artists. In addition, he runs New Jersey Stage and the online radio station The Penguin Rocks. He can be contacted at gary@newjerseystage.com.
---