By Gary Wien
originally published: 01/26/2012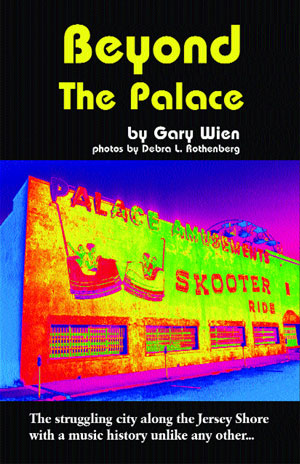 Joey Vadala is a talented singer-songwriter from the New Brunswick area.  He played in several bands with Glen Burtnick while they were both teenagers and actually replaced Glen in La Bamba and the Hubcaps years later when Glen left for a solo career.  After La Bamba, Vadala fronted Joey and the Works, a popular band along the Jersey Shore. From there he went on to the band Poetic Justice, which changed its name to Big Sky after a movie by the same name came out. 
In addition, Joey had a song publishing contract with Polygram who published over 75 of his songs. He currently performs in small clubs in New Jersey and Pennsylvania and has released a solo record called Eleventh Hour.  He plays both acoustic shows and shows with a full band.
In a phone interview, Joey talked about his days in Jersey Shore bands and his future plans.  Although he hasn't performed in the area much in recent years, he still looks back fondly on those days that clearly helped shape his career.
What do you remember about your days with Joey and the Works?
Oh, gosh.  We did the Stone Pony on Sundays.  It was basically playing all originals on Sundays.  The original unit of Joey and the Works was together from late 1986 to around 1989-90.
Did you guys give it a go to try getting a deal?
---
The article continues after this ad
---
---
We had some management for a while.  What had come out of it was the band at one point just got frustrated at the industry itself and we just went our separate ways.  I wound up getting a publishing deal with Polygram.
At the time, a lot of the bars were really into cover music.  Did that hurt you at all?
I think what hurt us was the change had come involving the Seattle sound.  Grunge came in and songwriters of melodic melodies were kind of discarded.  Joey and the Works was tough in respects that we weren't a metal band, which was very popular in the late 80s.  We were more of a melody, Beatlesque folk type of band.  We couldn't find anybody that would grab it.  Then, in the early 90s, groups like the Gin Blossoms and stuff came out, which we had a sound similar to.
So, if you could only have held out a little longer...
Yeah, exactly.  But it's so tough.  It's like what am I doing wrong? You try something new when you probably should have stuck to your guns.  You live and learn.
Did you know there was a group of people that taped every show.
Yeah, I know. (laughs)  You'd look in the back of the Aquarian or East Coast Rocker and you'd see ads from people trying to sell our bootlegs or trade them off.  I found it amusing.  It was flattering in a lot of ways.  Actually, in the past year, a couple of those people showed up at some of my gigs.  I was like, "Wow, I haven't seen you in ten years!"
Before that you were played with La Bamba and the Hubcaps.
I remember I joined the band March 7th, 1985 and a week later we were playing the Brendan Byrne Arena opening for the Kinks.  That was amazing! But immediately after opening up for the Kinks we played a Ground Round on Route 46! Same day, same night!
Was La Bamba still a house band at the Pony at that time?
Yeah, we were playing either Wednesdays or Thursdays.
What did you think of Richie (La Bamba)?
He's a genius! I mean, he's a really nice guy.  Unbelievably musical.  He's very talented, a great trombone player.  He's a guy to hang out with.   I never had a problem with Richie.  That horn section was a treat for me to play with because they played so in tune with each other.  I've played with a lot of different horns, but that unit in itself, they were like locked into each other so well.
You grew up near Glen Burtnick in the Brunswick area.
I've known Glen since I was about 12 or 13 years old.  We met in a friend's basement.  He played guitar upside down and backwards.  I looked at him and said, "You play guitar weird, man." 
Glen told me that you pushed him towards Beatlemania.
Wow! He said that? Well, thank you Glen.  Yeah, I was playing in New York with a guy named Buzzy doing gigs around Manhattan.  I guess I was about 18 years old.  The guy who was producing Beatlemania at the time used to come in all of the time to see us.  I said, "I've got the guy for you." And I kept telling Glen, "Go try it, you're perfect. Just go for it."
Glen was always a talented guy growing up.  He was a guy I would look at and go, "Wow, I want to be like him."
Did you guys ever play in bands together?
Yeah, we played in several bands in our teen years.  When I moved back from Florida in 1984, Glen and I did some duo gigs here and there.
He had already left La Bamba by the time you came, right?
No, actually... I would go in and just jam when Glen was in the band because we were hanging out together.  I'd go down on Wednesday nights and they'd call me up for a couple of songs.  Glen told me he was going to leave to pursue his own record deal.  He said, "They really like you, you should try out for it." At that time, I had started another band with someone else and I said I really couldn't back out of it. 
One morning Gene had called me to join the band and I said I couldn't do it, but on the way to rehearsal that night I lost two hubcaps.  I said this has got to be a sign because the rehearsal with the other band was horrible. I said these hubcaps are an omen to call Gene. So I called him up at about 3 in the morning.  And then, at that time, I had to audition for it because they had already called up several other guitar players to come down and audition.  But, as it came to be, I became the guitar player.
What have you been doing since then?
I was in a band called Poetic Justice.  We changed the name to Big Sky because the movie had come out.  I had a publishing deal as a writer for a couple of years back in 1993 and Polygram published about 70-75 of my songs. I'm still writing and doing that whole thing right now.  I have a band and I do some acoustic shows in south Jersey.  I released a record called Eleventh Hour about two years ago.  Actually, I'm in the process of putting a release out - a single - that will probably be out in about a month.
What does the Stone Pony mean to you? Good memories?
Oh, great memories.  The Pony, it's just one of those clubs that will always be a part of my life because of the times I've spent there.  I think the people that go there were generally into music.  I mean, they went there to hear music.  It was like play me some good music.  Don't give me the latest cover song, play me something that's different.  Give me something that has substance to it.  Don't be a clone of somebody else.  I think that's what the Pony was really good for.  It was one of those launch pads for people who wanted to expose their talents and originality.
What would you say has been the highlight of your career?
Hopefully the highest of highlights hasn't come yet.  The highlight of my music career would have to be the Stone Pony days and all of them together because there were so many highlights it would be hard to say one thing really stood out.  Things like Bruce coming in and jamming or just sitting in the back dressing room just talking.  We opened up for Beaver Brown Band, Cyndi Lauper - those were just special nights.
---
From the book Beyond The Palace by Gary Wien
---
---
Gary Wien has been covering the arts since 2001 and has had work published with Jersey Arts, Elmore Magazine, Princeton Magazine, Backstreets and other publications. He is a three-time winner of the Asbury Music Award for Top Music Journalist and the author of Beyond the Palace (the first book on the history of rock and roll in Asbury Park) and Are You Listening? The Top 100 Albums of 2001-2010 by New Jersey Artists. In addition, he runs New Jersey Stage and the online radio station The Penguin Rocks. He can be contacted at gary@newjerseystage.com.
---