By Gary Wien
originally published: 01/26/2012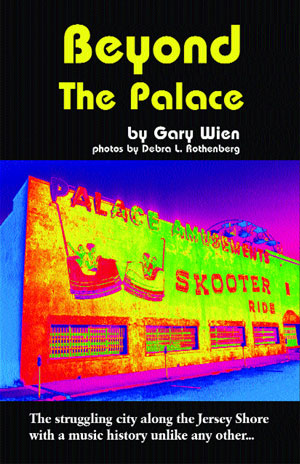 In Between Dreams has been called one of the most influential punk bands of the Jersey Shore.  The band burst started out at the Brighton Bar in Long Branch during the early 80s and then would go on to play many of the legendary clubs in the tri-state area like Maxwell's, the Stone Pony, the Green Parrot, CBs, the Loop Lounge, the Court Tavern, the Melody Bar and the Limelight. 
The band was comprised of John Pfeiffer on lead guitar and vocals, Gordon Gunn on lead vocals and harmonica,  Al Spector on bass guitar and vocals and Joseph Quinto on drums.  They were influenced by bands like U2 and REM and took pride in having a sound that was not typically heard from a Jersey Shore band.
In Between Dreams released their one and only record, A Different Life, in 1987 with a release party at the Limelight in New York City. Unfortunately, that would be the highest point the band would ever reach before splitting up later in the year.  I had the chance to talk with John Pfeiffer via phone to learn more about this influential band.
When did In Between Dreams play?
From 1981 to 1988, we were on the scene in '81 at the old Brighton Bar when the Brighton Bar was cool.  We did fairly well.  The band got popular quickly and we wound up opening for bands like Blue Oyster Cult, Julian Cope and Big Country at the Stone Pony.  We never played with any famous bands at the Green Parrot, but we would be the headliner with two or three other bands.
We played the Brighton Bar, Loop Lounge, Court Tavern and Melody Bar in New Brunswick.  The band played throughout the tri-city area.  We played CBs and started on a Sunday then worked our way to a Thursday.  We did some showcasing at Maxwell's in Hoboken, and, of course, we played the Stone Pony.  I should have my picture on that God damn wall for spending so much time in there and bringing so many drinkers to the place, but what are you gonna do.  It's kind of funny because I'm in the booking business now and I book the bands next door now at Jimi's. 
---
The article continues after this ad
---
---
How many records did the band put out?
In Between Dreams did one record.  That was done in '87.
What did the band sound like?
It was like a punk U2.  We had the echoey guitar and our singer, Gordon Gunn, had that whole Bono, big dramatic thing going on.  It was cool.  I would call it more of a hard edged U2, kind of eclectic and airy, but some of the stuff was very heavy.
The band played most of the places that booked punk acts around then.  Were the crowds different at each place?
Yeah, people were almost like gangs where they have their different colors, people were different at each place.  The Court Tavern crowd was cool, but the Brighton Bar crowd was real cool.  They would hardly even clap for you because they were all too cool.  It was great! We would yell insults from the stage like, "You're all a bunch of fucking posers!" Then after we started bringing people in people would clap because it was more fashionable.
Each club was different.  The Stone Pony just had regular people that wanted to go to the Stone Pony or friends of yours that you could get out.  The Brighton had its own punk scene, the Court Tavern had its own punk/fashion scene and the Melody was totally different as well.
As for the Green Parrot, I hung out there a lot and got used to it but it always reminded me of a restaurant.  In the time period that we were there everybody hung out and knew each other.  I always went and hung out with the Dervishes because we were friends.  I was actually in a side project with Bob Archer.  We had a band called the Summer Naturals with Karen Mansfield, me, Bob Archer and the drummer from the Dervishes.  So, I'd go see them, I'd see the Wallbangers who were great, Surface From the Future, Fatal Rage - Jacko's Band.  There was probably a ton of bands I'd go see.
What were some of your favorite shows by In Between Dreams?
We opened up for Blue Oyster Cult with about 4,000 rednecks there.  We played the Limelight in the height of the Limelight's fame.  In Between Dreams actually played the Limelight twice, you only played the Limelight if you had something to say.  I still have the full page ad for our record release party at the Limelight that I cut out from the East Coast Rocker.  I remember us thinking, "We've got to get in the East Coast Rocker, we'll be famous."
In Between Dreams has been called one of the most important early punk bands in the area.  How would you like the band to be remembered?
I think it was best remembered like the old Brighton that was owned by Big John.  Loud, drunken - just fully rocking.  There was no image problems, there was no talking about management.  The bar was packed, everyone was having a great time and your energy level was super high.  That's probably how I'd like to be remembered... back in those old Brighton days.  It was a big deal back then.
What ultimately led the band to call it quits?
In Between Dreams was playing constantly.  No lie, we were playing 4-5 nights a week.  We got to be a big fish in a small pond, but we literally didn't know how to take it to the other end.  We didn't know what to do with it.  There was a guy who was our manager who tried to change the way we dressed and like make us smile on stage.  I swear we had the Bradys' managers! We actually had guys telling us how to talk... It got to be a lot of pressure. 
You know what it was? It was four guys who thought they knew everything but really knew shit.  So, you have the egos and stuff and we just broke up one night on stage at the Brighton.  The guitar player just threw his guitar against the wall and that was it.  We all kind of walked off.  I said, "Let's get our shit together, finish the set and then we're done." So, we came back and finished it and everybody loved that.  That was it, we were done.  There was simply nowhere for us to go.  We had given it a shot, but we didn't have the right people.  And looking back at it, we weren't ready anyway.
In Between Dreams broke up and I started a band called Fall From Grace.  It was an acoustic project with a bass player and Mitch Wilson from the Blases.  We used to open for the Dervishes and stuff.  It was during that whole late 80s thing when acoustic music was big.  We saw the band Mr. Reality and we were like let's do that.  We lasted about six months.  Then Tom Kanach found out that I was available and we'd known each other for a long time.  His band, Mischief, used to open up for In Between Dreams at a bunch of places.  Actually, the night we opened for Julian Cope was kind of funny.  Those guys (Joe DeLorenzo and Tom Kanach) wanted to get in to the show.  They were like, "We'll pretend we're your roadies."  I'm like, "So you'll help me carry my stuff in there?" And they're like yeah.  So, we got them in as our roadies.  And the minute they got in the door they were like, "Fuck you!" and took off!
I remember going out with Chris Barry one night when Well of Souls was playing the Fastlane.  I was thinking about joining them so I went to see the band and that's how I met the rest of the guys.  So I joined the band and we did a few rehearsals and then went right into the studio because Tom had won some studio time.  About a week or two later we had our first gig in Ambler, Pennsylvania and that was it, I've been in ever since.  Tom and I started writing together.  I came in and I was more of a songwriting guy, so I immediately wanted to start writing with him.  I liked what he was doing, I thought he was talented and I had my own ideas.  We split things up and it worked.  The band got popular and it went pretty far.
Which band - In Between Dreams or Well of Souls - did you think might have been closer to making it?
Well of Souls was real close.  We sat in that big room that Elvis Presley sat in when he signed his contracts at RCA and had lawyers telling us that we were the next big thing.  But it never happened.  It was a strange situation.  We had expensive lawyers, great songs, people that were helping us out as management and we couldn't get signed.  I was always scratching my head going what the fuck?  We came into the city a few times and met with label people and lawyers who were very enthusiastic, I guess they just couldn't figure out what to do with us.  We didn't get signed, but I thought we were gonna for a while.  I still can't figure that stuff out.
How frustrating was it to go from one of those meetings in the city to a club gig the next day?
Oh, what's even worse is going from that meeting in the city to a day job the next day.  I didn't mind as much with the regular shit.  I was very excited about that stuff and wanted to take it further.  We were right on the outskirts, it was really like people didn't know what to do with us.  Tony Palligrosi used to book us a lot.  He would literally have us open for everybody you can name that was famous in the nineties that came to the Pony.  We did Live several times, another show with Big Country and even Julian Cope again.  I was like great, another time I'm opening for this guy and he's making more money than me.  We would actually outdraw some of the bands.  After a while we started making some money playing at the Pony.  And Tony was great.  he was a businessman, but he knew we had something going.  He'd say, "Ok, I'll put you in front of Live.  You have to set up in front of their gear, draw people, be good, keep the audience amused then get off." And that's what we did for 3-4 years at the Pony.  It was a lot of fun, we got to meet a lot of people.  It honed us.  We became pretty tight.
What band would you have compared Well of Souls to?
Oh, that's a tough one... A combination of Foo Fighters and Soundgarden.
A lot of music fans in the area really dug that band.
It's funny because one time Chris Barry, as a joke, said there was going to be a Well of Souls reunion at the Broadway Central.  The writer from the Two River Times show up and Al Muzer showed up and somebody else from another paper.  So, these three writers all showed up and he had to tell them that he was just joking!
It's funny that there's still people that know about it.  We really haven't stopped.  We kind of went off and did other things.  Tom did a solo thing and I did a solo thing, for whatever reason.  We still have a songwriting deal with George McMorrow from Cinecall and we're trying to write for TV and movies now.
After we did the Well of Souls thing we became Grimace and then we became Lustre, which was just me and Tom.  In fact, we did all kinds of weird stuff when we were Grimace.  We had an audition once for a Wendy's commercial so we jumped in the truck and went to the city.  They needed a band in the video, but they said we weren't punk enough.  Lustre did a studio record called Holiday City, which was the latest thing we've done together.  It never got released, but Cinecall took it and is pushing it towards record companies and movie houses.  We'd love to be songwriters and have other people do our stuff.
Do you ever see yourself getting back into playing live shows?
I don't know.  I'm older now.  I have different priorities.  But it wasn't bad, I didn't mind it.  You get to the point where you're like what am I doing this for? Am I doing this because I have something to prove or am I doing it for a reason? Now, I don't feel the need to be in a bar five nights a week playing in front of 20 people.  That's not to say I wouldn't do it if somebody asked me to, but for the most part I'd rather stay home and watch television.
What was the best thing about the rides with In Between Dreams and Well of Souls?
The feeling of accomplishing something and moving forward, just knowing that your hard work led to results for you and the band and that they were genuine.  I think that's the most important thing.  It's like you get girls and stuff like that, but the most rewarding thing is hearing people clapping or cheering for you after something you had done yourself.
And you're like a booking scout now.
I work with Chris Barry.  He's got his World Beyond Network and my company is Lustrevision.  I still do some recording and stuff, but I'm mainly trying to find new bands now.  I've got a couple of bands I'm high on like the Brian Mackey Band and Ton of Bricks.
Being a performer, you see it from a different side.  It's actually better for them because I'm looking out for the bands.  I'm not trying to rip them off or trick them - all the shit I went through.  They trust us and that's the way it should be because I know what I'm doing, I've done this before.
---
From the book Beyond The Palace by Gary Wien
---
---
Gary Wien has been covering the arts since 2001 and has had work published with Jersey Arts, Elmore Magazine, Princeton Magazine, Backstreets and other publications. He is a three-time winner of the Asbury Music Award for Top Music Journalist and the author of Beyond the Palace (the first book on the history of rock and roll in Asbury Park) and Are You Listening? The Top 100 Albums of 2001-2010 by New Jersey Artists. In addition, he runs New Jersey Stage and the online radio station The Penguin Rocks. He can be contacted at gary@newjerseystage.com.
---