By Gary Wien
originally published: 01/26/2012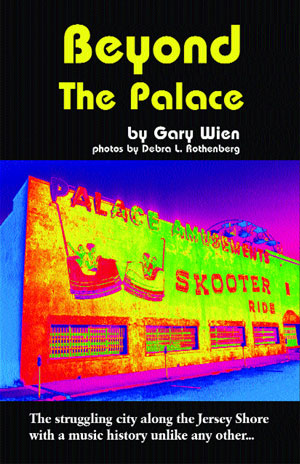 The faces along the Jersey Shore have been changing as more and more ethnicitys settle down here.  In recent years, Spanish food markets and restaurants have opened and conversations can regularly be heard in languages other than English.  So it should come as no surprise that one of the most interesting bands to hit the area in some time contains a strong Latin American influence.
DeSol plays a blend of rock and roll with Latin beats and Spanish lyrics weaved alongside those sung in English.  Their weekly gig at Harry's Roadhouse (a stone's throw away from the old Upstage) bring people of all color and races together on the dance floor in a scene that is very reminiscent of the mid-70s when Southside Johnny & the Asbury Jukes used to play across town. 
DeSol is led by Albie Monterroso, the band's lead singer and songwriter.  The band put out a record, largely comprised of demos, which led to a major label record deal.  I had the chance to talk with Albie Monterroso via phone to discuss the band that just might represent the "New Asbury Sound" better than anyone.
DeSol really reminds me of an updated version of Southside Johnny & the Asbury Jukes.  With the increasing Latino population around the area, you're like the new face of Asbury.

Wow! That's nice.  I was hoping you'd say Springsteen and the E-Street Band, but I could settle for Southside! (laughing) I'm joking, of course.
People have told me that back in the 70s when Southside played the Pony each week, the place was packed with everybody dancing and when I first saw DeSol at Harry's Roadhouse it was just like that.

Wow, that's cool man because a lot of what we pull from, especially me from the pop world, is the old school, the movement that happened in those days.  It was a movement that is not seen and hasn't been seen in a while.  Maybe the last movement was the Nirvana thing or the rap thing in the 80s.  But as far as a rock thing, there really hasn't been a movement like that.  We pull from that and it's nice that you relate us to that.  It's like circles, everything happens again and again.
What do you think of the new clubs in Asbury Park like Harry's Roadhouse?

I love it man! I think it brings new blood. I'm not putting the Pony down, I like the Stone Pony, but I wasn't attached to the Pony.  I came from Queens and I didn't know much about the place.  You guys like die for the Pony around here and I'm cool with that.  I support it, but I think it's good to have new blood as well.
---
The article continues after this ad
---
---
When you hear DeSol's music you hear a lot of different sounds.  How would you describe what the band sounds like?

Oh my God, what DeSol sounds like? That's a good question.  What it sounds like to me is that it speaks culture.  It's actually more of a message than a sound because you walk away with a lot of different visions.  Lots of different images like Latin America, indigenous people and family.  Latinos have such big families.  I went to my Grandmother's 90th birthday and it was just a get together of probably 120 members of my family. Everybody's a cousin.  People walk away with that warm feeling like when you walk into a Latino's house.  That's what you get. 
But as far as the sound, these rhythms are old man.  They're old, they're from Africa.  They come from Africa literally and move to the Caribbean.  That's why they call it Afro-Cuban.  When you play these rhythms they open up the doorways to the ancient people, the ancestors.  I think that's involved in everybody's spirit.  It's innate in everyone.  I guess we have a key for that when we play the rhythms.  That's why everybody's up there celebrating, dancing and getting involved with it.
Was this the first time that you really tried bringing Latin elements to rock and roll?

Absolutely.  I was born in Queens, New York and spent 20 years there.  I moved here eight years ago and started doing the rock and roll thing around and it didn't work.  I actually took a hiatus because I was trying to figure out what was next for me.  I wanted to make a career out of my music.  So, I went out to St. John's, Virgin Islands with a few friends and found a Latina there, a Puerto Rican girl named Wanda.  I spent two months with her just jamming.  She showed me a lot of the rhythms. 
A lot of the rhythms I had grown up with but had never seen anybody really play, or at least never in the rock way.  With her, I was jamming to stuff I had.  There's one song "Spin Around" that we still play that I wrote a few years back and I was like, "Wow, these Latin rhythms, these Salsa rhythms will fit, I just have to tweak a rhythm here maybe a vocal there." So, when I came back home I said, "I've really got to find something because this is what I'm gonna do."
There's a big crossover possibility.  My parents are from El Salvador.  Mother always asked me to sing in Spanish.  When I came back I told Ma that this was my next step.  I said, "If it doesn't work this way, I guess I'll hang it up and try something else."  So, I got the guys together and it all equaled DeSol.  It's the first time I tried and it's been a year and a half, almost two years that we've been doing this and we're about to sign a nice little record deal for us and spread this worldwide hopefully.
When the band first began, was it difficult to get gigs or did people understand what you were doing right away?

They accepted it right away.  You know what? The people accept it but the record people don't.  We've had everybody and their mother come out and it's funny because you hear the same old cliches.  "You're not Spanish enough, you're not American enough, we don't know where to put you; you're a niche band, you're in a gray area." All of that bullshit.
I know it's gonna blow up huge in every market.  The people accept it and it shows at the gigs.  People of all walks of life, all different religions, ethnicitys, ages.  There's 45-year olds to 22-year olds.  That's what makes me believe that it can blow up.  The people accepted it right away.  The labels didn't accept it because they're business people not artists, I guess.  They want to know what worked in the past and Santana's probably the only thing they can relate us to.

 

You weave English and Spanish lyrics into your songs.  How do you decide which way to write a particular line?

I think that as a writer if I'm stuck on a lyric maybe I try to put a Spanish lyric in there.  That's a good question.  I don't really know how I do it.  It just flies out where I feel naturally.  I like to put a Spanglish spin on every song like maybe a Spanish line or Spanish chant or something.  But, at the same time, I don't want to totally saturate it with the Spanish language.  I was born in this country.  My first language was Spanish, but then growing up and going to school English becomes your first language after that.  I guess I write where it feels right.  I always in my head say I want to definitely put a Spanish line in there.
It seems like we're seeing a change along the Shore with Spanish restaurants and shops.  It's like you guys are hitting at the right time.

I think so man.  I think so in the whole world.  It's society.  And it's kind of funny because I think the white or Anglo audience actually responds more than the Latino audience sometimes.   The Latino audience is used to it and it's kicked a little new, a little different than they're used to.  A lot of Latinos stick with their Salsa, straight-up folk Mexican music and DeSol comes out and we spin it a little different.  They're into it, but not as much as the white audience for some reason.  I think it's fresh for the white audience.  Well, let me say the American audience, because what we're used to hearing on the radio is just so boring now.  It's just the same shit.  They definitely get into it.  It's still a little new for them.  This band is a grass roots band, it really is.  I see it growing, flourishing.  And I want to spread it to everyone.
---
From the book Beyond The Palace by Gary Wien
---
---
Gary Wien has been covering the arts since 2001 and has had work published with Jersey Arts, Elmore Magazine, Princeton Magazine, Backstreets and other publications. He is a three-time winner of the Asbury Music Award for Top Music Journalist and the author of Beyond the Palace (the first book on the history of rock and roll in Asbury Park) and Are You Listening? The Top 100 Albums of 2001-2010 by New Jersey Artists. In addition, he runs New Jersey Stage and the online radio station The Penguin Rocks. He can be contacted at gary@newjerseystage.com.
---