By Gary Wien
originally published: 01/26/2012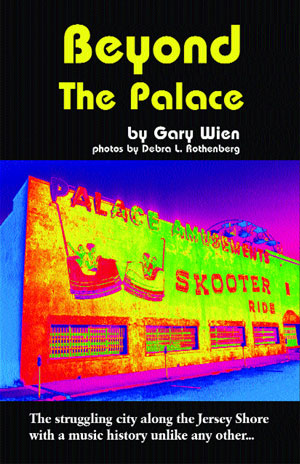 Dramarama was an explosive live band that recorded several brilliant records during the late 80s and early 90s.  The band was formed by a group of guys from Wayne, New Jersey who moved out to California around the time they were signed to their first record deal.  Even while they were living on the West Coast the band played a major role in an emerging alternative rock scene along the Jersey Shore.  With sold out shows at clubs like the Green Parrot, the Fastlane and the Stone Pony, Dramarama became one of the most popular bands of its day.
Unfortunately, the rest of the country (with the exception of California) never took to the band the same way.  Although Dramarama songs have reached near classic levels in the alternative music world, the band never achieved the success or recognition they were due.  But to the fans that packed each show along the Jersey Shore, Dramarama will always be one of the greatest bands that nobody knows.
---
Chris Carter (former bass player for Dramarama)
Are you one of those people who hates talking about the past?
I would, but I think it's all about where people are now.  It's all about how you're doing.  If you're doing real good or if you're happy in life, you don't mind talking about the past.  Maybe if you're really bumming out with what you're doing...  But the past was really fun and a lot of good times.  So, I'm more than happy to talk about it.
Tell me about Looney Tunes.  Is that really where the band started?
---
The article continues after this ad
---
---
Oh yeah, absolutely.  It was a record store I opened.  I had gone to the Connecticut School of Broadcasting to be a DJ and, at that point, you had to get a third-class license.  So I was doing that and those were my two dreams: To have a record store and to be a DJ.  After going to broadcasting school, I realized that it was kind of tough because you had to stick to playlists and play things people wanted you to play.  I was all about my own thing.  So I opened a record store.
It was an old head shop in Wayne, New Jersey and we turned it into a record store.  It was like a mini-Bleeker Bob's of Wayne.  We were trying to have imports there, and this is 1979 so imports were like GEM Records and there was a lot of progressive records imported at the time.  It wasn't like the way it became.  We had lots of bootlegs and hard-to-find things.  As '79 turned into '80 and '81, the whole new wave thing and independent 45s really started to become a big thing and we were pretty much the only store in the area that had them.   So, we had people come from all over.
We got hooked up with Uncle Floyd.  We were actually the Uncle Floyd headquarters, the only store where you could buy Uncle Floyd merchandise.  So we had guys coming from all over, these kooks...  We had all of his records and the records of all the characters and the wacky guys who had their own visions of getting off the "Uncle Floyd Show" and becoming a "Saturday Night Live" cast member.  They all had their own line of products and we sold all that stuff.  As a result, we got the Ramones and the Plazmatics, Ian Hunter and Mick Ronson - everybody came to our store and did in-stores because we had the connection to Uncle Floyd.
At the time, whatever those guys were doing be it David Johansen or Ian Hunter, we got them to come to the record store and we had huge lines.  It was just a little store in an outdoor mall.  I remember when the Plasmatics came they pulled up in an all-convertible Cadillac and the windshield was busted and Wendy O. Williams was sitting in the back seat with her tits hanging out.  It was classic!  Fucking Wayne... this little town.  It was really weird.
So we really made our mark there as a record store and, throughout the whole course of the store, John Easdale used to come in and hang out and he used to work there.  He was younger than me and Tommy.  We graduated in '77 and John graduated in like '78 or '79.  John was always younger, but he played football with Tommy so we all knew him and we let him hang out there.  That's how me and Easdale hooked up.  We then proceeded to go down to the basement of the record store,   began bringing instruments down there and started making tapes.  It was me and John and Mark.  Mark was John's next door neighbor and he was younger as well so those guys had been in lots of bands together.  I had been in bands before with Tommy.  I didn't know Mark very well, other than I  knew he played guitar.  And the three of us started playing.  I don't know why Tom didn't start playing with us.  I guess he had to watch the store.
So, yeah, that's how it really started with me, John and Mark in the basement of Looney Tunes.
What do you remember about those first shows?
Our first show was on the "Uncle Floyd Show", of course.  I think we did three Uncle Floyd shows.  I guess the first one might have just been the three of us with a different drummer - a drummer from Asbury Park, actually, who was in this band called Max.  This is all coming back to me now.  That was our first appearance and then we played our first real big gig at the Meadowbrook, which was a big place to have a first gig.
That place was huge and, in the early 80s, it had bands like Duran Duran and Billy Idol play there.  When they didn't have a big-time band, it was a dance club.  It was packed! I remember we were standing in front of the sign and it said King Crimson, Dramarama and Billy Idol.  That was our first gig and that's where it all started.
We're all from Wayne, New Jersey and we came out to California because Rodney Bingenheimer, infamous DJ on KROQ out here, was playing our record and our record became a huge hit on KROQ.  So we came out to play one gig at the Roxy.  We had round-trip tickets and we never came back.  We just stayed there.
And now you're producing a documentary about him called "Mayor of the Sunset Strip."
I owe it to him to do it.  We'll finish the movie and it's going to be a big thing.  We're going to the Cannes Film Festival... We got everybody from David Bowie to Courtney Love, Cher to Brian Wilson, Oasis and Alice Cooper - it's amazing.
It's going to play at whatever the cool theatre you go to that plays the cool movies.  Wherever Crumb or movies like Punch-Drunk Love played, those cool little theatres will have it.  It'll be out probably at the end of 2003, by the time it's all sold and everything.
And you've got your radio show, "Breakfast With The Beatles."  How's that going?
It's great!  It's probably been a dream of mine for the last 15 years to host a Beatles show.  The way it came about was kind of sad.  The host died.  It's not funny, but it sounds like a black comedy.  Everybody was really sad when she passed away, but the first thing I thought was who's going to do the show? They had this big contest and they voted for the DJs who had filled in all year long.  Anyway, I got the gig.  It's probably the greatest thing that ever happened to me.  I'm thrilled!
It's just great, just to play the Beatles and the solo music.  I get to do whatever I want. Come up with all these different shows, just any angle to keep it fresh because it can get old playing the Beatles every week.  I just try to make it real interesting with mono shows and solo shows.  It's a lot of fun. The show is so successful it's the number one show in Los Angeles for any station on the weekend. Not that it has anything to do with me.  It's the music, but it's really fun.
What was it like on the way up with Dramarama?
Well, it was weird for us because it started before our first album. We started with an EP and sent it off to France.  Our first record was actually on New Rose Records in France and we went to France before we went anywhere.  We had a following there.  The record was somewhat of an underground hit in France, so that was kind of cool.
We just had really good breaks, you know?  It was like wherever we aimed the cannon we went for specifically like France.  We said, ok there's this label called New Rose.  They have the Replacements and Johnny Thunder, Willie Alexander and all these wacky people we like, let's go with this label.  And they put the record out.  Same thing with California.  We got played in California and went and moved out there.  We just went after it, you know?
It was cool, but it was really weird to be in California because the kids out here put us in the same league as the Smiths, Love and Rockets and Depeche Mode.  They thought of us one of those bands.  We, of course, knew the difference.  We knew when we left California that we weren't going to go sell out the same places as the Smiths or those guys.  But the kids in California didn't know that.  They saw Dramarama as the headliner for the Palladium and playing with the Psychedelic Furs at Irvine Meadows.  So, it was kind of a goof for us.  It was a bit surreal in that we were so big in California and we knew when we left it wasn't going to be that way.  We had to work on the rest of the country and we slowly started to do that from 1989-1991.  By '92, we were considered pretty much a good, strong B-level alternative band in places like Chicago and Texas.  But New Jersey and Los Angeles, those were our two big spots.
And we didn't know about the Jersey thing.  We forgot about Jersey for a while.  Then we realized that the DJs like Matt Pinfield and Jerry Robino and those guys, who had been supporters of us from the beginning, they were hip to what was going on in California.  They were like, "Hey man, we played you guys first!"  And they stayed on us on all those stations.  It was cool that when we would come home -- we were used to coming home and telling everybody, "Hey, we just played the Palladium" and they'd go,  "Yeah, sure."  Then as things went on we started actually doing good in New Jersey, which was nice for us because you always want to do good where you come from.
Why did Dramarama break up? Did you guys just get tired of being so close for so long or was there one incident in particular that sort of ended it?
It was a succession of bummers in a row.  My recollection is that we were going to end the tour at the Hollywood Bowl, which was our biggest thing ever.  Duran Duran and the Cranberries were going to play.  A weird bill, but it didn't matter because we were playing the Hollywood Bowl.  In a two day period, we got a call that says your Hollywood Bowl show is cancelled with Duran Duran because the guy has strep throat and they're not rescheduling and then a couple days later we found out our label Chameleon, who had been hooked up with Elektra, was splitting.  We were finally on a major label and something happened between the presidents of both labels and they got into a fight.
John and me were just like, "Aw man, we're not playing the Hollywood Bowl, we have no record label... this sucks."  We just got real depressed.  I think the band was at its height at that time with Clem Burke on drums.  We were just finishing a semi-successful tour, we had a big tour bus, we were finally doing the things we all wanted to do.  But it's weird because when you get to where you want to be, sometimes you realize that that's as far as you're gonna go.  It's like well, that's it.  We're not gonna ever be U2.  We're not going to play stadiums.  Next year, we're probably going to play the same places we played last year.  I think you reach the point where it's not getting better and then if things go wrong they kind of affect you more than they might have affected you in the beginning where you're used to bad things happening.  Once you get to a certain point you want things to keep going better for you instead of worse.
I think we started having a couple of setbacks like our manager might have left at this point and we had a new manager.  It just wasn't a warm feeling of love.  Plus, we had been together since high school, which had been about 12-13 years.  Guys were getting married and having kids.  Even if you're making the same money you were making three years before it's different now because you're getting older and you need a little bit more money and you have a little bit more responsibility.  Not all of the guys were in the same situation.  Some weren't married, but it just made for an easy out when things really started going wrong.
I think that's what happened.  And, I'm not going to lie, there was some substance abuse problems.  There was some personalities that were getting a little altered here and there.  So, I think the combination just ended up the way it did.
What did you do after the band broke up?
I got really depressed! (laughs) Because I never realized that I didn't have anything else going on.  When you're in a band, it's like you're in Disneyland every day.  Everyone's kissing your ass, everyone loves you.  Even if they don't, they'll tell you they do.  Everything's free, everybody gives you everything and it's wonderful.  You get used to that and you don't realize that the reason everybody's doing this is because you're in a rock band and they feel that they're supposed to treat you this way.  Then once you're not in the band anymore, all that kind of ends.  

It's not all superficial, it's not just the free things and the ass-kissing I miss.  I miss the actual business of doing business as a band.  We were professional musicians and we were treated that way.  All of a sudden, you're not that guy anymore and you're not in that band and you realize your self-worth.  I was a bass player in Dramarama... big deal.  What do you do? What do you do with that? Do you start another band? I don't know if I want to do that.  You don't know what to do.  So, I got really depressed.
I thought originally that John and I would continue as a team and it almost worked the opposite way in that it was like this Paul McCartney/John Lennon thing.  It was like I'm going to do things without Chris because Chris gets so much credit for the band and I'm writing all these songs.  Maybe Chris shouldn't get as much credit as he's getting, so I'm gonna go out on my own without him.  Because basically John had a raw talent that I picked up on real early at Looney Tunes.  Believe me, I would always want to be the songwriter in the band or write lyrics or music, but he was so damn good, he impressed me so much, that I felt he had that covered.  I didn't even have to go in there and do that.  It's like, I don't even have to try because he's so good at it.  I knew that from the beginning and he knew I knew that.
But John also has limitations.  He doesn't necessarily know what to do with his songs.  Sometimes, I felt he  didn't know how to express them to the band as well as I did.   So, I felt, I was very important in his song writing process.  I would get the producer or pick the studio.  I would pick the guitars we would use on certain songs.  He was definitely a partner and we worked very well together, I think he just wanted to go off and do some stuff on his own. 
Do you play anymore?
Umm... my last gig was with Mike Myers as Austin Powers on the MTV Movie Awards.  I played bass.  I just do some weird, little things.  I just produced an album by Stew called The Naked Dutch Painter.
What would you like people to remember about Dramarama?
Geez... I just think that we were consistent and every album, I felt, was listenable from beginning to end, which is really not the case with most rock and roll records you get.  Those records are very listenable.  They hold up really well production wise with the exception of Box Office Bomb, which sounds dated.  It's weird because the album before it still holds up.
I think Vinyl is like a classic to me.  I almost listen to it from a third party perspective.  The other records I really hear everything we're doing and I really put myself back into it and I know what's up.  But when I listen to Vinyl, probably because we had an outside producer, I can actually step back from it and listen to it like I listen to some Stones records.  That's a nice record on a whole bunch of different levels, whereas Hi-Fi Sci-Fi or Cinema Verite I was in the thick of the record production so I know them better and I can't look at it the same way.  I think Vinyl, of all of our records, is a good one.  It really holds up nicely. 
We're in between deals right now.  Rhino had a license for our records for five years and that's over now, so we're in between labels.  Hopefully, we'll be able to put these things back out in the next year or two.
Looking back do you view Dramarama as an alternative band or a regular rock band?
Well, we were an alternative band because when we were making records that's what they called it, but we would consider ourselves a rock and roll band.  Our influences weren't the Pixies, you know? Although it may have been if you listen to "I've Got Spies." (laughs) See, a lot of the alternative bands when we were around were really rock and roll bands that we liked, bands like the Replacements and Hoodoo Gurus.  The bands that we liked were rock and roll bands.  I didn't give a shit what they called them.
Alternative was a way that you could get on a chart, you know? There was no rock and roll chart in 1985, but there was the alternative chart, the dance chart and the whatever chart.  So, yeah, I guess we were alternative, but we never thought of it that way.
---
From the book Beyond The Palace by Gary Wien
---
---
Gary Wien has been covering the arts since 2001 and has had work published with Jersey Arts, Elmore Magazine, Princeton Magazine, Backstreets and other publications. He is a three-time winner of the Asbury Music Award for Top Music Journalist and the author of Beyond the Palace (the first book on the history of rock and roll in Asbury Park) and Are You Listening? The Top 100 Albums of 2001-2010 by New Jersey Artists. In addition, he runs New Jersey Stage and the online radio station The Penguin Rocks. He can be contacted at gary@newjerseystage.com.
---