By Gary Wien
originally published: 01/26/2012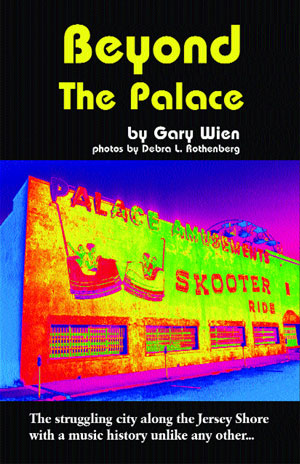 Red House was formed by a bunch of guys in Union County in the early 80s.  They became one of the most popular bands along the Jersey Shore and one of the leaders of the alternative scene taking place in clubs like the Green Parrot and the FastLane.
Success came quickly for Red House after the release of an independent record in 1987.  The band found themselves on the cover of the College Music Journal (CMJ), an unheard of feat for an unsigned band.  Record companies were soon bidding against each other to be the one to sign them. Red House ultimately signed with SBK and released a CD featuring the alternative hit "I Said A Prayer."
Unfortunately, problems with the label surfaced after the band's first tour.  A second record was recorded but never released.  The band ultimately called it quits and headed their separate ways.  I was able to conduct phone interviews with all four of the original band members of Red House, a band that always deserved a better fate.
I know you're still playing, what's the name of your new band?

Brother Eye.  We're playing the South by Southwest show in Austin.  So, that's pretty exciting.  We've been together for quite some time.  Since 1993, I guess.  We put out a record called Soapdish Antennae.
So, it wasn't that long after Red House broke up?

No, it wasn't.  I started playing with Tony (who was in the Red House) and Adam Schlesinger (who played keyboards with us and now is half of Fountains of Wayne).  The three of us started playing in a band right after Red House split up.  We only played one show at CBs.  Luckily though, Steve Garvey of the Buzzcocks was there and he saw us and got in touch with me.  He was producing this band from New Hope and it turned out to be Brother Eye.  I've been playing with them ever since really.
When we first started playing we played a lot of shows in New York.  Now, everyone's got a job and got responsibilities.  So, I think every show we've played over the last couple years has almost always been at John & Peters in New Hope, Pennsylvania.
---
The article continues after this ad
---
---
Did you guys feel a part of that Jersey Shore/Green Parrot scene?

Definitely.  I haven't experienced anything like that scene at that time since.  It was really great and we were lucky to be a part of it.  I always hoped to find a little community of bands that sort of all go see each other play and have a small string of clubs that can accommodate all of the bands.  Something like a cross breeding of the fans and stuff.  It was really nice.
What did you think of the Green Parrot as far as a rock club?

Well, it wasn't soaked in atmosphere like a CBGBs.  So, physically it didn't have a great atmosphere, but I think it was just the combination of WHTG and all of the DJs who were really eager to meet all the bands and get you played on the air.  That always made you feel like you were doing something a little more than playing in your basement.  It was so great that you could be driving around and hear yourself on the radio. 
The combination of WHTG being involved and the really steady loyal clientele to that place made the atmosphere, in general, really energized and just a lot of fun.
So the combination of WHTG (106.3)  really helped it?

Absolutely, that was key I'd say.  And we were lucky that we had good timing.  We had just recorded our first record in the basement,  and we had all pooled our money and got copies pressed.  All of a sudden here's this little station and someone said you should give it to these guys.  Mike Marrone over there took the record from us.  He really liked it and all of a sudden we had about four songs in rotation at the station.
Around the time that you guys released your indie record not many bands were doing that.  What led you guys to take the chance?

Umm, I don't know.  We didn't really feel that it was taking a chance.  All of us in the band were interested in recording and the process of recording, especially Bruce and I.  We used to read all these magazines like Musician and stuff and pick up all these miking tips.  Then we'd go to Radio Shack and buy whatever mikes we could afford.  We spent a lot of time in his parents' basement setting up a little makeshift studio and we recorded everything.  Then we started doing some multi-tracking things on a cassette four-track.  Then Bruce finally went out and bought an 8-track 1/4 tape deck by Fostex. 
Anyway, we just liked the process of recording and we thought the best thing for us to do would be to make something to put into someone's hands that we thought completely represented the band and what we could do.  Maybe it would have our picture.  We just thought it would just be a big help to have something like that and if we could get it distributed and on to some college radio.  I guess we had a lot of confidence that we were doing something that people would be interested in at the time, which was good because it really was a lot of positive thinking that we used.
Could you ever have imagined landing on the cover of CMJ?

No, again it was just a wonderful little gift.  Yeah, that was the record and it got some sort of basic distribution.  I forget through what service, but that's how they got it.  It was just amazing because we found ourselves being able to cut out all of the begging and pleading and whatever you have to do to try to get yourself listened to at record companies.  They just all started calling us asking for the record.  We'd take orders and then just send them out.  It was amazing.
Who came up with the album's symbol, the red Monopoly house?

Oh, I guess I did that.  I'm an art director now at an advertising agency and I've always been an illustrator.  I just always drew and stuff.  So, I did all of the band things like that.  I think it was a combination of me and Ron who sort of planned out what the record would look like.  We thought it would be cool if there was no writing on the cover and we just put the house because it basically was the name of the band.  When you looked at it someone would say its Red House.
Did you come up with the ideas for the photos like the famous one with the band pictured in front of the Eggomatic?

I think that was Ron.  I think it was something that he used to pass.  I believe it was in Scotch Plains, which is where I live now actually.  It's not there anymore.  It's been featured in Weird New Jersey as a landmark of the past that was unexplained.
Around the time that you had the labels fighting for you and you did showcases.  What was that like for you? Was that the first time you guys played places like CBGBs?

Yeah, I guess it was.  I don't know, I guess the Red House wasn't the kind of band that fit in nicely at CBGBs.  But it was exciting to go and play at a legendary place.  It was fun.  Most of the entire experience was just a lot of fun.  As soon as things like major labels or organized business transactions started becoming a bit more part of what we were doing everything always got to be a little less fun.
We always tried to remain true to ourselves. We sort of looked up to bands like REM, U2 and the Waterboys who we felt always sort of just did what they did and seemed to not be too pressured by the record company.  So, we just tried to always keep that attitude ourselves.
How difficult was it after that first major label record when you really did start having them pressure you in certain directions?

Well that was ultimately and stereotypically the end of the band.  It was really sad.  We put a few years into playing really hard, we became very close like a family and we worked as a band and played constantly.  It's funny how quickly it was dissolved by being a part of the industry.  It was really rough.  We felt we had a really strong follow up to the first album.  We thought it was a little truer to what we envisioned ourselves to be.  It was a little less anthemic than the SBK CD that came out.  None of us over the years felt it really represented the band.  I always felt that little record with the red house on the cover was a lot closer to what we were at our best. 
Anyway, we got the typical runaround.  I mean, it's just so predictable it's even boring.  It was like, "Oh yeah, this is nice but we don't hear a single.  Give us some more and work on a single."  And we kept doing what we do, which was just writing songs.  But then it got sticky in that they started to try pairing Bruce and all of us off with other songwriters.  Most of the people that were sent our way were ridiculous!
I heard one was the guy from Dirty Dancing...

Yeah, Frankie Previtt.  Unbelievable, surreal even that we were sitting around in Bruce's apartment working on a song with this guy.  I guess we always had a good attitude.  Ok, we'll try this.  That was the attitude.
And the guy that wrote "Eye of the Tiger."

Yup! The guy from Survivor.  Well, at least that guy left us with a good story because we invited him to a party at our friend's house later that evening after we worked with him during the day.  He wound up literally running out of the party afraid.  He just left.  We found out later that he was very religious.  He might have been born again or something.  
I guess we really scared him, which I was kind of proud of.
What was your experience of the first tour? I know a lot of the shows weren't really supported well.

Every aspect of the Red House after we put out the record with SBK and even to a point of making the record was sort of mishandled by the label.  They really didn't know what to do with us.  It was a bad time to try to break out.  Classic rock was still real big.  Few bands that were new were getting the kind of radio play that SBK was trying to get us.  It was bad timing.
It was almost like we had great timing all the way up to then and then the timing just turned sour.  So, we went around and we did some touring.  I still had a blast.  I always did.  Even if there was only 20-30 people at some of the venues, it was still always great to play.  It was fun to be traveling as a band and have that be your only job.  I enjoyed it and some of the shows were supported well.
Are there any shows that stand out on that first Red House tour?

I remember the last show of the whole little road trip was in Appleton, Wisconsin.  It was packed! It might even have been sold out.  We were almost looking at each other like what is this all about? I don't know, maybe there's absolutely nothing else to do there, but it was packed and we had people in line after the show bringing CDs up for us to sign.  So, that was nice that we ended it on a high note. 
The shows that we went and did with the Moody Blues, another strange mismatch, were a lot of fun in the big places like the Garden State Arts Center and other outdoor venues like that along the East Coast.
Was the band still in good spirits when you were recording the second record in Memphis?

Yeah, we were.  We were very positive, especially at the start.  The more you bang your head on the wall the more it hurts.  It started to feel like that, like the door just wasn't going to open and we were pounding on it with tons of songs.  We always had a lot of material.  It was frustrating, but we stayed in good spirits even to the point when we dissolved our relationship with SBK.  We stayed positive.  I remember doing a new photo shoot.  We were sending out new press kits and setting up showcases again.  We still stayed positive.  At some point, I guess, Bruce just didn't have it in him to start over.  He just wasn't up to it.
Did you guys have the rights to that second album or did SBK?

That's a good question.  I don't think they have the rights to that stuff.  I think it was only submitted to them on cassette.  I doubt that there's anyone existing that could find out if that material is owned by them.  They were just a branch of EMI.  I'm sure some of the people are around, but I'm sure they don't remember us.  
What would you like people to remember Red House for?

It seems to all of us, the people who really did like the band liked the band a real lot to the point where they were very detailed about reading the lyrics and stuff.   We never slouched off on any aspect of the music.  We worked our butts off from the words to the arrangements to the live stuff.  I'd hope we'd be known as a fun band...  energetic.  We used to do some unpredictable things on stage with covers and things like that.  I guess it would be nice if anyone remembers us to remember us as guys that were just honestly trying their best to make music that we thought was good and not for any other reason.
---
From the book Beyond The Palace by Gary Wien
---
---
Gary Wien has been covering the arts since 2001 and has had work published with Jersey Arts, Elmore Magazine, Princeton Magazine, Backstreets and other publications. He is a three-time winner of the Asbury Music Award for Top Music Journalist and the author of Beyond the Palace (the first book on the history of rock and roll in Asbury Park) and Are You Listening? The Top 100 Albums of 2001-2010 by New Jersey Artists. In addition, he runs New Jersey Stage and the online radio station The Penguin Rocks. He can be contacted at gary@newjerseystage.com.
---