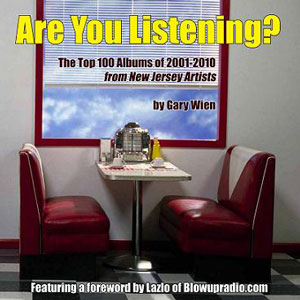 Who would have thought a song like "What Does Eddie Know?" from I'm Not Angry... Anymore could inspire an entire rock and roll concept album?  Perhaps more surprising is the fact that it led to a rock and roll concept album that actually works!
Eddie Knows! is described as a "rock and roll novel" with each song detailing a chapter  in the story.  Basically, it's your usual boy meets girl, boy and girl break up, boy falls into depression then meets woman whom he falls in love with (but can never have a family with since she's infertile), and concludes with a visit by his old girlfriend who has surprising news for him.  You know, that old story.
Played out in song, it's an adventurous tale that largely succeeds where so many similar projects have failed.  Starting out with the sounds of the boardwalk that kick off the song "How It All Went Down," Caspi introduces the characters and sets up the story.
For a project like this to work, songs need to be able to stand on their own while adding to the story as a whole.  Caspi accomplishes this masterfully.  Songs like "Drive," "Same Old Thing," "Rising Above," "Big Change," and "Anyone Else There?" are just as effective as radio singles as they are important components of the story; meanwhile songs like "Make It A Lifetime" and "I Will Be There" are memorable theatrical numbers.
Caspi doesn't try to copy rock and roll conceptual albums of the past; nor does he try to emulate any well known Broadway musicals.  Instead, by combining attributes of both, he creates his own little niche. 
In 2009, Caspi took the project one step further with a true theatrical production of the album at the Showroom in Asbury Park.
---
The article continues after this ad
---
---
Highlights include "How It All Went Down," "Drive," "Rising Above," "Big Change," "Anyone Else There," and "Picture In Her Pocket."
---
From the book
Are You Listening? The Top 100 Albums of 2001-2010 by New Jersey Artists
by Gary Wien
---