By Gary Wien
originally published: 01/26/2012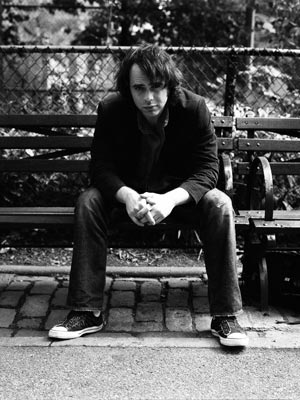 The opening songs on An Endless Doubt simply floored me the first time I heard them and left me scratching my head as to why I had never heard of Zak Smith before.  Born and raised in New Jersey, the Montclair artist plays mostly in New York City, which is probably a mixed blessing for him.  On one hand, he's forced to compete with a zillion other bands; but, on the other hand, he most likely avoids the comparisons to being the next Bruce Springsteen that he might hear on a daily basis throughout the Garden State.
Personally, I hate comparing anyone to Bruce Springsteen since just about every guy from New Jersey with a guitar and a raspy voice stares into that rather daunting abyss; but, if I was to imagine what the music of Springsteen might have sounded like if he was just coming up today, it could very well sound like Zak's.  He's got an amazing ability to incorporate the sounds of alternative rock with Americana to form his own signature sound.  I hear hints of Wallflowers, Jayhawks, and even Morrissey in his songs.  Springsteen did the same thing decades earlier when he used the music of his youth to create his own style of rock and roll.  I wouldn't say Zak Smith sounds like Springsteen, but he's certainly got the same spirit that Bruce had when he was still in his 20s.
Four songs, starting with the rollicking rock and roll of "I'm Your Man," the country-tinged "I Believe In War," the alternative rock and roll classic "The Bible Is Right," and the brilliant ballad "The Ones That Got Away Will Bury Me," are about as good as music gets, but the entire album shines.  Smith shows himself to be a tremendous songwriter, capable of writing catchy songs in a myriad of styles.  Remember his name...
Highlights include "I'm Your Man," "I Believe In War," "The Bible Was Right," "The Ones That Got Away Will Bury Me," "Alamo," and "Goodnight Baby."
---
From the book Are You Listening? The Top 100 Albums of 2001-2010 by New Jersey Artists by Gary Wien
---
---
Gary Wien has been covering the arts since 2001 and has had work published with Jersey Arts, Elmore Magazine, Princeton Magazine, Backstreets and other publications. He is a three-time winner of the Asbury Music Award for Top Music Journalist and the author of Beyond the Palace (the first book on the history of rock and roll in Asbury Park) and Are You Listening? The Top 100 Albums of 2001-2010 by New Jersey Artists. In addition, he runs New Jersey Stage and the online radio station The Penguin Rocks. He can be contacted at gary@newjerseystage.com.
---
---