---
For great Jersey music and much more, tune into our radio station at AsburyMusic.com
---
#20 Zak Smith: An Endless Doubt
By Gary Wien
originally published: 01/26/2012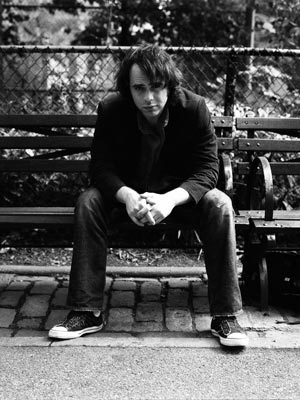 The opening songs on An Endless Doubt simply floored me the first time I heard them and left me scratching my head as to why I had never heard of Zak Smith before.  Born and raised in New Jersey, the Montclair artist plays mostly in New York City, which is probably a mixed blessing for him.  On one hand, he's forced to compete with a zillion other bands; but, on the other hand, he most likely avoids the comparisons to being the next Bruce Springsteen that he might hear on a daily basis throughout the Garden State.
Personally, I hate comparing anyone to Bruce Springsteen since just about every guy from New Jersey with a guitar and a raspy voice stares into that rather daunting abyss; but, if I was to imagine what the music of Springsteen might have sounded like if he was just coming up today, it could very well sound like Zak's.  He's got an amazing ability to incorporate the sounds of alternative rock with Americana to form his own signature sound.  I hear hints of Wallflowers, Jayhawks, and even Morrissey in his songs.  Springsteen did the same thing decades earlier when he used the music of his youth to create his own style of rock and roll.  I wouldn't say Zak Smith sounds like Springsteen, but he's certainly got the same spirit that Bruce had when he was still in his 20s.
Four songs, starting with the rollicking rock and roll of "I'm Your Man," the country-tinged "I Believe In War," the alternative rock and roll classic "The Bible Is Right," and the brilliant ballad "The Ones That Got Away Will Bury Me," are about as good as music gets, but the entire album shines.  Smith shows himself to be a tremendous songwriter, capable of writing catchy songs in a myriad of styles.  Remember his name...
Highlights include "I'm Your Man," "I Believe In War," "The Bible Was Right," "The Ones That Got Away Will Bury Me," "Alamo," and "Goodnight Baby."
---
From the book
Are You Listening? The Top 100 Albums of 2001-2010 by New Jersey Artists
by Gary Wien
---
---
---
For more by this author, click here
---


Mungion To Perform At The Stone Pony
 (ASBURY PARK, NJ) -- Since their inception in the Spring of 2015, Mungion (pronounced mung-yin) has quickly made a name for themselves as one of the rising stars of the jam scene. The band will open a pair of shows for Pigeons Playing Ping Pong at The Stone Pony in Asbury Park on January 24-25.
---
MPAC Presents Disney's DCappella Live!
(MORRISTOWN, NJ) -- Disney's highly acclaimed a cappella group, DCappella comes to Mayo Performing Arts Center on Friday, February 15 at 8:00pm. Tickets range from  $39-$89.
---
Leonia Chamber Musicians Society to Present Benefit Concert for Leonia High School Music Department
(LEONIA, NJ) -- The Leonia Chamber Musicians Society, Inc., a nonprofit, tax-exempt organization based in Leonia, New Jersey, presents "Our Hearts in Music", a benefit concert, on Sunday, February 10 at 4:00pm at Leonia High School's Little Theater, located at 100 Christie Heights in Leonia, New Jersey.
---
The Newton Theatre Presents Ruben Studdard
(NEWTON, NJ) --  Ruben Studdard, the Grammy-nominated R&B, gospel and pop singer was the winner of American Idol's second season. He has recorded six studio albums, appears frequently on tv, toured extensively and has sold over two million albums worldwide. Studdard officially confirmed that he will be releasing RUBEN SINGS LUTHER to his musical hero Luther Vandross on March 16th and will be launching a 25 city 'Always and Forever Tour' starting in Sacramento, California on April 8th.  Locally, he will perform at the Newton Theatre on Friday, March 29 at 8:00pm.
---
Bill Frisell To Headline the 8th Les Paul Festival Concert at Ramapo College
(MAHWAH, NJ) -- Guitarist Bill Frisell will headline the Les Paul Festival Concert on Saturday night, February 16 in the Sharp Theater at Ramapo College. Often hailed as one of the most distinctive and original improvising guitarists of our time, Frisell's career as a guitarist and composer has spanned more than 35 years and 250 recordings, including 40 of his own.
---


The Empire Strikes Back in Concert with the NJSO LIVE! at the State Theatre
Some of our favorite childhood memories growing up at the Jersey Shore involved going to our town's grand old movie palace, The Community Theater, in Toms River. Built with colonial architecture and featuring large white columns in the front, paned glass windows in the lobby, a circular brick walk from the sidewalk to the box office, and a white picket fence which enclosed a lawn and a flower bed, this local gem presented the latest Hollywood films. For kids like us back in the 1960's, that meant pictures like Mary Poppins, Cinderella, The Love Bug, and Flipper.
---
Scott Wolfson and Other Heroes At Riverside Rhythm & Rhyme
This coming Sunday, January 20, Scott Wolfson and his band will be serving up their unique blend of Americana at the Riverside Rhythm & Rhyme series at Investors Bank Theater in Succasunna, New Jersey. The band – Scott Wolfson and Other Heroes – formed in Jersey City in 2011, and, even though the members have migrated in various directions since then, they still consider themselves to be a Jersey City band.
---
"He Totally Wowed Us!" John Oates LIVE! at SOPAC
It's brisk for an evening walk on South Orange Ave. in South Orange, NJ, this Friday, Jan. 4, 2019 evening, but it's a good road to follow as it leads us directly to the South Orange Performing Arts Center (SOPAC) for a special performance by singer, songwriter, and guitarist John Oates and his backup group, The Good Road Band.
---
"Tons of Fun!" The Glenn Miller Orchestra LIVE! at the Grunin Center
Although Friday, December 21, 2018 is the shortest day of the year, the audience of big band music lovers here at Toms River, NJ's Grunin Center for the Arts is hoping for a long evening of classic swing and holiday tunes performed by the incomparable Glenn Miller Orchestra!
---
Mike Davis and The New Wonders
Mike Davis traces his love for the trumpet back to a Disney movie. He grew up in a musical family, with both his parents playing strings in the Seattle Symphony. But Davis wanted an instrument of his own. Then, at age 9, he saw "The Aristocats," the animated film about a bunch of French felines — including a group of jazz-playing alley cats.
---
Event calendar
Tuesday, Jan 22, 2019
Sorry, no events listed for today.
Here are some upcoming events.
---
2019-01-23
Rechnitz Halls DiMattio Gallery, Monmouth University @ 10:00am
West Long Branch
---
2019-01-23
Pollak Theatre @ Monmouth University @ 7:30pm
West Long Branch
---
2019-01-24
New Jersey Repertory Company @ 8:00pm
Long Branch