By Gary Wien
originally published: 01/26/2012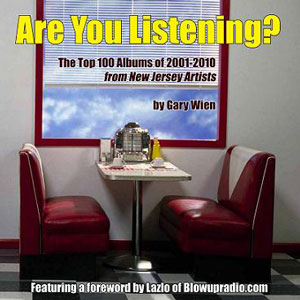 Hailing from Freehold, Bruce Springsteen is without doubt one of the most popular musicians to ever come from New Jersey.  Among his many great albums are three masterpieces that all originated from being immersed in extremely difficult situations.  When he was caught in the middle of a legal matter following the release of Born To Run, he returned with the brilliantly stark Darkness  On The Edge Of Town; troubles within his first marriage led to the amazing and brutally honest Tunnel Of Love; and when our world was turned upside down on

September 11, 2001, he responded with The Rising, a remarkable album that, in my opinion, is Springsteen's last great recording.
It's difficult for an artist to take an introspective look at a national tragedy, but even more difficult to craft wonderful hit songs from it.  On The Rising, Springsteen manages to do both.  Reuniting with the E Street Band for their first true studio release in nearly 20 years, The Rising contains several songs that would compete for places on Springsteen's all-time greatest hits collection. 
This was the album that America sorely needed.  We were looking for someone to have the courage to dig within the tragedy and help us understand what was nearly impossible to comprehend.  Springsteen helped us remember the valour of the firefighters, the pain of families torn apart when one never returned home from work that day, the fear that lingered in the air, and the sense of community brought on by the tragedy. 
If anyone ever debates Springsteen's place among great American artists, I'll just point to this album and say, "He was there when we needed him... just as all great artists are."
Highlights include "Lonesome Day," "Into The Fire," "Waitin' On A Sunny Day," "Countin' On A Miracle," "Mary's Place," "You're Missing," "My City Of Ruins," and the brilliant title track.
Photo by Danny Clinch
---
From the book Are You Listening? The Top 100 Albums of 2001-2010 by New Jersey Artists by Gary Wien
---
---
Gary Wien has been covering the arts since 2001 and has had work published with Jersey Arts, Elmore Magazine, Princeton Magazine, Backstreets and other publications. He is a three-time winner of the Asbury Music Award for Top Music Journalist and the author of Beyond the Palace (the first book on the history of rock and roll in Asbury Park) and Are You Listening? The Top 100 Albums of 2001-2010 by New Jersey Artists. In addition, he runs New Jersey Stage and the online radio station The Penguin Rocks. He can be contacted at gary@newjerseystage.com.
---
---