By Gary Wien
originally published: 02/23/2017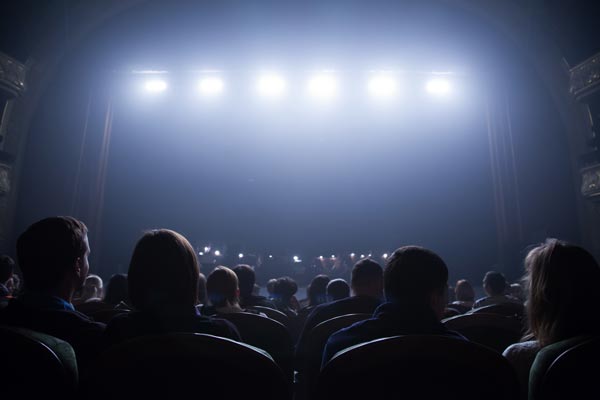 Not long after the presidential election, Vice President Mike Pence caught a performance of Hamilton on Broadway.  Afterwards, Brandon Victor Dixon — who plays Aaron Burr — gave one of the show's patented closing speeches.
"You know, we have a guest in the audience this evening," he said to audience laughter. "And Vice President-elect Pence, I see you walking out, but I hope you will hear us just a few more moments. There's nothing to boo here, ladies and gentlemen. There's nothing to boo here. We're all here sharing a story of love. We have a message for you, sir. We hope that you will hear us out."
"Vice President-elect Pence, we welcome you, and we truly thank you for joining us here at 'Hamilton: An American Musical.' We really do," Dixon said to further applause. "We, sir, we are the diverse America who are alarmed and anxious that your new administration will not protect us, our planet, our children, our parents, or defend us and uphold our inalienable rights, sir. But we truly hope this show has inspired you to uphold our American values and work on behalf of all of us. All of us. Again, we truly thank you truly for seeing this show, this wonderful American story told by a diverse group of men and women of different colors, creeds and orientations."
Since that performance, we have seen members of the arts from Meryl Streep to Bruce Springsteen use their platform to send a message to the President.  Some people have criticized the artists for doing so; others have praised them.  One thing is clear: people in the arts are not going to be silenced.  If anything, this is the biggest test for the arts since the 1960s. Will it spur a new counter-culture revolution? Since the winner of the election lost the popular vote by several million, are we actually talking about the counter-culture or the mainstream?
New Jersey Stage spoke to a pair of theatre artistic directors and a pair of playwrights to get their thoughts on theatre and politics and what the future might hold. In this piece we talk with Laura Ekstrand of Dreamcatcher Repertory Theatre and Carl Wallnau of Centenary Stage Company.
---
The article continues after this ad
---
---
Do you think the election and new administration will spur more politically-charged plays in the near future?

Ekstrand — Yes, I do. I'm seeing artists (and everyone else) waking up to how important their participation in public discourse is since the election. As many have pointed out, friction often yields great art, and hopefully that will be the case here. Depending on how this administration plays out, the arts will be a way to respond to what's happening in a very public way, and perhaps to help inform and influence the public for the good.
Wallnau —The theatre has always been political. Even plays that seem to make no political statement are unintentionally advocating for the status quo. The theatre is always one of the first areas subjected to censorship by totalitarian governments because they know that the theatre is always a force for agitation.  Just as gender, race and sexuality have been at the forefront of many contemporary works, so too shall the new political environment spur writers on to new directions, insights and perspectives.
Could you see your theatre presenting more politically-charged works in future seasons?
Wallnau — I would hope so. We already are seeking works that deal with contemporary issues in meaningful ways. We will see if we are up to the challenge.
Ekstrand — We always produce contemporary plays that strive to have relevance in the lives of our audience, and as our audience's lives change, our choices will adapt. I'll quote from our mission here: "We seek to expose theatregoers to ideas and lives like and unlike their own, with the intention of awakening their imaginations and creating empathy for others." That's what we'll continue to do. But I know we will have a heightened awareness of what messages we're communicating to the world, and use our platform to encourage the health of our community.
Do you think playwrights might tackle issues of racism, xenophobia, hatred, or gay rights -- either involving politics or as its own topic?
Ekstrand — Since those issues are already being dealt with on stages all over the country, I believe the desire to illuminate those topics will only increase. I also believe that the vast majority of people in this country actually agree on basic concepts of fairness and kindness. I think what playwrights will do is to bring to life what that looks like in the specific lives of their characters. Or what the lack of these things might look like.

Wallnau —They already have been doing so. Nothing has changed. This has been the creative fodder for almost all contemporary playwrights of stature.
What role do you see the arts as playing in this new era of America?
Wallnau — The arts are the canary in the mines. They tell us what is going to happen and where we are going before we even are aware of where we are. I think the role of the artist is more important now than ever. The only person more important is the audience.

Ekstrand — Arts have this amazing capacity to make people both step outside themselves and also look more deeply into themselves. I think the arts are going to be crucial in bringing people together, expressing a variety of points of view, and even providing solace for those who feel threatened. Certainly there is also a place for arts that seek to stimulate action, but more often the arts help to shape ways of thinking about important issues.
Are you personally worried about whether or not the arts will be affected (less grants, more restrictions, censorship)?
Ekstrand — I am going to persist in my belief that as Americans we have the will to resist any attempts at official restrictions or censorship. If funding were to be limited, we would find a way to keep doing what we do, but I truly hope that there will always be support for a multiplicity of voices.
Wallnau — The theatre and the arts community have always been a target for repression. Silence the artists and no one calls you on your crimes. The more you rely on government funding, the more tethered you are to the whims of a political class. I believe the Constitution that allows people to own automatic weapons and armor piercing bullets should also be strong enough to withstand the expected assault on free speech. I suspect we will see federal money dry up as the Luddites have taken over Washington. It is up to each of us to persevere in these trying times. As John Webster had a character say in his 17th century play, The Duchess Of Malfi, "Blackbirds fatten best in hard weather, why not I in these dog days."
---
Gary Wien has been covering the arts since 2001 and has had work published with Jersey Arts, Elmore Magazine, Princeton Magazine, Backstreets and other publications. He is a three-time winner of the Asbury Music Award for Top Music Journalist and the author of Beyond the Palace (the first book on the history of rock and roll in Asbury Park) and Are You Listening? The Top 100 Albums of 2001-2010 by New Jersey Artists. In addition, he runs New Jersey Stage and the online radio station The Penguin Rocks. He can be contacted at gary@newjerseystage.com.
---