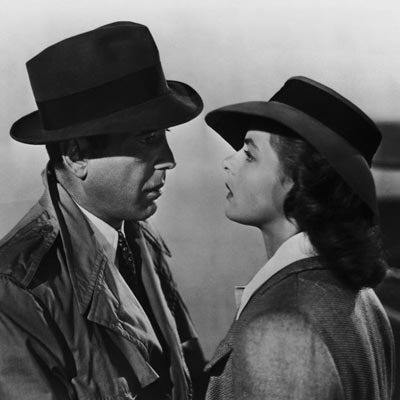 (HOPEWELL, NJ) -- Hopewell Theater will host a special "date night" celebration of Valentine's Day with a screening of the classic romance film Casablanca paired with an optional Moroccan supper on Valentine's Day, Thursday, February 14. An undisputed masterpiece and perhaps Hollywood's quintessential statement on love and romance, Casablanca has only improved with age, boasting career-defining performances from Humphrey Bogart and Ingrid Bergman.
One of the most beloved American films, this captivating wartime adventure of romance and intrigue from director Michael Curtiz defies standard categorization. Simply put, it is the story of Rick Blaine (Humphrey Bogart), a world-weary ex-freedom fighter who runs a nightclub in Casablanca during the early part of WWII. Despite pressure from the local authorities, notably the crafty Capt. Renault (Claude Rains), Rick's café has become a haven for refugees looking to purchase illicit letters of transit, which will allow them to escape to America.
One day, to Rick's great surprise, he is approached by the famed rebel Victor Laszlo (Paul Henreid) and his wife, Ilsa (Ingrid Bergman), Rick's true love who deserted him when the Nazis invaded Paris. She still wants Victor to escape to America, but now that she's renewed her love for Rick, she wants to stay behind in Casablanca. "You must do the thinking for both of us," she says to Rick. He does, and his plan brings the story to its satisfyingly logical, if not entirely happy, conclusion.
Hopewell Theater is taking reservations for its optional supper club on February 14 at 6:00pm, prior to the 8:00pm film screening of Casablanca.
An afternoon matinee of CASABLANCA will also be shown on Saturday, February 16 at 2:15pm. Matinee tickets are $6 plus tax at the box office and are available online. Additional fees apply to online and phone orders.
---
The article continues after this ad
---
---
The menu for the Moroccan supper club will consist of:
Appetizer platter: Green Salad with cucumbers, green peppers and tomatoes with parsley, garlic, vinegar, olive oil, and Moroccan spices.  Carrot salad with flavored with garlic, vinegar, olive oil and Moroccan spices. Eggplant Salad simmered in olive oil, tomato, onion, parsley, garlic, and Moroccan spices. Hummus: A blend of chickpeas seasoned with tahini, fresh garlic, lemon juice, sprinkled with paprika & olive oil. Baba Ganoush: roasted eggplant seasoned with tahini, fresh garlic, lemon juice, special blend of Mediterranean spices, sprinkled with paprika & olive oil. A choice of entree: Beef Kabobs: Juicy chunks of beef grilled with onions, green peppers, and tomatoes and brushed with a garlic and olive oil marinade. Roasted Chicken: Melt-off-the-bone tender. Topped with lemons and olives. Vegetarian Kabobs: Crunchy green peppers, onions, firm zucchini, and mushrooms grilled to perfection and marinated in garlic, vinegar and olive oil. Dessert: Baklava: sweet blend of walnuts and honey snuggled in between tall layers of flaky, crunchy phyllo dough.
The optional supper club will begin promptly at 6:00 pm with the film screening to begin at 8:00 pm. Visit Hopewell Theater online to reserve tickets for the supper club, select your table and desired seats; guests will be able to select entree type at check out. All other seat types are for the film screening only - simply select your favorite seats! Tickets for the 8:00pm film screening are $15 plus tax. The 6:00pm Supper Club and 8:00pm movie tickets are $65 plus tax. Additional fees apply to online and phone orders.
Hopewell Theater is located at 5 South Greenwood Avenue in Hopewell, New Jersey and tickets can be purchased online at www.HopewellTheater.com.