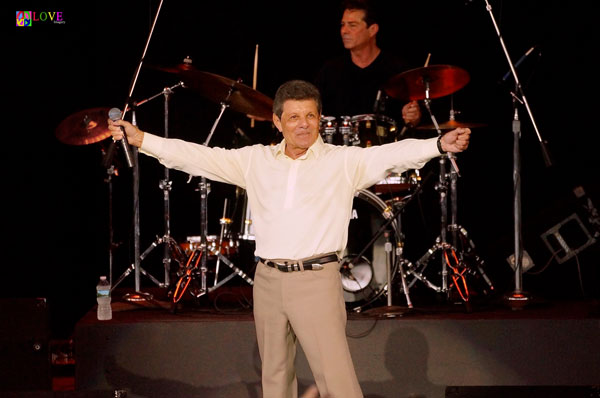 On Tuesday, May 29, 2018, at 1:30 pm, the Garden State Arts Foundation continued it's season of free live entertainment for NJ residents aged 55 and over with a concert entitled Jerry "The Geator" Blavat Presents Pop, Doo-Wop, and Rock N Roll. Since 1984, the Foundation has provided free programs for senior citizens, families, and children at the PNC Bank Arts Center and other locations throughout New Jersey.
According to Ron Gravino, Vice President of GSAF's Board of Trustees, "no federal, state, local, or Garden State Parkway toll money" is used to fund any GSAF presentations. Rather, the programs are presented by donations from such long-time GSAF partners as PNC Bank, Live Nation Entertainment, and Sirius XM '60s on 6 radio, in addition to contributions from the general public.
Before this afternoon's show officially begins, Gravino takes the stage to announce, "Today, we have a special surprise guest! He opened our show for Bobby Rydell, and he's here today from Staten Island — Vinnie Medugno."
"Nice to see you again — make some noise!" exclaims Medugno, before launching into a lively rendition of Dion's "Runaround Sue." The audience happily joins in singing on the number's well-known "Sue goes out with other guys" lyric.
Stating, "We have an amazing line up of talent here today," Medugno thanks the Garden State Arts Foundation for "keeping great music alive," and invites everyone in the audience to attend his own GSAF show which will take place here on September 20, 2018.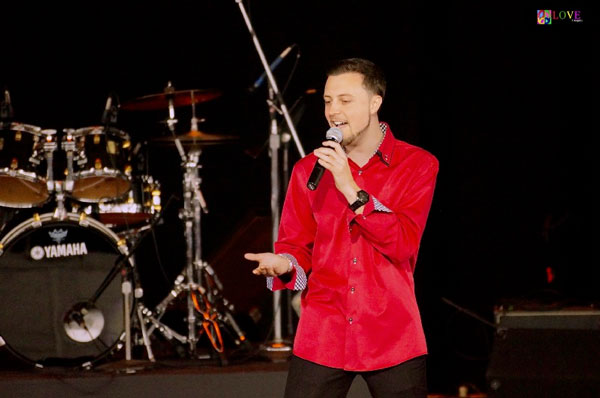 ---
The article continues after this ad
---
---
Announcing, "I love doing this song!" Medugno performs a dynamic rendition of Jay and the Americans' "Cara Mia," the audience cheering and applauding at the end for his potent performance.
With about 20 minutes left before "showtime," we step backstage and chat with two of the stars of today's show — headliner Frankie Avalon and emcee Jerry "The Geator" Blavat.
When asked about today's performance here at the PNC Bank Arts Center, Blavat replies, "This is where Frankie Avalon belongs — in front of thousands of people who, back in the day, made him a star!" adding, "He's still a star and he's here today to say 'thank you' to New Jersey!"
Avalon agrees, stating, "I am here to say 'thank you' to all of the thousands of people here today!" before Blavat interjects, joking, "And I'm here to see Frankie say 'thank you' to those thousands of people here today!"
"I love New Jersey!" exclaims Avalon. "The fans here have been so dedicated for the past 60 years — it's just amazing!"
"They identify with his music," points out Blavat — "his music speaks for all of us."
"That's thanks to Dick Clark," responds Avalon, explaining, "Five million kids would come home from school and immediately switch on American Bandstand!"
Concluding by acknowledging, "We love performing here at this venue!" Avalon notes, "and for that, we have to thank the Garden State Arts Foundation's VP, Ron Gravino, in addition to 'The Geator' himself — Jerry Blavat!"
And in just a few moments, Blavat — the New Jersey-area DJ known as "The Geator with the Heater," in addition to "The Big Boss with the Big Hot Sauce" — takes the PNC Bank Arts Center stage to the delight of nostalgic music lovers!
Announcing, "Are you ready? Are you really ready?" Blavat exclaims, "Put your hands together!" before singing and dancing to a lively rendition of Hank Ballard and the Midnighters' "The Hoochie Coochie Coo."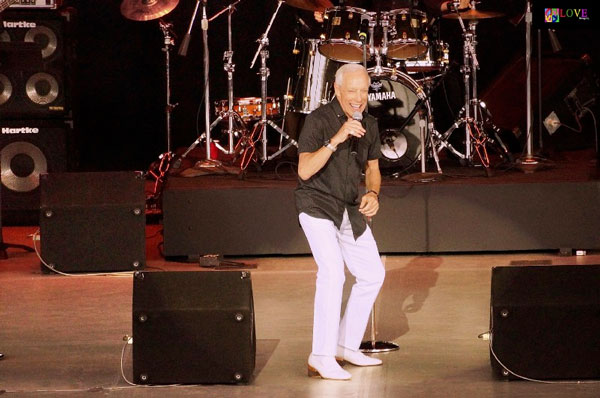 Following energetic applause, Blavat greets the crowd of more than 7000 here at New Jersey's PNC Bank Arts Center ampitheatre joking, "Where are the tomatoes?"
After exclaiming, "Your love for the music has made this all possible!" Blavat introduces the crowd to one of Pittsburgh, Pennsylvania's greatest groups — The Vogues.
Opening with their 1965 Top Ten hit, "You're the One" — a number written by Petula Clark and Tony Hatch — The Vogues' brilliant vocals clearly impress the crowd. The music builds as the trio sings in perfect harmony, dressed in style in their matching red and grey suits.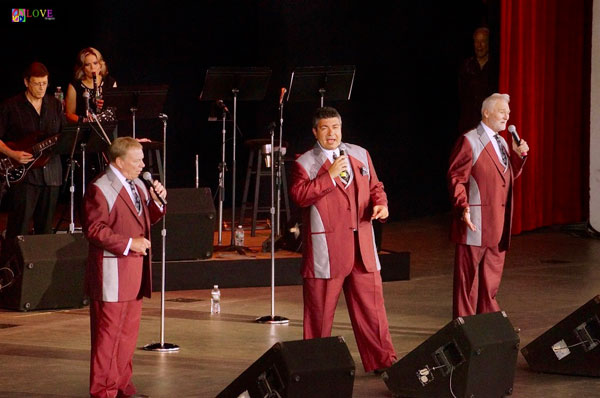 Moving on to a lesser-known Vogues' number, the trio performs "Magic Journey," a rock ballad which features a resonant-sounding lead vocal and another stellar harmonic blend.
Announcing the group's next song as "our 2nd million seller from 1968," The Vogues perform "My Special Angel." The audience enjoys these gifted vocalists as they expertly harmonize with one another. Backed by a top-notch group of instrumentalists, the crowd joins in singing on this classic tune, clearly loving this group which so easily makes them feel young again.
Revealing that "1968 was a big year for The Vogues," the trio performs the title track from their 1968 album, Till. Crooning, "Till the rivers flow upstream/Till lovers cease to dream/Till then I'm yours, be mine," the music builds in dynamics. The trio's vocals blend masterfully, their diction and tone sounding like a single voice.
Following up with a song they call "our first-ever million-seller," the group performs "Turn Around Look At Me."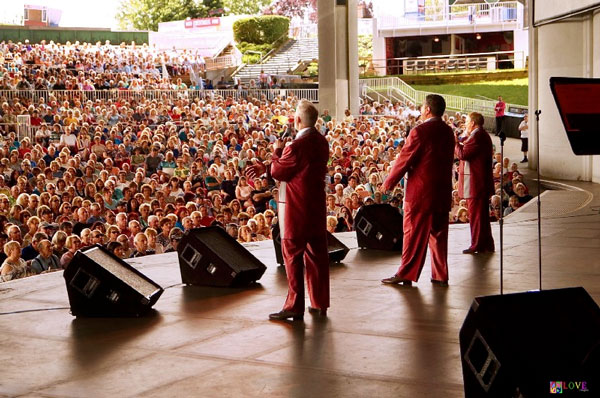 As heads sway and toes tap, audience members can't help but sing along, finding it impossible to resist the magical melody and gorgeous harmony blend on this alluring classic. Singing with emotion, "There is someone who really needs you/Turn around, look at me," by the end of the number, the entire crowd can be seen clapping — hands overhead — with many audience members on their feet cheering.
As the crowd continues to applaud, Blavat reappears and asks the audience, "You agree this is real music?" to which the fans responds with emphatic cheers!
For an encore, The Vogues perform a tune from 1966 which, they explain, has been featured in many movies and television shows including Good Morning, Vietnam and The Drew Carey Show entitled "Five O'Clock World."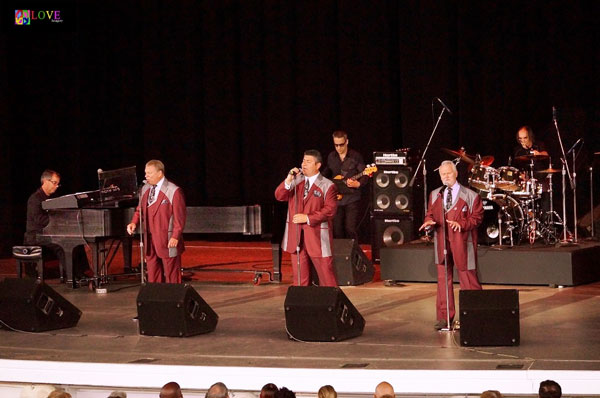 The perfectly executed falcetto descant, "A-da-lay-ee-ee," perfectly captures the spirit of the original recording and gets the audience rockin' before the trio segues into a reprise of their opening number, "You're the One."
The audience cheers for The Vogues and their excellent performance.
"I love that you were singing along!" exclaims Blavat. Continuing, "When we were young, we couldn't always express the way we felt, but the music spoke for us!"
After inquiring, "Is everyone ready to party out there," Blavat introduces the afternoon's next act — The Intruders.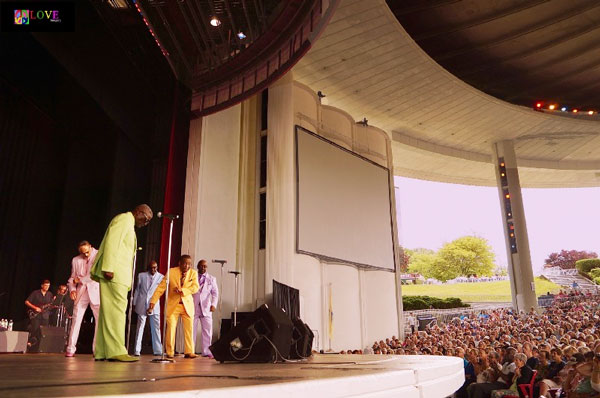 Taking the stage looking great in their multi-colored jackets, the group sings in five-part harmony while dancing to their hit from 1968 — "Cowboys to Girls."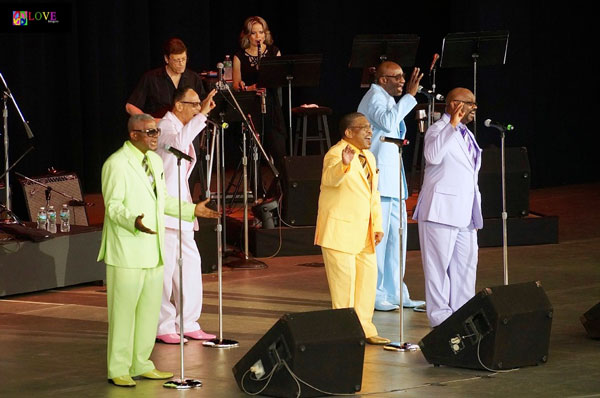 Moving on to a number which the group calls "one of our hits, but The Whispers did it also" the quintet performs the romantic 1973 ballad, "I Wanna Know Your Name," as audience members sway to the music.
Announcing "This song is for you!" The Intruders perform a snappy R&B rendition of their 1967 hit, "Together." Singing "Together, baby/Baby, just you and me" the group dances to the delight of this appreciative Jersey crowd.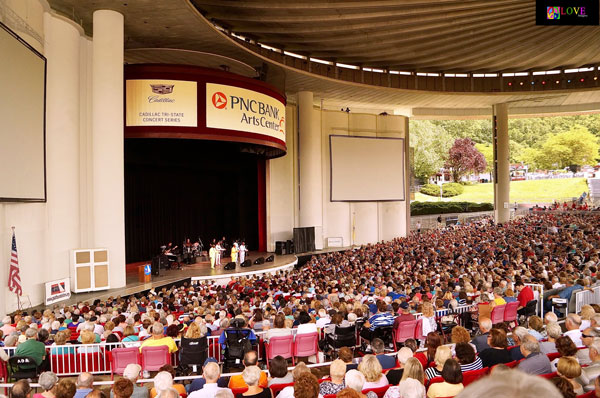 As the audience applauds, Blavat retakes the stage stating, "May is an important month for mothers. This song talks about how much we love our moms," before calling it "The National Anthem for all Moms and Grandmas."
Here, The Intruders perform a soulful disco-inspired rendition of their 1973 hit, "I'll Always Love My Mama."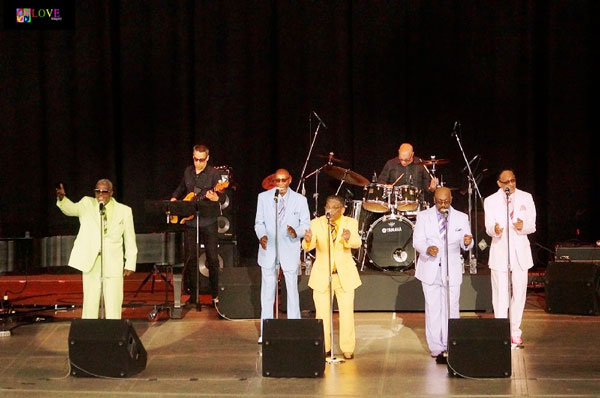 As they sing, a woman in the audience has her hands in the air, dancing, clapping, and singing along with every word!
"Ladies and gentlemen, give it up for The Intruders!" exclaims Blavat, before announcing a short intermission. At this time, we take a moment to chat with the woman in the audience who was dancing to the music of The Intruders — Vanessa from New Brunswick — who says, "I've loved The Intruders for a long time — since the 1970s. I love all of their songs including 'I'll Always Love My Mama' — especially since I've become a mom and a grandma," adding, "Their music always makes me want to dance!"
We also chat with Donna from Middlesex who says, "I loved the music of The Vogues. Their harmonies were excellent and their blend was outstanding." Donna's friend, Jane from Branchburg agrees, adding, "They sound as great as ever," before concluding, "It was great to hear all of their songs again — they brought me back to my younger days in the '60s when my friends and I would sing and mimic their sound on the street corner."
Following intermission, Blavat takes the stage again — this time, dressed in his stylish purple jacket — to introduce today's headliner.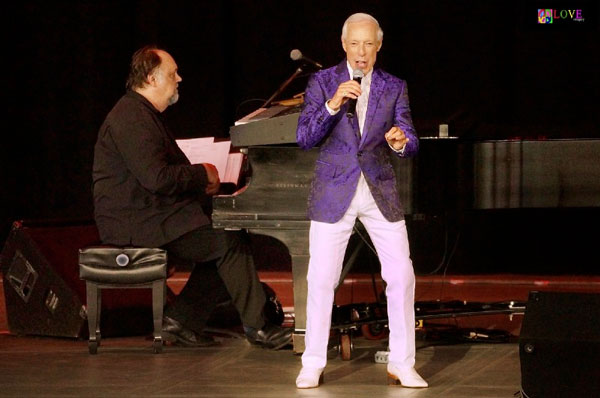 Calling him "the original teen idol of America," Blavat welcomes Frankie Avalon to the stage!
"Is 'The Geator' the best or what?" asks Avalon, as he greets the audience. Announcing, "I love this area — this venue," Avalon jokes, "I played here before — so long ago — when Moby Dick, the whale, was still a minnow." Joshing with the audience about how the years have gone by so quickly, he explains, "There are three stages of life: young…middle-aged… and you look good!" before announcing, "We're gonna do some old songs today!"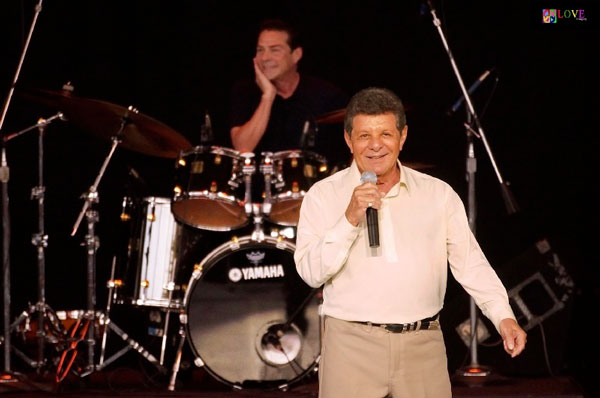 Opening with a medley of classic oldies, Avalon sings the theme song from his film, Beach Blanket Bingo, in addition to songs like The Coasters' "Yakety Yak" and "Charlie Brown." Then, the audience has fun singing faster and faster to David Seville's "Witch Doctor" crooning, "Oo ee oo-aa-aa ting tang walla-walla bing-bang" as Avalon encourages them along.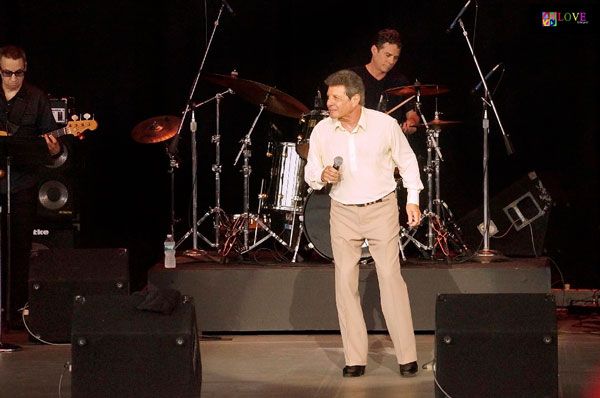 After talking about his eight children — "four boys and four girls with one wife," he explains — Avalon introduces the audience to his son, Frank, Jr. on the drums.
"I had fun with Annette Funicello making Beach Party, Muscle Beach Party, Bikini Beach Party, Beach Blanket Bingo, and How to Stuff a Wild Bikini," recalls Avalon, exclaiming "What stories! What plots!" before inquiring, "What stories? What plots?"
Revealing that the couple's last picture was Back to the Beach, Avalon does a number from that film, "California Sun," which segues into The Surfari's "Wipe-Out" — a performance which features an outstanding drum solo from Avalon's son, Frank!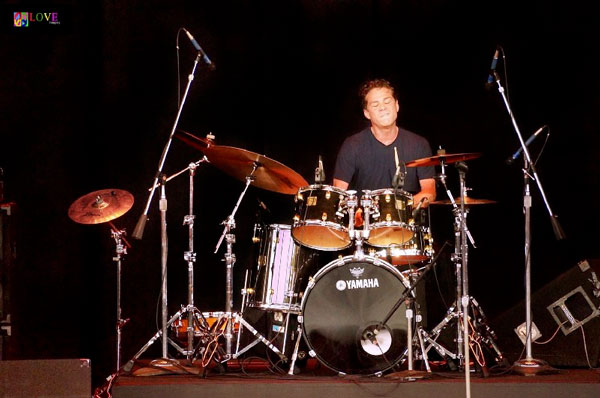 "My son — take a bow!" announces Avalon proudly before performing one of the highlight numbers of the afternoon. Recreating his role as Teen Angel in the hit movie, Grease, Avalon does a picture-perfect performance of "Beauty School Dropout."
As the crowd cheers and applauds, Avalon reveals, "It was recently the 40th anniversary of Grease, which came out in 1977" — a "tremendous hit which different generations of people fell in love with," before adding, "I'm proud to be part of the highest-grossing musical film of all time."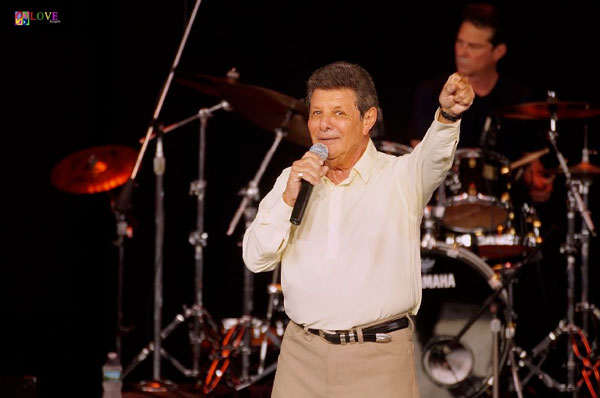 After singing a swingin' medley of two of his 1958 Top 10 hits, "DeDe Dinah" and "Ginger Bread," Avalon recalls, "In 1958, I was part of a traveling show which starred Sam Cooke, Jackie Wilson, Paul Anka, Dion and the Belmonts and the best duet ever — The Everly Brothers."
Here, he introduces his back-up band's guitarist, Eden Everly — referring to him as "the son of Don Everly of The Everly Brothers."
Performing a medley of Everly Brothers' hits, Avalon plays the part of "Uncle Phil" on such classic Everly tunes as "Bye Bye Love."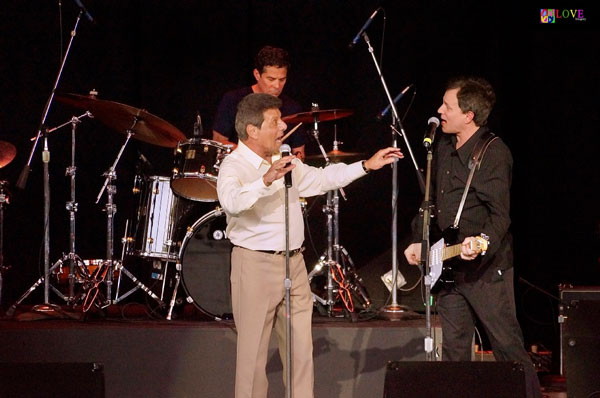 As the pair croons "Dream," the audience happily sings along while two women dance together in the front row. Trumpet and sax are featured on the medley's concluding number — an up-tempo rendition of "Wake Up Little Susie" which includes a wild distorted guitar solo by Eden!
Introducing a song which "has a message that still stands up today," Avalon performs his 1959 Top Ten hit, "Bobby Sox to Stockings." Bringing the audience back to a simpler time, he croons, "When a girl changes from bobby sox to stockings/Then she's old enough to give her heart away."
Avalon follows that up with another Top Ten hit from '59, "Just Ask Your Heart," a number he refers to as "a country song" before acknowledging, "Hey, I'm from the South — South Philadelphia!"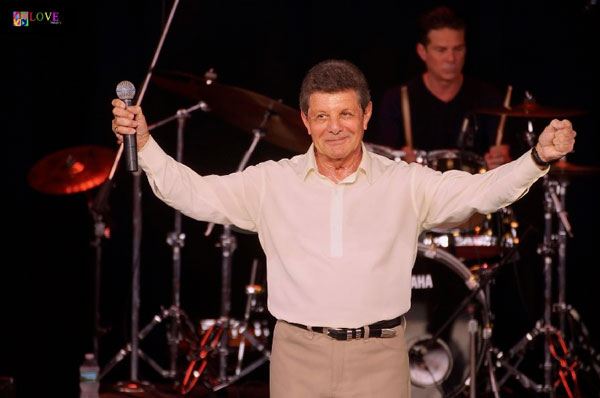 Moving on to a number he calls "The last #1 song of the fabulous '50s," he sings a bouncy rendition of "Why?" crooning, "I'll never let you go/Why? Because I love you."
After announcing, "This next song came out and sold a million records," Avalon adds, "it put a lot of people together!" As he strolls throughout the PNC Bank Arts Center amphitheatre, he performs a nostalgic rendition of his biggest hit — his 1959 #1 smash — "Venus."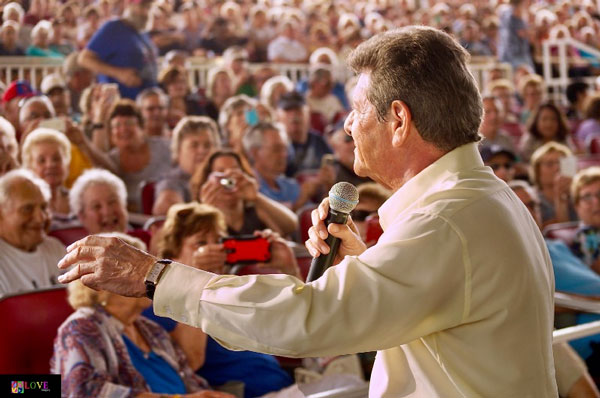 Following tremendous applause, Avalon retakes the stage and performs what he calls, "a new song written by two young kids" — a wistful number entitled, "When the Good Guys Used to Win." The audience loves being taken back in time on this delightful composition and responds with avid applause.
"You wanna rock and roll?" asks Avalon, "Come on!" before singing a lively version of "Boney Maroney" — a number which features a rockin' boogie woogie piano solo. Then, he performs a medley of doo-wop hits including "Silhouettes," "Blue Moon," "Cherry Pie," "You Send Me," and a tune he calls "the greatest doo-wop song of all" — "Earth Angel."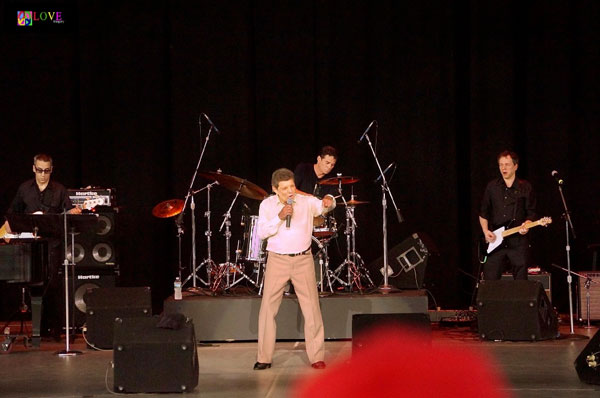 The audience joyfully sings along with him on every number and continues as they segue into a rousing refrain of "Goodnite, Sweetheart, Goodnite."

As the crowd continues to cheer, Blavat, Medugno, The Vogues, and The Intruders retake the stage for an uptempo rendition of Bob Seger's "Old Time Rock and Roll."
They follow that up with a sentimental nod to Annette Funicello with the closing lyrics to "The Mickey Mouse Club Theme" singing, "Now it's time to say goodbye, to all our company/M-I-C/See you real soon!/K-E-Y, Why? Because we like you!/M — O — U — S — E"
"Thank you all so much!" exclaims Avalon, to the audience's heartfelt cheers and applause.
As the members of this Jersey crowd make their way out of the amphitheater, we chat with several in attendance today who share their thoughts about this afternoon's performance with us.
Exclaims Freda from Montvale, "Frankie Avalon was great!" before softly adding, "and I'm so glad he remembered Annette Funicello, too."
Marian from Monroe Township concurs, stating, "It was so good to see Frankie Avalon today — he was just a kid when he first became a star. He still sounds great and his band is so good, too!"
Lastly, Marian's husband, David, comments, "This show just couldn't be beat!" before concluding, "Hearing the songs we listened to on the radio again, all the memories came flowing back!"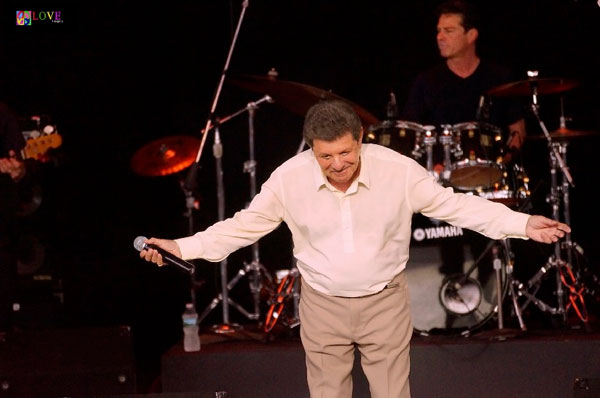 To learn more about Frankie Avalon, please go to frankieavalon.com. For further info on Jerry "The Geator" Blavat, please click on geatorgigs.webs.com. To find out more about The Vogues, check out vogues.com. For more information on Vinnie Medugno, please go to vincentmedugno.com. Lastly, to find out about future shows sponsored by the Garden State Arts Foundation, please click on gsafoundation.org.
Photos by Love Imagery
Spotlight Central. Your source for Jersey entertainment news and reviews
Love Imagery Fine Art Photography. all you need. peace/love/flower/power