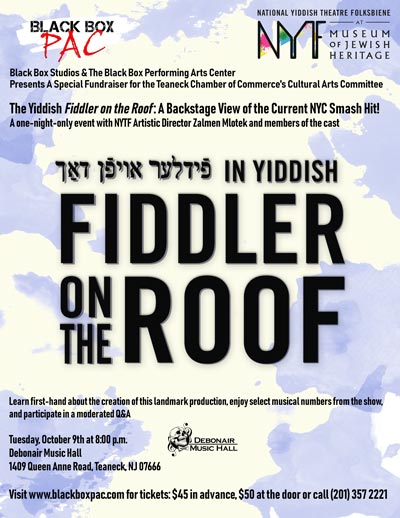 (TEANECK, NJ) -- Black Box Studios & The Black Box Performing Arts Center, in conjunction with The National Yiddish Theatre Folksbiene, presents a special fundraiser for The Teaneck Chamber of Commerce's Cultural Arts Committee: The Yiddish Fiddler on the Roof: A Backstage View of the Current Smash Hit! The one-night-only presentation will take place on Tuesday, October 9 at 8:00pm at Debonair Musical Hall in Teaneck.
This one-night-only event featuring NYTF Artistic Director Zalmen Mlotek and members of the cast will provide a glimpse into the creation of this landmark production, in addition to a special presentation of select musical numbers of the show.
Fiddler On The Roof in Yiddish, directed by Joel Grey with Yiddish translation by Shraga Friedman, recently extended its run at the Museum of Jewish Heritage through October 25. Critics have called this production "a richer, deeper interpretation" (The Wall Street Journal) that "offers a kind of authenticity that no other American 'Fiddler' ever has" (The New York Times). Zalmen Mlotek (Artistic Director of the National Yiddish Theatre Folksbiene) is from Teaneck, where this special inside-look will take place.
During this backstage view, Mlotek will participate in the Q&A and conduct musical numbers from Yiddish Fiddler. Joining Mlotek (Musical Director) at the event are actors Jennifer Babiak, Doug Chitel, Jessica Rose Futran, Kirk Geritano, Lydia Gladstone, Maya Jacobson, Rosie Jo Neddy, James Monroe Stevko, Adam Shapiro, Bobby Underwood, and Rachel Zatcoff, along with Stas Kmiec (Choreography), Jordan Hirsch (Trumpet), and Dmitry Ishenko (Bass).
The one-night-only presentation will take place on Tuesday, October 9 at 8pm at Debonair Musical Hall (1409 Queen Anne Rd. Teaneck, NJ 07666). Tickets are $45 online and $50 at the door. For more info, please visit: www.BlackBoxPAC.com
Fiddler on the Roof in Yiddish is currently playing until October 25. For tickets and more information, please visit: nytf.org
---