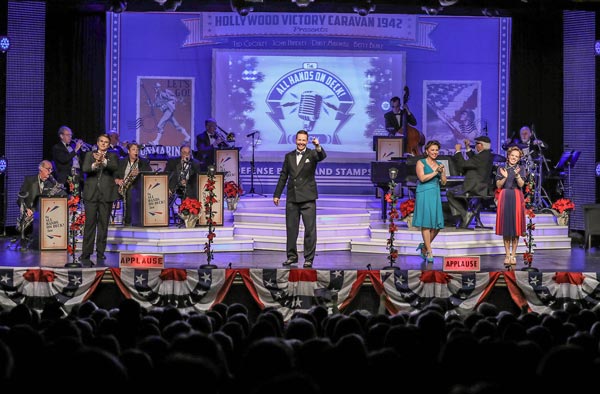 (MORRISTOWN, NJ) -- Enjoy a re-creation of an old-style 1940s Big Band radio broadcast when All Hands on Deck is performed at Mayo Performing Arts Center on Sunday, January 14, 2018 at 3:00pm.  Tickets range from $29-$59.
All singing, all dancing and based on Bob Hope's 1942 USO tour to the troops, All Hands on Deck features four sparkling performers, accompanied by the rich sounds of the Hollywood Victory Caravan orchestra, who deliver an electrifying evening of classic songs, dances and laughs Americans of all ages love.
The Setting: July 4th, 1942. Act One brings a war-bond drive to "your hometown." Hosted by Ted Crosley (the Bob Hope-type) and featuring John Handley (Hollywood's favorite new tenor), Daisy Maxwell (the "sweater girl") and Betty Blake (the "bond bombshell"), all goes as planned until an urgent telegram informs the group that bad weather has forced a hasty departure in order to make it back to San Francisco for a live radio broadcast on Armed Forces Radio. But, instead of leaving as instructed, Crosley and his gang decide to stay and do the live radio broadcast right from your theatre!
Act Two becomes a live radio show complete with a live studio audience! On air antics, classic commercials, timeless songs and hilarious, impromptu skits power the radio show until the performance comes full circle with a big patriotic finish that pays tribute to both active duty and veteran members of our Armed Forces.
Songs include: Chattanooga Choo-Choo; Atchison, Topeka, Santa Fe; I'm In The Mood For Love; Pennsylvania Polka; I'll Never Smile Again; Any Bonds Today?; Don't Fence Me In; America The Beautiful; Deep In The Heart Of Texas; Thanks For The Memory; and a powerful Military Medley.
---
The article continues after this ad
---
---
All Hands On Deck boasts over 40 classic Big Band hits in original arrangements all packages in a fun-filled, true-to-life reproduction of the kind of USO show Bob Hope and Jack Benny would have taken to the troops: classic humor and great music from those special days of road shows, war bond drives, and radio broadcasts.
Mayo Performing Arts Center is located at 100 South Street in Morristown, New Jersey.