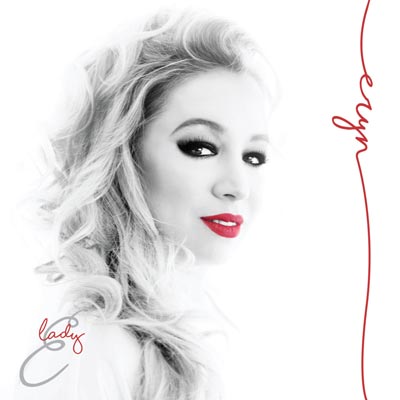 (ASBURY PARK, NJ) -- ERYN, one of our favorite artists here at New Jersey Stage, will celebrate the release of her latest EP, Lady E, at House of Independents on June 27. The incredible singer (and youngest ever inductee into the NY/NJ Blues Hall of Fame) was featured as the cover story of New Jersey Stage Magazine 2015 - Issue 8. Her EP release night will also include performances by The Shady Street Show Band and Matt Wade.
Much in the way Bruno Mars recalls the excitement of 1970s music, or Amy Winehouse took listeners on a journey back to the 1960s, or Meghan Trainor evokes a 1950s vibe, Eryn hopes to have Lady Etransport listeners to another era.
The EP delivers in a big way – starting with Eryn's thrilling vocals and reinforcing them with a compelling range of songs, from the wit and catharsis of first single "Hallelujah You're Gone", to the understated storytelling of "Stranger in my House", to the epic build of "The You Missing From Me", written by Bon Jovi's David Bryan, which rises to an anthemic high and is surely a centerpiece of the EP.
The pedigree on Eryn's new EP is impressive. It was Produced and Mixed by Jack Daley (Lenny Kravitz, Joss Stone, Beyonce,) and Daley also played bass on the EP. Songwriting credits include ASCAP Award winner Cheryl DaVeiga & Anthony Krizan (Spin Doctors, Lenny Kravitz,) and the musicians are among the best in the business.
Born and raised in Maryland, but now a true Jersey girl, Eryn began singing professionally at the age of 13 and hasn't looked back. She has performed with or opened for such luminaries as Buddy Guy, Dr. John, Greg Allman, Robert Cray, Don McLean, Johnny Winter, The Gin Blossoms, Bernard Purdie, The Little River Band and many others. An award-winning emerging artist, Eryn has been described as a mixture of blues, soul, jazz, pop, rock and even country – but she prefers the term 'RetroPop', and the moniker is taking hold with her acclaimed new EP.
---
The article continues after this ad
---
---
On Lady E and in concert, Eryn combines an old school sound that evokes the rhythms and recording techniques of the past with a modern pop mindset and powerhouse live performances. See for yourself on June 27th.
House of Independents is located at 572 Cookman Avenue in Asbury Park, New Jersey.