---
BIG NEWS! Here's the latest Issue of NJ Stage Magazine -- Click here
---
Engelbert Humperdinck Returns To Mayo on April 18
originally published: 03/25/2018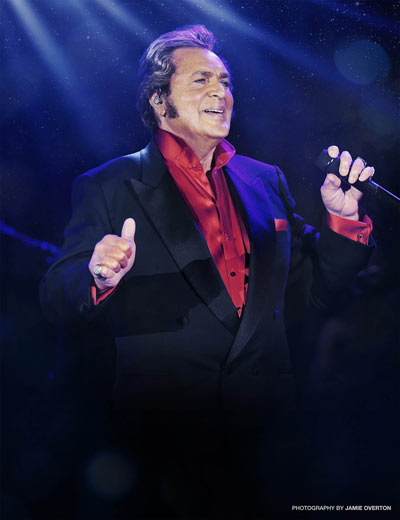 (MORRISTOWN, NJ) -- Longtime popular crooner Engelbert Humperdinck returns to Mayo Performing Arts Center on Wednesday, April 18 at 7:30pm. In a career spanning almost 50 years, Engelbert Humperdinck has generated sales in excess of 140 million records, including 64 gold albums and 35 platinum, four Grammy nominations, a Golden Globe, and stars on the Hollywood Walk of Fame, Las Vegas Walk of Fame, and Leicester Walk of Fame.Tickets range from $49-$89.
Engelbert has performed for the Queen four times, several presidents and many heads of state. He has recorded everything from the most romantic ballads to movie theme songs, disco, rock, and even gospel. His unique voice has charmed millions of fans around the globe. However, it's not just the voice, but the man himself, with his endearing sense of humor and self-deprecating jokes. Engelbert has managed to strike a new chord with a younger generation after appearing on MTV several times.

He exploded on to the music scene in the sixties with The Beatles and the Rolling Stones. His sixties did not so much swing as rage. The shy handsome boy catapulted almost instantly to world icon. He became great friends with Elvis Presley and the two legends often performed each other's songs. His first single in the charts was "Release Me," which went into the Guinness Book of Records for achieving 56 consecutive weeks on the charts. It was No. 1 in 11 countries. The song was re-released after being used for a UK national television commercial for John Smith's beer.

The following decades saw Engelbert touring the world to sell-out crowds. Engelbert seems to take great pleasure in every moment on stage, a place where he can lose his inhibitions and no longer be the child who was once shy.

Engelbert's music has transcended time and his voice still continues to reach out to people now - serving to transport and inspire, to embrace and to provoke feelings and emotions.ingredients that are no doubt the essence of his long-lasting success.
Mayo Performing Arts Center, a 501(c)(3) nonprofit organization, presents a wide range of programs that entertain, enrich, and educate the diverse population of the region and enhance the economic vitality of Northern New Jersey. The 2017-2018 season is made possible, in part, by a grant the New Jersey State Council on the Arts/Department of State, a Partner Agency of the National Endowment for the Arts, as well as support received from the F.M. Kirby Foundation and numerous corporations, foundations and individuals. The Mayo Performing Arts Center has been designated a Major Presenting Organization by the New Jersey State Council on the Arts. Mayo Performing Arts Center was named 2016 Outstanding Historic Theatre by the League of Historic American Theatres, and is ranked in the top 50 mid-sized performing arts centers by Pollstar Magazine.

Mayo Performing Arts Center is located at 100 South Street in Morristown, New Jersey.
---


Hope 10 - The Final Hope Concert To Take Place On December 23
(RED BANK, NJ) -- Musician, bandleader and community icon Bobby Bandiera and the Count Basie Center for the Arts have announced details for HOPE 10 – THE FINAL HOPE CONCERT. The annual charity concert, which has raised millions for area community organizations, will take place at the Basie Center on Sunday, December 23. Tickets range from $50 to $500.
---
Mayo Presents Puddles Pity Party
(MORRISTOWN, NJ) -- Puddles Pity Party -- The "Sad Clown with the Golden Voice" -- comes to Mayo Performing Arts Center with his heartfelt anthems and a suitcase full of Kleenex!  Puddles Pity Party performs on Wednesday, November 14 at 7:30pm. Tickets range from $35-$55.
---
State Theatre Present A Tribute to ABBA
(NEW BRUNSWICK, NJ) -- State Theatre New Jersey presents ABBA The Concert: A Tribute to ABBA on Thursday, November 8 at 8:00pm. ABBA The Concert: A Tribute to ABBA, brings one of the greatest pop successes in the history of music back to life. Tickets range from $29-$69. 
---
Murray Grove Retreat & Renewal Center Hosts Mischief Masquerade
(LANOKA HARBOR, NJ) -- Murray Grove Retreat and Renewal Center  will be hosting a Halloween-themed event, Mischief Masquerade, as part of their Speakeasy Series on Tuesday, October 30th. This October event follows their previous "Prohibition Party," which was a great success. The Mischief Masquerade will run from 7:00pm-10:00pm and will feature a Halloween DJ, a costume contest, vendors, mixed drinks from Asbury Park Distilling, a $5 bar menu, tarot card readings, henna and more! The event is sponsored by Breaker Zine, an arts and culture magazine, and Asbury Park Distilling.
---
SOPAC Presents Roots Music Legends: Dave Alvin and Jimmie Dale Gilmore
(SOUTH ORANGE, NJ) -- Dave Alvin and Jimmie Dale Gilmore have been filling canvasses with music of the American West for decades, coming from two very different directions. Now, they will play together at the South Orange Performing Arts Center on November 1 at 7:30pm for the very first time. Though far from home, Alvin and Gilmore's first duo album, Downey to Lubbock, contains all the elements that have sustained their musical journey through the years.
---


Cliffside Park, NJ Celebrates "Cousin Bruce Morrow Day!"
A crowd of local residents and dignitaries gathers outside Public School #6 in Cliffside, NJ on this beautiful fall evening. They are all awaiting the arrival of the "man of the hour" — celebrated radio DJ Bruce Morrow — since Mayor Thomas Calabrese has proclaimed today, October 5, 2018, "Cousin Bruce Morrow Day!"
---
Cynthia Sayer and Her Joyride Quartet LIVE! at Toms River's Grunin Center
The audience is already in place this Sunday, Sept. 30, 2018 at Toms River, NJ's Grunin Center of the Arts for a special "Jazz on a Sunday Afternoon" performance by Cynthia Sayer and Her Joyride Quartet entitled The Hot Banjo Show!
---
Whitney Houston Exhibit Opens at The GRAMMY Museum Experience Prudential Center
Interviews with Pat Houston, President of The Estate of Whitney E. Houston and Bob Santelli, Founding Executive Director of the Grammy Museum
---
"Very Happy!" The Buckinghams and Cowsills Star in Cousin Brucie's Rock and Roll Yearbook Vol. 2 LIVE!
Fall is in the air at Homdel, NJ's PNC Bank Arts Center this Friday, September 28, 2018 evening as thousands of '60s music lovers ready themselves forCousin Brucie's Rock and Roll Yearbook Vol. 2! The show — produced by Cousin Brucie, along with Rob Albanese and the Garden State Arts Center Foundation — features four fab acts from the 1960s: The Buckinghams, The Cowsills, Freddy "Boom Boom" Cannon, and The Orlons!
---
"Brilliant!" The Young Dubliners LIVE! at Toms River's Grunin Center
It's a mild Saturday, September 29, 2019 evening as fans of Celtic rock are streaming into Toms River, NJ's Grunin Center of the Arts for a concert by The Young Dubliners.
---
Event calendar
Sunday, Oct 21, 2018
---
MUSIC

---
---
---
---
---
Suzzanne Douglas

@ South Orange Performing Arts Center (SOPAC), South Orange - 7:30pm
---
THEATRE

---
---
The Shuck

@ Cape May Stage, Cape May - 3:00pm
---
---
---
---
---
Almost, Maine

@ Jay & Linda Grunin Center For The Arts At Ocean County College, Toms River - 2:00pm
---
---
---
---
---
DANCE

---
---
FILM

---
---
KIDS

---
---
POETRY

---
---
MISC

---
---
---
View all events
---