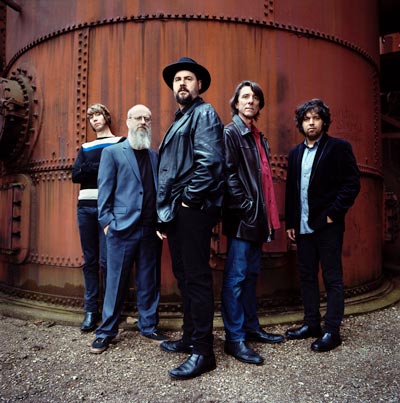 (JERSEY CITY, NJ) -- Few contemporary bands perform such an authentic style of Americana rock & roll, as the Drive-By Truckers, who pull into White Eagle Hall in Jersey City on October 5, 2017 at 8:00pm. Always outspoken, DBT tells a distinctly American story via craft, character, and concept, all backed by sonic ambition and social conscience.  Founded in 1996 by singer/songwriter/guitarists Mike Cooley and Patterson Hood, they have long held a progressive fire in their belly but with their most recent record, American Band, DBT have made the most explicitly political album in their extraordinary canon. 
A powerful and legitimately provocative work, hard-edged and finely honed, the album is the sound of a truly American Band – a Southern American band – speaking on matters that matter. Hood and Cooley wisely avoid overt polemics to explore such pressing issues as race, income inequality, the NRA, deregulation, police brutality, Islamophobia, and the plague of suicides and opioid abuse. 
Fueled by a just spirit of moral indignation and righteous rage, American Band is protest music designed to raise issues and ire. "I don't want there to be any doubt as to which side of this discussion we fall on," Hood says. "I don't want there to be any misunderstanding of where we stand. We're going to be who we are and do what we do and anyone who's with us, we'd love to have them join in."
To the delight of their fans, the latest record as well as their current tour finds DBT in one of the most sustained periods of creativity in their career. "This is the longest period of stability in our band's history," says Hood. "I think we finally hit the magic formula. It's made everything more fun than it's ever been, making records and playing shows."
Opening for the Drive-By Truckers is Strand of Oaks, the ongoing solo project formed in 2009 by folk rock extraordinaire, Tim Showalter. Hard Love, released earlier this year, emanates an unabashed, raw, and manic energy that embodies both the songs and the songwriter behind them. Allmusic.com: "Hard Love finds Strand of Oaks mastermind Tim Showalter once again dialing back on the confessional folk-rock of his earlier outings, and unleashing a full-on garage/basement-blasted, dub-kissed, acid rock exposé." 
---
The article continues after this ad
---
---
Originally constructed in 1910, the newly restored White Eagle Hall is an impressive new venue for arts and entertainment, including concerts, theater, performances and other events in the New York/New Jersey Metropolitan area. White Eagle Hall features complete food & beverage service, with two bars on the mezzanine level and one on the balcony level. The restoration enhanced the intimacy and charm of this historic venue while adding the latest in sound and lighting technology, creating a distinctive and memorable audience experience.
White Eagle Hall is located at 335-337 Newark Avenue in Jersey City, New Jersey.