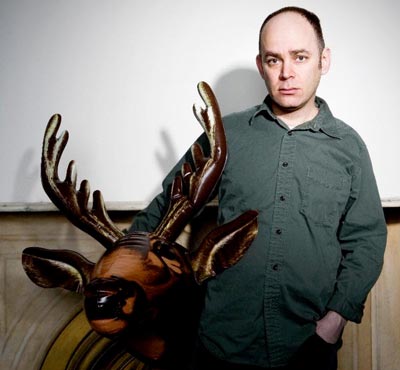 (JERSEY CITY, NJ) -- Comedian Todd Barry is celebrating 30 years of telling jokes by doing a tour where he won't be telling any jokes. That's right, it's an entire show of riffing and bantering with the audience. He brings his 30th Anniversary Crowd Work Tour to White Eagle Hall in Jersey City on Thursday, July 12 at 8:00pm. Tickets are $20. To get an idea what you're in store for, check out Todd's special The Crowd Work Tour available on iTunes and Amazon.  
The New York City-based comedian and actor is widely recognized for his roles as the bongo-playing "Third Conchord" on HBO's Flight of the Conchords and Mickey Rourke's deli boss in 2009 Oscar winner The Wrestler, and renowned throughout the entertainment industry for his nuanced, measured, and thoroughly original approach to stand-up. Drawing audience members in with his deadpan self-deprecation and ability to pile punchline upon punchline, his decidedly low-key stage persona belies a deeply intelligent, often biting, occasionally absurdist worldview, one lauded by discerning fans who seek a fresh yet honest update to traditional observation and social commentary.
Boasting multiple stand-up appearances on The Late Show with David Letterman, Late Night with Conan O'Brien, Jimmy Kimmel Live!, and two Comedy Central Presents specials, and the one hour Comedy Central special Super Crazy. Todd's resume also includes such hit TV shows as Louie, Delocated, Bored to Death, Tim and Eric, Chappelle's Show, Sex and the City, and even Sesame Street. Among his additional feature-film highlights are Todd Phillips's Road Trip, Louis CK's Pootie Tang, and Mitch Hedberg's Los Enchiladas.  You can see him soon at Sigourney Weaver's right hand man in Amy Heckerling's Vamps, and as Paul Rudd's co-worker in David Wain's Wanderlust. Internationally he has performed at the Edinburgh Festival Fringe, the Melbourne International Comedy Festival, Montreal's Just For Laughs Festival, the Vancouver International Comedy Festival, and Kilkenny, Ireland's Cat Laughs Festival.
Todd has been heard on both The Howard Stern Show and The Bob & Tom Show, and his albums Medium Energy, Falling Off the Bone, and From Heaven are available from Comedy Central Records, Amazon and iTunes. He has earned the U.S. Comedy Arts Festival's Jury Award, praise from Ricky Gervais as one of the best comedians of 2009, and accolades from The Onion's A.V. Club, which declared Medium Energy one of the best comedy albums of the decade.
White Eagle Hall is located at 337 Newark Ave in Jersey City, New Jersey.  The newly restored and renovated historic theater presents live music, theatre, comedy, dance, film, family shows as well as other performances while serving food and drinks. In addition, White Eagle Hall is a warm and intimate event space perfect for weddings, receptions, private parties, fundraisers, corporate meetings and other functions.
---
The article continues after this ad
---
---
As one of the newest and most unique live-performance and event spaces in the Northeast, White Eagle Hall comprehensive overhaul features a roughly 8,000 square-foot flexible space venue and it's capacity is 800 standing, 400 seating or 250 seated for dining; has many historic features including a wrought iron wrap-around balcony, a coffered tin ceiling with two large stained glass atriums. White Eagle Hall includes its very own bar and food service. In addition, White Eagle Hall features two restaurants on the ground level, Cellar 335 and Madame Claude Bis. White Eagle Hall is located in the thriving nightlife scene of Downtown Jersey City Restaurant Row, where there are many other restaurants and bars to enjoy.
The building opened in 1910, constructed by polish immigrants and craftsmen under the leadership of Father Peter Boleslaus Kwiatowski, who transferred ownership to St. Anthony's upon his death. The parish managed the venue throughout the 20th century. Embedded in the White Eagle Hall ceiling are two spectacular, hand-crafted stained glass skylights -- one commemorating Frédéric Chopin, the classical music composer, and the other Marcella Sembrich, an internationally renowned opera star. Perhaps White Eagle Hall's most famous achievement is the facility's unique contribution to basketball: White Eagle Hall was the home of the St. Anthony Friars, the basketball team of St. Anthony High School coached by Jersey City native and Basketball Hall of Fame inductee Bob Hurley. The original wood basketball floor where the Friars had their famous practice are now used as bar counters and balcony flooring; wood fixtures from Saint Boniface Church (constructed in 1865), can be found in the window frames, bar sides and balcony railings and ledges; and, Boniface altar fixtures can also be seen in the box office/merchandise area.