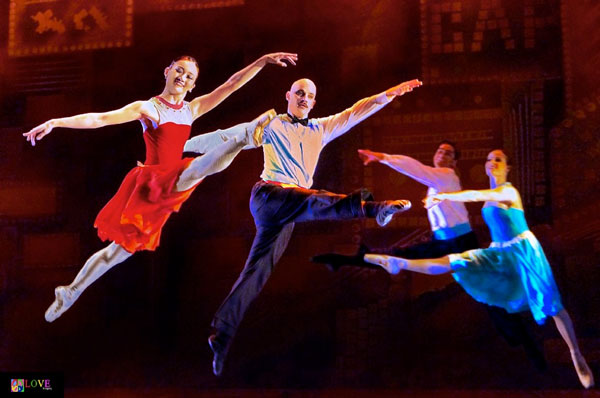 On Sat. March 25, 2017, The Strand Theater in Lakewood, NJ, presented a double bill of dance with two exciting works — Caught Up in the Swing and Papa and Sinatra: Their Way — both performed by NJ's own Atlantic City Ballet!
As we enter the historic Strand lobby, we hear strains of songs from the hit film, La La Land, coming from a beautiful baby grand piano.
At the piano is Todd G., an elementary school band director from Barnegat, NJ, who explains: "I came to the ballet with my friend, Jessica, and saw the piano and just started playing. It's hard to pass up an unmanned piano."
Adds Jessica, "I enjoyed the Atlantic City Ballet's recent performance of The Nutcracker here at The Strand, so when I saw tonight's show listed, I decided I really wanted to come."
Strolling past the lobby straight into the theater's Gallery meeting spot, we meet ACB artistic director and choreographer Phyllis Papa, who tells us a bit about tonight's show.
---
The article continues after this ad
---
---
With regards to the first ballet, a comedy entitled Caught Up in the Swing, Papa reveals, "I wanted to create something for people who'd never seen a ballet before. It's set in a 1920's hotel and there are various characters who are featured — a spoiled little girl, Bonnie and Clyde, and more — and it's just a lot of fun."
According to Papa, the second ballet, Papa and Sinatra: Their Way, "is a tribute to Sinatra" featuring "choreographed movement with incredible ballet technique, all set to my favorite Sinatra songs which are played by a live band."
As we continue to chat, Papa fills us in on some other exciting news for the Atlantic City Ballet.
First, she tells us that the ACB's new home in Atlantic City is Caesar's Maximus Theater, where the group will soon present some of their favorite works including Carmen on April 23 and Swan Lake on May 21.
After the performances, Papa will travel to Rome and London to audition new dancers for the ACB. Then, in February, she will take the entire company to Los Angeles, Napa, and Arizona for two weeks of performances out West.
Lastly, Papa informs us that the Atlantic City Ballet will continue to perform at The Strand with four programs currently planned for next year. Notes Papa about this beautiful venue, "We love it here because the facility is wonderful and the people are great!"
Just as we're about to say goodbye, the lights start to blink, informing us that it's nearly time for the show to begin. We make our way back through the lobby and up the steps into the theater for the beginning of Caught Up in the Swing.
As the music swells and the curtain rises, we see a grand 1920's-era "Hotel Lobby." A myriad of characters enter, including several rich couples, and a little rich girl (Nagisa Suzuki), who animatedly fights with the hotel's bell hop (Robin Heijmans).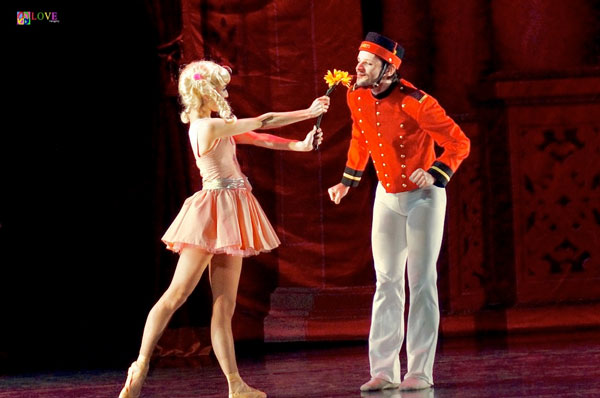 Next, two male "Tennis" players (Claudio Cirsone, Fabio Mariano) acrobatically dance with rackets as they fight over a female player (Tsubasa Nozaki), all three ultimately becoming friends in the end.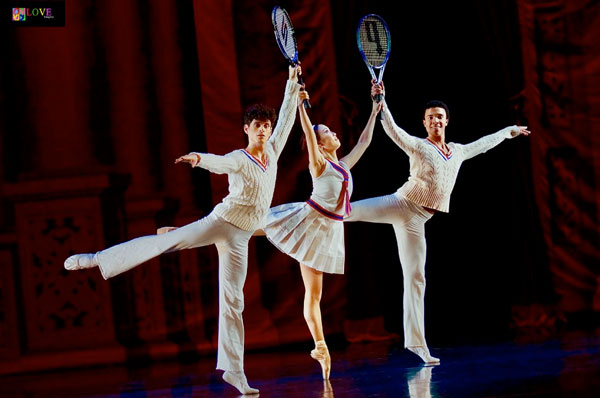 One of many highlights of Caught Up in the Swing is a sequence in which Rina Yamaguchi, in large black-rimmed glasses, has the audience in hysterics as she valiantly tries to keep up with other ballerinas in "Corps de Ballet."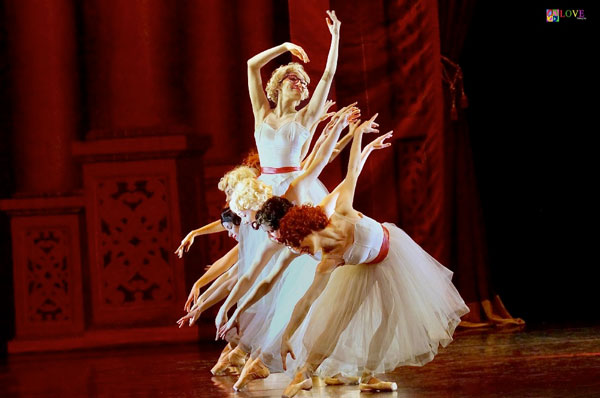 Always smiling her way around her mis-steps — whether bumping into a line of ballerinas and causing a domino effect among them, dancing in the wrong direction, hiding in the curtains, or simply falling down from exhaustion, Yamaguchi shines before taking her final bow, still smiling and waving to the delighted Strand crowd.
Next, all of the hotel bellhops faint over Caitlin McElroy playing a "Vamp" sashaying and lifting her skirt provactively to tap her shoes. Clamoring after her, they are all smitten by her unconventional ways.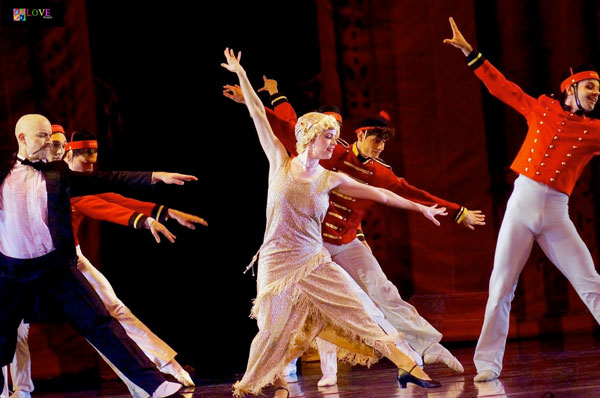 In white top hat and tails, Fabio Mariano introduces the 20's-era "Show Girls" complete with skimpy costumes and feather head pieces. Together, they create a dancing rainbow plume with fringe and beads.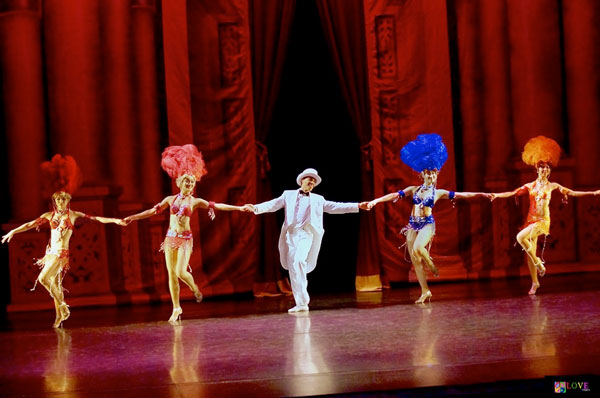 Lady flappers and vested gentlemen swing and sway to the "Charleston" with acrobatic swings and flips, leaping and twirling into splits. The evening's showstopper comes when one of the male dancers enters in his own showgirl costume, strutting his stuff with poise and confidence.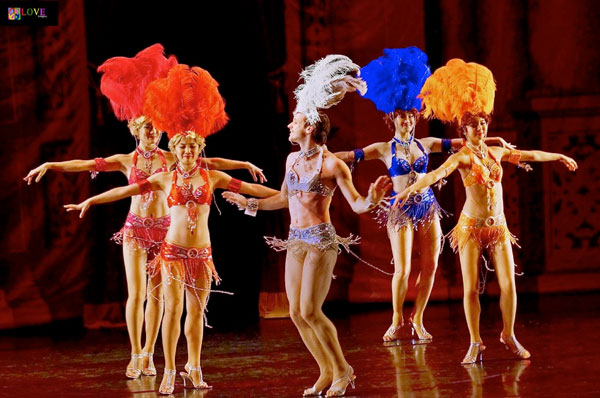 Leapfrogging and clowning around with spins and jumps exemplifies an entertaining sequence by Fabio Mariano and Claudio Cirsone who perform classic "Chaplin" antics.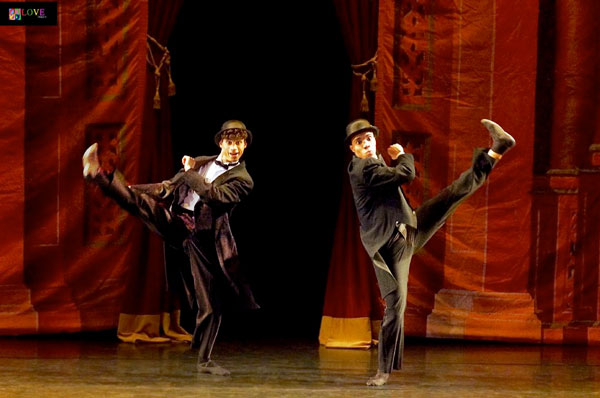 Yet another highlight of Caught Up in the Swing is "The Diva Pas." In yellow feather headdresses, and with birdlike movements, Sara Lonngren and Tullio Cata have the crowd laughing uproariously with such antics as falling asleep, smelling armpits, and waving wildly at the crowd. Set to classic Scott Joplin ragtime, this kooky couple dances together — well, sort of — as they satirize classic ballet and ballet dancers.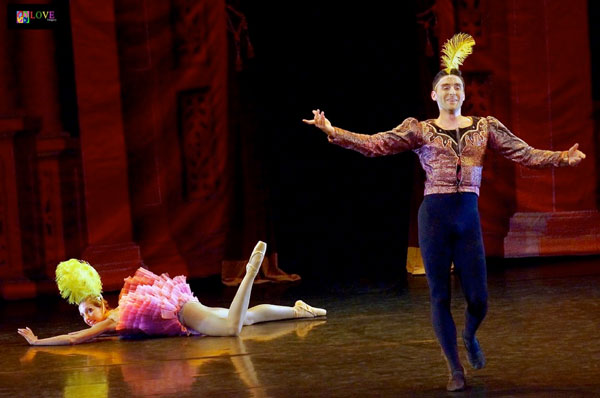 At the whimsical conclusion, each dancer tries to outdo the other for more audience applause until Cata finally takes an enormous hook and pulls Lonngren offstage.
Next, "Bonnie, Clyde, and Harry" (Tsubasa Nozaki, Kristaps Kikulis, and Robin Heijmans) are gangsters who high-step together in a dangerous liason, taunting and tempting fate with machine guns and provocative movements.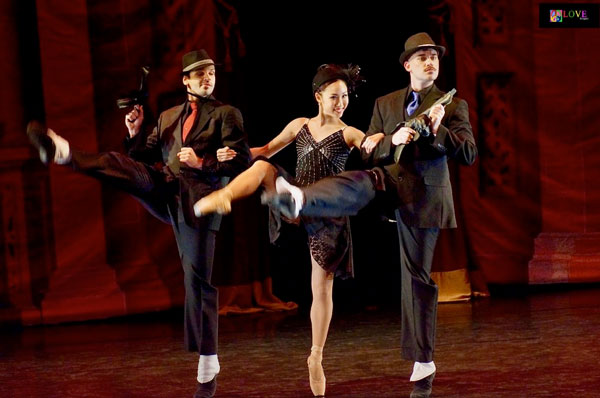 "Sun Bathers" join in the fun doing calisthenics and athletic dance involving tumbling, leaping, jumping jacks, and beach balls, not to mention lots of swimming.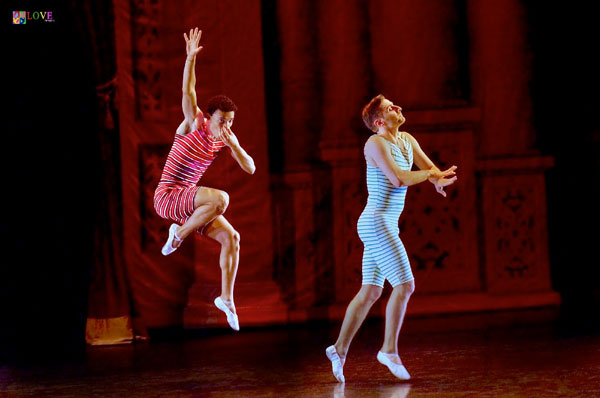 Caught Up in the Swing ends with the entire cast posing for a group photo followed by a bouncy curtain call where each dancer is given a chance to take a well-deserved bow.
Following a short intermission, the audience gets ready to experience the second ballet on this double bill at The Strand — Papa and Sinatra: Their Way.
As the curtain opens, we hear a live band — Paul LoPresti on piano, Keith Schiaffino on bass, Michael Hoebler on drums, Daniel Levine on trumpet, and Greg Grispart on alto saxophone — start the familiar strains of Sinatra's "Luck Be A Lady" as girls in colorful flowing skirts twirl and swirl with their parters in matching cumberbunds.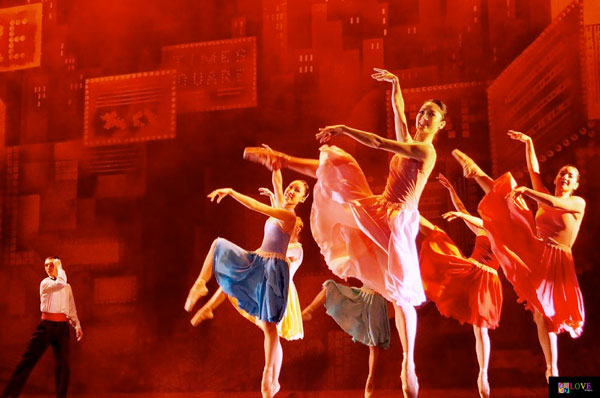 In "It Was a Very Good Year," three couples (Tsubasa Nozaki and Fabio Mariano, Maria Emilia Perez and Robin Heijmans, and Rina Yamaguchi and Kristaps Kikulis) dance and fly through the air with amazing style and flair.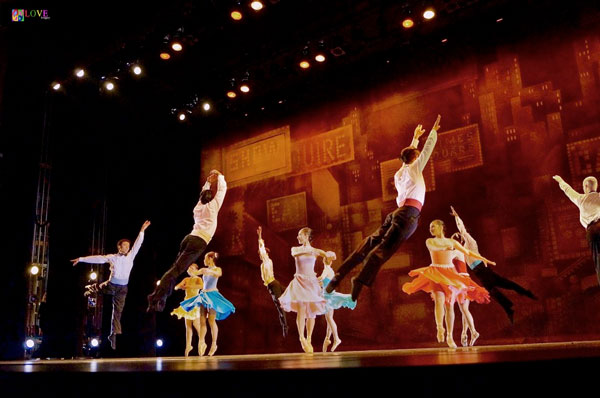 Following "Witchcraft," Tsubasa Nozaki and Fabio Mariano are featured on Sinatra's "The Way You Look Tonight "— Mariano adroitly lifting and then ever-so-gracefully setting Nozaki down to the audience's delight.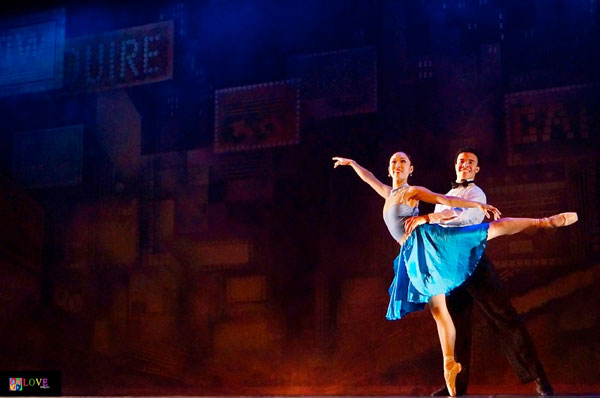 Wrapping up with exquisite versions "Fly Me to the Moon," "Strangers in the Night" and a full ensemble extravanganza on "New York, New York," Papa and the cast of the ACB receive a well-deserved standing ovation!
Afterwards, we have an opportunity to chat with several members of the audience who share their experiences with us regarding tonight's performance by the Atlantic City Ballet.
First, we meet three friends from Toms River — Bernadette, Donna, and Doris — who tell us they've seen other great shows here at the Strand including several by the Atlantic City Ballet, notably the ACB's recent Halloween production of Dracula, which they all agree was "fantastic."
According to these audience members, tonight's twin-bill more than lives up to their expectations. Says Bernadette, "I thought it was great!" whereas her friend, Donna, characterizes it as "spectacular!" Lastly, Doris calls the evening's production "wonderful," going on to add, "there's so much talent and energy on stage!"
We also chat with two young people in the audience — Hannah, 15, from Little Egg Harbor and Andrea, 12, from Galloway Twp. Both girls are students at Phyllis Papa's dance studio in Atlantic City and both appeared in the ACB's 2016 production of The Nutcracker presented here at The Strand at Christmastime.
Says Hannah about tonight's production, "The first ballet was my favorite, because it was so funny. I especially loved the part where the guy becomes a showgirl!"
Andrea agrees and also states, "The 'Diva Pas' was great, too," going on to add, "We really love Sara Lonngren and Tullio Cata!"
Lastly, we have an opportunity to chat with ACB professional ballerina Sara Lonngren, a Jersey girl, who hails from Medford, NJ.
Discloses Sara, "My favorite dance from Caught Up in the Swing is 'The Diva Pas,' saying, "making fun of the Diva ballet is a real challenge."
Revealing, "I just love working with Tullio on 'The Diva Pas," Sara goes on to say, "As a dancer, you must be able to trust your fellow company members and, on this number, sometimes I just have to 'let go' and trust Tullio, and he is always there for me."
Sara acknowledges that Papa and Sinatra: Their Way is also a "favorite" because, as she explains, "I love the music and the flowing costumes." Also relates Sara, "Phyllis Papa did a great job choreographing it," explaining, "it's extremely challenging to get six couples to be able to dance together like that."
Lastly, with regards to being a professional dancer with the Atlantic City Ballet, Sara also notes, "I like that we are a small company, where we become very close with everyone and there is an intimacy," before going on to conclude with a broad smile, "It really is wonderful to work with friends and do my dream job."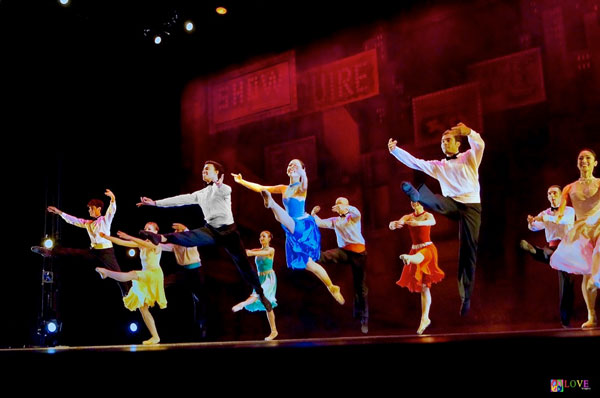 For more on upcoming performances by the Atlantic City Ballet — including performances of Carmen on April 23 and Swan Lake on May 21 at Atlantic City's Caesar's Maximus Theater — please go to www.acballet.org. For further information on future performances at The Strand — including The Machine Performs Pink Floyd on April 22, Pop, Rock and Doo Wopp Live on April 26, and Eaglemania on May 6, please go to www.strand.org.
Photos by Love Imagery
Spotlight Central. Your source for Jersey entertainment news and reviews
Love Imagery Fine Art Photography. all you need. peace/love/flower/power