---
New Jersey State Council on the Arts Names Allison Tratner as Executive Director Click here for the story!
---
Booze, Aliens & Nashville Inspire "Take Me to Your Liter" by Rich Lynch
originally published: 07/24/2017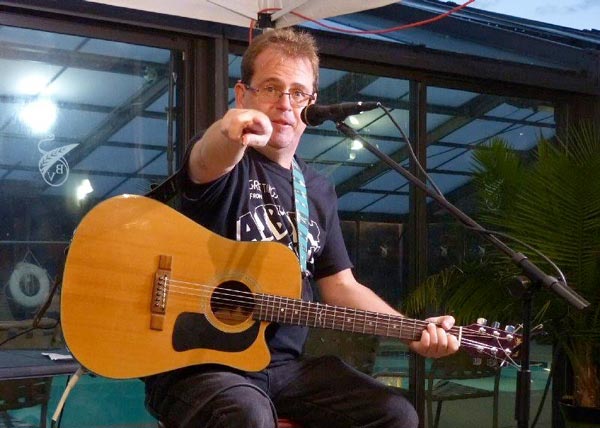 (NASHVILLE, NJ) -- Former New Jersey native turned Nashville rocker Rich Lynch returns just in time for the hot summer season with a brand new song that documents the long lonely journey of an extraterrestrial alien who seeks solace at a local watering hole on Planet Earth.

Make that a 'double shot' of "Take Me to Your Liter" as two versions of the track have just been released to all reputable online sales outlets in time for the traditional summer season in the western hemisphere. But, it's not simply a party song - there's a surprising depth of content packed into the four-minute plus rocker.

"Anyone who knows me well understands my fascination with UFOs, the paranormal and abduction stories," Lynch detailed in an interview for the double single release. "I was in the second grade and the first time I visited a book fair the paperback I gravitated to was 'UFOs: Past, Present & Future'. The rest, as they say, is history."
"One of my rehearsal bands back in New Jersey was called 'The Aliens' and the title first came up at a weekend jam session," Lynch continued. "My friend who was sitting in that day said we should write a song called 'Take Me To Your Leader' but I wasn't crazy about the idea."

Lynch warmed up to the thought after living many months in Nashville, Tennessee.

"I awoke one night with a chorus fully formed in my head," Rich remarked offering insight into the creative process. "Once I thought of it as a drinking song I got very excited for the lyrical possibilities."

The story describes the plight of an out of this world foreigner who winds up exiled in his own personal Area 51 estranged from everything he ever once knew and loved.

"In some ways it's autobiographical and a lot of inspiration came from moving to a new part of the country," Lynch confessed, continuing, "and, I'm all too familiar with the concept of being isolated and separated from everything I once held dear."

"I've watched a lot of those Amish documentary shows," Lynch said trying to clarify the thematic direction of his new single. "Those poor kids who get shunned or cast out of their society simply because they have unique beliefs or want to pursue the greater promises of our prosperous society. To me, this eternal silent treatment they end up receiving, it's the cruelest thing you can do to a person."

The heavy subject matter weaves it's way through three verses that detail the alien's departure, isolation and potential return to his home planet. But, before he makes it back he ends up in a bar to think and drink.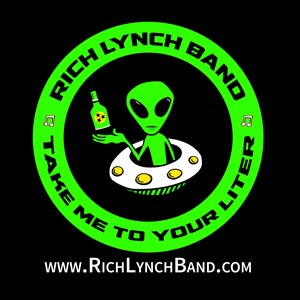 "We think this track is a potential number one," Lynch concludes. "Nashville is such a drinking town and many of the country music stars have their own boutique label brands of whiskey or vodka, it rubs off on you. We wrote it with them in mind and we're waiting for a call."

The two editions are similar but noticeably different from one another. "Take Me to Your Liter" is a straight up fast rocker with a classic rock feel. Version #2 is the original acoustic take. It's a bit slower and considerably more moody and vulnerable.

"We put both out," Lynch concludes. "One is perfect to get the party started - the other is more suited to the nightcap or the morning after. We're proud of both of them. We can't wait for the fans to hear it!"

Lynch didn't stop there, either. Like any good rock act he went ahead and produced apparel to document the release of "Take Me to Your Liter".

"We have a great limited edition T-Shirt available for fans to get a hold of," Lynch added saying that some might recognize the logo. "We put our old friend Kweevak - who was our alien mascot in the late 90's - back to work. He is prominently featured on the single cover and the shirt. Except now, instead of holding a musical note he's reaching for a bottle of Tennessee's finest!"
---


Uli Jon Roth To Return To Newton Theatre
(NEWTON, NJ) -- Uli Jon Roth returns to The Newton Theatre on Friday, May 3, 2019 at 8:00pm.
During his five year tenure as a member of Germany's number one rock band, The Scorpions, Uli built the foundation for his status of guitar legend. He quickly established himself as one of the main songwriters in the band and soon gained an international reputation as one of the most important innovators of the electric guitar.


---
Centenary's 2019 January Thaw Music Festival
(HACKETTSTOWN, NJ) -- Centenary Stage Company's annual January Thaw Music Festival heats things up through the month of January with three exciting musical guests in the Lackland Performing Arts Center. The festival features Michael Davis and the New Wonders on Saturday, January 12 at 8:00pm; the Harry James Orchestra on Sunday, January 20 at 2:00pm; and finally Michael Cleveland and Flamekeeper on Saturday, January 26 at 8:00pm. All performances will be held in the Sitnik Theatre of the Lackland Performing Arts Center at 715 Grand Ave. Hackettstown, NJ.
---
Grunin Center Presents Rockapella
(TOMS RIVER, NJ) -- Rockapella has become one of the world's most sophisticated and imitated vocal groups, and on Thursday, December 13, at 7:30 pm., the quintet comes to Toms River to take the stage at the Jay and Linda Grunin Center for the Arts.
---
The THE BAND Band Comes To Darress Theatre
(BOONTON, NJ) -- The Darress Theatre presents The THE BAND Band on Saturday, December 15th. If you like the music of The Band, you'll love The THE BAND Band, the most acclaimed and exciting tribute to The Band on the scene today. The show begins at 8:00pm.  Tickets are $25.
---
Spiral Sounds Hosts Abbie Gardner & Craig Akin
(JERSEY CITY, NJ) -- Spiral Sounds' next concert on Friday, December 14th, is a duo with Abbie Gardner and Craig Akin.  Abbie is a key element in the Americana vocal powerhouse, Red Molly, who are well known throughout the U.S. for their impressive harmonies.  Craig has performed extensively with Roosevelt Dime and Red Molly. Doors open 6:30pm, concert at 7:30pm sharp.
---


An Interview with Chip Davis Of Mannheim Steamroller Christmas
You can experience the magic of the holidays — Steamroller-style — when Mannheim Steamroller Christmas by Chip Davis makes a tour stop this Thursday, December 6, 2018, at New Brunswick, NJ's historic State Theatre.
---
Max Weinberg's Jukebox LIVE! at the Grunin Center
Something is different about tonight's November 18, 2018 concert at Toms River, NJ's Grunin Center for the Arts starring Max Weinberg, celebrated drummer from Bruce Springsteen's E Street Band!
---
PHOTOS: Matt O'Ree Band at The Stone Pony in Asbury Park
(ASBURY PARK, NJ) -- The Matt O'Ree Band returned to The Stone Pony in Asbury Park on Friday, November 16 and photographer Estelle Massry of Coucou Photography was on hand to take some photos.  David Bryan from Bon Jovi was one of the special guests that night.
---
"How Could You Not Love Them?" The Buckinghams and Herman's Hermits LIVE! at BergenPAC
Although it's a chilly Saturday, Nov. 17, 2018 evening in Englewood, NJ, music lovers are lined up outside the Bergen Performing Arts Center waiting to hear classic songs of the '60s as performed by two quintessential groups of the era — The Buckinghams and Herman's Hermits starring Peter Noone!
---
If It Ain't Baroque... Bach's Brandenburg Concertos With Symphony in C
You know the old joke: If it ain't Baroque, don't fix it? Well, put away those tools, dear reader. Bach's Brandenburg Concertos ARE Baroque, so no fixing necessary. This Saturday, December 1, Symphony in C is performing Johann Sebastian Bach's Brandenburg Concertos Nos. 2 through 6 at the Rutgers-Camden Center for the Arts. Officially presented in 1721, these collective works are considered to be some of the finest orchestral compositions of the Baroque era (generally 1600 to 1750). These six concertos are among the most recorded, performed and beloved works by Bach. – And that's J.S. Bach, for those of you keeping score at home. There are a LOT of Bachs.
---