---
Did you know NJ Stage offers FREE Event Listings? Nearly 100,000 listings were viewed in January. Be sure to add your events to our calendar and get your shows noticed!
---
Booze, Aliens & Nashville Inspire "Take Me to Your Liter" by Rich Lynch
originally published: 07/24/2017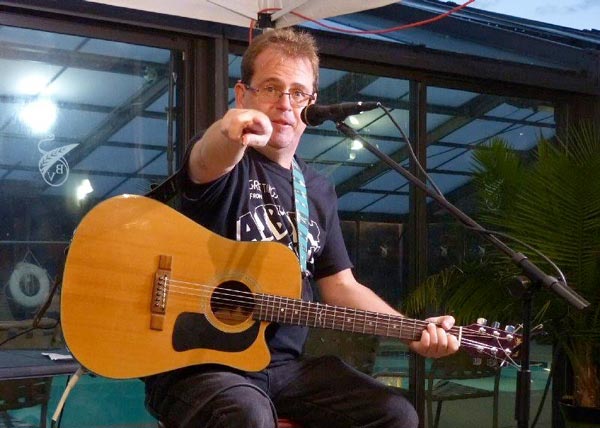 (NASHVILLE, NJ) -- Former New Jersey native turned Nashville rocker Rich Lynch returns just in time for the hot summer season with a brand new song that documents the long lonely journey of an extraterrestrial alien who seeks solace at a local watering hole on Planet Earth.

Make that a 'double shot' of "Take Me to Your Liter" as two versions of the track have just been released to all reputable online sales outlets in time for the traditional summer season in the western hemisphere. But, it's not simply a party song - there's a surprising depth of content packed into the four-minute plus rocker.

"Anyone who knows me well understands my fascination with UFOs, the paranormal and abduction stories," Lynch detailed in an interview for the double single release. "I was in the second grade and the first time I visited a book fair the paperback I gravitated to was 'UFOs: Past, Present & Future'. The rest, as they say, is history."
"One of my rehearsal bands back in New Jersey was called 'The Aliens' and the title first came up at a weekend jam session," Lynch continued. "My friend who was sitting in that day said we should write a song called 'Take Me To Your Leader' but I wasn't crazy about the idea."

Lynch warmed up to the thought after living many months in Nashville, Tennessee.

"I awoke one night with a chorus fully formed in my head," Rich remarked offering insight into the creative process. "Once I thought of it as a drinking song I got very excited for the lyrical possibilities."

The story describes the plight of an out of this world foreigner who winds up exiled in his own personal Area 51 estranged from everything he ever once knew and loved.

"In some ways it's autobiographical and a lot of inspiration came from moving to a new part of the country," Lynch confessed, continuing, "and, I'm all too familiar with the concept of being isolated and separated from everything I once held dear."

"I've watched a lot of those Amish documentary shows," Lynch said trying to clarify the thematic direction of his new single. "Those poor kids who get shunned or cast out of their society simply because they have unique beliefs or want to pursue the greater promises of our prosperous society. To me, this eternal silent treatment they end up receiving, it's the cruelest thing you can do to a person."

The heavy subject matter weaves it's way through three verses that detail the alien's departure, isolation and potential return to his home planet. But, before he makes it back he ends up in a bar to think and drink.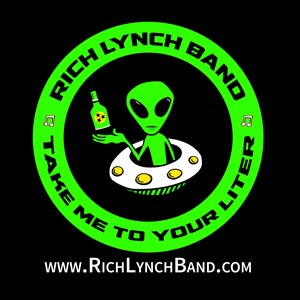 "We think this track is a potential number one," Lynch concludes. "Nashville is such a drinking town and many of the country music stars have their own boutique label brands of whiskey or vodka, it rubs off on you. We wrote it with them in mind and we're waiting for a call."

The two editions are similar but noticeably different from one another. "Take Me to Your Liter" is a straight up fast rocker with a classic rock feel. Version #2 is the original acoustic take. It's a bit slower and considerably more moody and vulnerable.

"We put both out," Lynch concludes. "One is perfect to get the party started - the other is more suited to the nightcap or the morning after. We're proud of both of them. We can't wait for the fans to hear it!"

Lynch didn't stop there, either. Like any good rock act he went ahead and produced apparel to document the release of "Take Me to Your Liter".

"We have a great limited edition T-Shirt available for fans to get a hold of," Lynch added saying that some might recognize the logo. "We put our old friend Kweevak - who was our alien mascot in the late 90's - back to work. He is prominently featured on the single cover and the shirt. Except now, instead of holding a musical note he's reaching for a bottle of Tennessee's finest!"
---


Pioneer Productions Presents Wendy-Lane Bailey Women's Work
(DENVILLE, NJ) -- Pioneer Productions kicks off its new Living Room Series with Women's Work - an evening of songs by female songwriters on September 16 at 6:00pm at the Arthur Murray Studios in Denville. Conceived and performed by singer/storyteller Wendy-Lane Bailey & composer/pianist Michele Brourman it has a funny, sometimes challenging but always defiantly feminine viewpoint that brings the worlds of Broadway, pop, and country together in one show.
---
Stone Pony To Honor Butch Pielka
(ASBURY PARK, NJ) -- A special day of music to honor the legacy of the original Stone Pony co-owner and manager, Robert "Butch" Pielka, will be held Sunday, October 7, from 2:00 to 9:00pm at the Stone Pony in Asbury Park. The lineup includes reunions of Cats on a Smooth Surface and The Shakes, and Lance Larson.  More names are expected to be added.
---
Victor Wainwright & The Train To Perform At Lizzie Rose Music Room
(TUCKERTON, NJ) -- The Lizzie Rose Music Room presents Victor Wainwright and the Train on Wednesday, August 22 at 7:30pm. A 3 time BMA Piano Award winner,  BB KING Entertainer of the Year Award Winner, and Band of the Year Award winner, Victor Wainwright is at the top of his game right now.  The band is touring in support of their latest record, The Train, on Ruf Records. Tickets are 30 in advance and $35 at the door.
---
State Theatre presents Lost 80's Live
(NEW BRUNSWICK, NJ) -- State Theatre New Jersey presents Lost 80's Live on Saturday, September 20, 2018 at 8:00pm. The Lost 80's line-up features some of the most iconic bands from the 1980s including A Flock of Seagulls; Wang Chung; Bow Wow Wow; Farrington and Mann, Original Vocalists of When in Rome UK; Naked Eyes; and Animotion. Tickets range from $48-$98.
---
White Eagle Hall Presents Sloan
(JERSEY CITY, NJ) -- White Eagle Hall presents Sloan, one of Canada's best power-pop bands, on Friday, September 7 at 8:00pm. The band recently released their first album in four years, 12, which has become their highest-charting album in their long career.  Tickets are $25.
---


Let's Hang On's Tribute to Frankie Valli and The Four Seasons LIVE! at The Strand
Q: So what do four guys from Pennsylvania, Texas, Tennessee, and Massachusetts — and all currently based out of Florida — have in common with four guys from "Joisey" this summery August 3, 2018 evening at the Strand Theater in Lakewood, NJ?
---
80's Tribute Band Almost Journey Rocks iPlay America
I never in a million years would have thought about iPlay America in Freehold as being an event venue. To me, it's a place to ride bumper cars, have kids' birthday parties and play video games. Never been there.
---
The Great Rock N Roll Time Machine LIVE! at Toms River's Grunin Center
As we make our way inside the Grunin Center of the Arts located on the campus of Ocean County College in Toms River, NJ, this Saturday, July 28, 2018, we see music lovers of all ages. Some of them are wearing street clothes but some are decked out in outfits from the 1970s and '80s for tonight's concert by the '70s and '80s tribute band, The Great Rock N Roll Time Machine.
---
Classical Guitarists Alex and Wesley Park LIVE! at The Great Auditorium
The bucolic seashore town of Ocean Grove, NJ is a place designed for quiet reflection and spiritual renewal. An artist sketches in the lush green park off Pilgrim Pathway. Still others read or meditate in the heart of this picturesque village which features gingerbread houses and colorful gardens, all just steps away from the fresh salt air wafting off the blue Atlantic Ocean.
---
"Rock and Roll Icons!" Hippiefest LIVE! at BergenPAC
A light summer rain is falling outside Englewood, NJ's BergenPAC this Wednesday July 25, 2018, as music lovers decked out in peace signs, tie-dyed shirts, and bell-bottomed jeans arrive for tonight's Hippiefest concert event starring Vanilla Fudge, Rick Derringer, Mitch Ryder, and Badfingers' Joey Molland.
---