---
Did you know NJ Stage offers FREE Event Listings? Nearly 100,000 listings were viewed in January. Be sure to add your events to our calendar and get your shows noticed!
---
Booze, Aliens & Nashville Inspire "Take Me to Your Liter" by Rich Lynch
originally published: 07/24/2017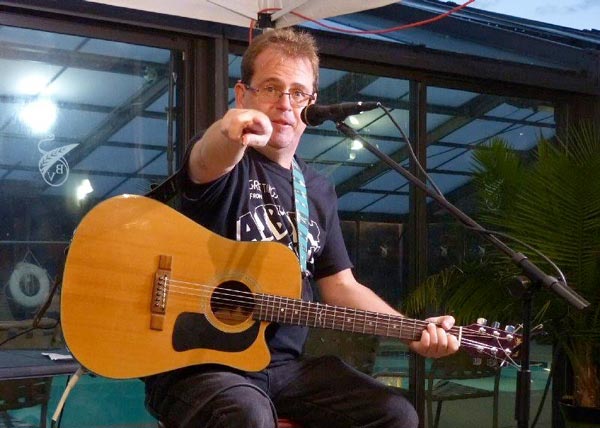 (NASHVILLE, NJ) -- Former New Jersey native turned Nashville rocker Rich Lynch returns just in time for the hot summer season with a brand new song that documents the long lonely journey of an extraterrestrial alien who seeks solace at a local watering hole on Planet Earth.

Make that a 'double shot' of "Take Me to Your Liter" as two versions of the track have just been released to all reputable online sales outlets in time for the traditional summer season in the western hemisphere. But, it's not simply a party song - there's a surprising depth of content packed into the four-minute plus rocker.

"Anyone who knows me well understands my fascination with UFOs, the paranormal and abduction stories," Lynch detailed in an interview for the double single release. "I was in the second grade and the first time I visited a book fair the paperback I gravitated to was 'UFOs: Past, Present & Future'. The rest, as they say, is history."
"One of my rehearsal bands back in New Jersey was called 'The Aliens' and the title first came up at a weekend jam session," Lynch continued. "My friend who was sitting in that day said we should write a song called 'Take Me To Your Leader' but I wasn't crazy about the idea."

Lynch warmed up to the thought after living many months in Nashville, Tennessee.

"I awoke one night with a chorus fully formed in my head," Rich remarked offering insight into the creative process. "Once I thought of it as a drinking song I got very excited for the lyrical possibilities."

The story describes the plight of an out of this world foreigner who winds up exiled in his own personal Area 51 estranged from everything he ever once knew and loved.

"In some ways it's autobiographical and a lot of inspiration came from moving to a new part of the country," Lynch confessed, continuing, "and, I'm all too familiar with the concept of being isolated and separated from everything I once held dear."

"I've watched a lot of those Amish documentary shows," Lynch said trying to clarify the thematic direction of his new single. "Those poor kids who get shunned or cast out of their society simply because they have unique beliefs or want to pursue the greater promises of our prosperous society. To me, this eternal silent treatment they end up receiving, it's the cruelest thing you can do to a person."

The heavy subject matter weaves it's way through three verses that detail the alien's departure, isolation and potential return to his home planet. But, before he makes it back he ends up in a bar to think and drink.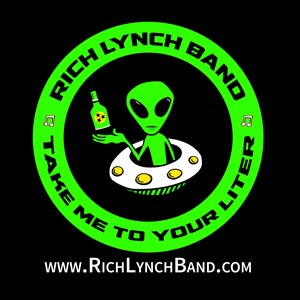 "We think this track is a potential number one," Lynch concludes. "Nashville is such a drinking town and many of the country music stars have their own boutique label brands of whiskey or vodka, it rubs off on you. We wrote it with them in mind and we're waiting for a call."

The two editions are similar but noticeably different from one another. "Take Me to Your Liter" is a straight up fast rocker with a classic rock feel. Version #2 is the original acoustic take. It's a bit slower and considerably more moody and vulnerable.

"We put both out," Lynch concludes. "One is perfect to get the party started - the other is more suited to the nightcap or the morning after. We're proud of both of them. We can't wait for the fans to hear it!"

Lynch didn't stop there, either. Like any good rock act he went ahead and produced apparel to document the release of "Take Me to Your Liter".

"We have a great limited edition T-Shirt available for fans to get a hold of," Lynch added saying that some might recognize the logo. "We put our old friend Kweevak - who was our alien mascot in the late 90's - back to work. He is prominently featured on the single cover and the shirt. Except now, instead of holding a musical note he's reaching for a bottle of Tennessee's finest!"
---


State Theatre Presents Brian Wilson: Greatest Hits Live With special guests Al Jardine and Blondie Chaplin
(NEW BRUNSWICK, NJ) -- State Theatre New Jersey presents Beach Boys founder Brian Wilson: Greatest Hits Live with special guests Al Jardine,original founding member of The Beach Boys, and singer/guitarist and former Beach Boy, Blondie Chaplin on Thursday, November 1 at 8:00pm. Tickets range from $59-$129.
---
Art Garfunkel To Perform At Rowan U
(GLASSBORO, NJ) – Legendary vocalist Art Garfunkel will perform at Rowan University on March 16, 2019 as part of the university's Marie Rader Presenting Series. The award-winning voice of a generation will take his audience on a musical journey through a career spanning more than 60 years.
---
The Weeklings To Perform At Monmouth University During Beatles Symposium
(WEST LONG BRANCH, NJ) -- The Center for the Arts at Monmouth University presents The Weeklings on November 8th at 8:00pm. The one-night engagement featuring selections from The Beatles legendary White Album performed with live horns and strings as well as many of your Weeklings favorites. This concert serves as one of the highlights at The Beatles' The White Album: An International Symposium taking place from November 8 – 11 on Monmouth University's campus.
---
Westminster Community Orchestra Presents "Halloween!" on October 28
(PRINCETON, NJ) --Westminster Community Orchestra, conducted by Ruth Ochs and Sergey Tkachenko, will present a concert titled "Halloween!" on Sunday, October 28 at 3:00pm in the Robert L. Annis Playhouse on the campus of Westminster Choir College of Rider University in Princeton, NJ.  The Halloween-themed program features the Overture to Orpheus in the Underworld by Offenbach, "Funeral March of a Marionette" by Gounod, "Mars" from Holst's The Planets, the first movement of Schubert's Symphony No. 4, "Tragic," Ravel's Pavane pour une infant défunte and the "Raiders March" from Raiders of the Lost Ark by John Williams, as well as special selections for strings. The program also showcases the talents of Westminster Conservatory's Suzuki Violin Program.
---
Westminster Schola Cantorum Performs Faure's Requiem on October 28
(PRINCETON, NJ) -- Westminster Schola Cantorum, led by conductor James Jordan, will perform Gabriel Fauré's Requiem on Sunday, October 28 at 7:30pm in Bristol Chapel on the campus of Westminster Choir College of Rider University in Princeton, NJ. The program also features John Tavener's Funeral Ikos and Geistliches Lied, Op. 30 as well other works centered Fauré's choral masterwork.
---


"Brilliant!" The Young Dubliners LIVE! at Toms River's Grunin Center
It's a mild Saturday, September 29, 2019 evening as fans of Celtic rock are streaming into Toms River, NJ's Grunin Center of the Arts for a concert by The Young Dubliners.
---
A Tribute to Roy Orbison, The Beach Boys, and Frankie Valli at the PNC Bank Arts Center
A huge crowd is gathered here on this beautiful September 27, 2018 afternoon at Holmdel, NJ's PNC Bank Arts Center today for a live concert tribute to the music of Roy Orbison, The Beach Boys, and Frankie Valli and the Four Seasons.
---
An Interview with Rusty Young Who Celebrates 50 Years of Poco this Saturday at SOPAC!
Steel pedal guitarist Rusty Young is celebrating the 50th anniversary of the country rock band he helped to create, Poco, with a live performance by the group at 8pm this Saturday, October 13, 2018 at South Orange Performing Arts Center in South Orange, NJ!
---
Story Behind The Song: "Arizona Sky" by Diego Allessandro
From the corporate strip mall wastelands of suburbia in Central New Jersey, Diego Allessandro's trademark sound blending Americana with 80s and 90s pop and 2000s punk has earned him two nominations in the Asbury Music Awards Top Americana Band category with his former band Lot 25. He's back with This American Life - his first full length solo effort since 2014's The Losin' Kind. He's shared the video for "Arizona Sky" with New Jersey Stage and provides us with the story behind the song.
---
"A Really Great Vibe!" Michael McDonald's Wide Open 2018 Tour LIVE! at the State Theatre
The crowds are lining up outside New Brunswick, NJ's State Theatre this Friday, Sept. 21, 2018 for a performance by the legendary singer and songwriter, Michael McDonald, on this Garden State stop of his 2018 Wide Open tour!
---