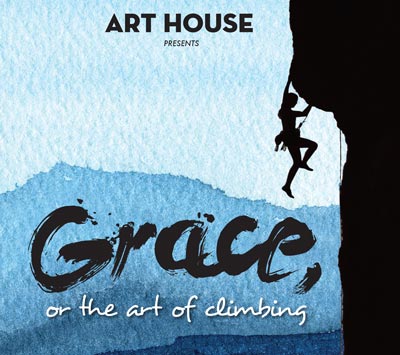 (JERSEY CITY, NJ) -- Art House Productions (Meredith Burns, Executive Director) will present the spring mainstage theater production of Grace, or The Art of Climbing by L M Feldman from March 15th - April 1st. Making its east coast premiere, Grace will be directed by Adin Walker. The play follows the journey of Emm, who faced with a painful chapter in her life and fighting the inertia of depression, decides to enter the world of competitive rock-climbing. Her quest through the rugged and humorous terrain of physical training and personal relationships charts the journey of a young woman suspended between muscularity and vulnerability, falling and climbing, parents and children, and the ardor and grace of being human.
"I love L's worlds – to live inside them is an honor and dream." says Walker. "Our brilliant scenic designer, Claire DeLiso, is transforming the space in a way that feels like an immersive climbing gym, and I am so excited to play play play and dive in with our fearless acting company, our imaginative designers, and our adventurous audience members!"
The cast includes Emily Kitchens*, Lawrence Street*, Paulo Quiros*, Tiffany Iris, Javan Nelson, Thomas Muccioli, and Hank Morris.
For Grace, or The Art of Climbing, Art House is partnering with the Hoboken-based rock climbing gym, Gravity Vault, who has generously provided climbing training to the actors. Art House will be hosting a Gravity Vault members night on the second weekend of the run.
"Our programs do not survive without the generous support of our community partners and Gravity Vault has really stepped up in support of our artistic vision for this show," says Executive Director, Meredith Burns.
---
The article continues after this ad
---
---
Additionally, in keeping with Art House's mission of making the arts accessible, the Art House Access Committee will be providing audio interpretation and sign language interpretation on Sunday, March 18th. Please email info@arthouseproductions.org or call 201-918-6019 for more information and additional requests.
Performances of Grace, or The Art of Climbing run March 15th - April 1st, Thursday-Saturday at 7:30pm; Sundays at 3:00pm. Tickets: $25. Students & Seniors: $18. To purchase, visit arthouseproductions.org or call 201-918-6019. Art House Productions take place at 837 Jersey Ave in Jersey City, New Jersey.
*Appearing courtesy of Actors' Equity.
originally published: 2018-02-15 00:00:00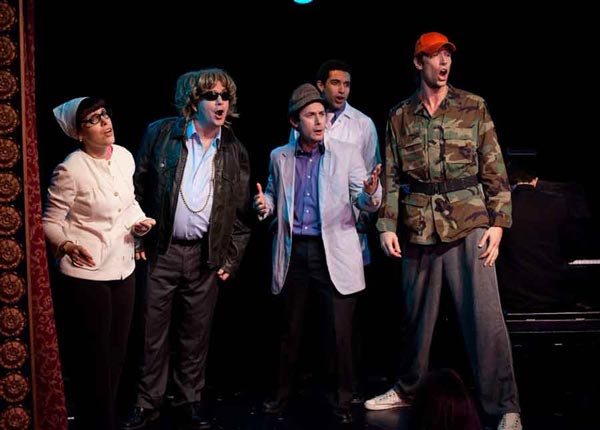 Kean Stage Presents "Broadway's Next H!t Musical"
(UNION, NJ) -- If you've ever wanted to help create a Broadway-style musical, now is your chance because Broadway's Next H!t Musical is coming to Kean Stage in Union on Friday, March 23. In this fully improvised show, the troupe gathers silly song suggestions from audience members. Four finalists are chosen, and the cast members perform them as if they are scenes from a pre-existing musical. Then the audience votes for their favorite. The winning song is turned into a full-blown musical right before your eyes, complete with memorable characters, witty dialogue and plot twists galore.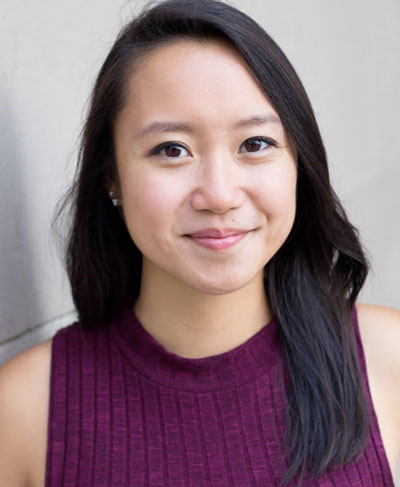 NJ Rep Presents World Premiere of Chloe Hung's "Issei, He Say, (Or the Myth of the First)"
(LONG BRANCH, NJ) -- New Jersey Repertory Company will present the World Premiere of Chloé Hung's Issei, He Say, (Or the Myth of the First) April 19 through May 20, 2018. Winner of an Edgerton New Play award, Issei, He Say will be directed by Lisa James and stars Stan Egi as Mr. Yamamoto, Kathleen Kwan as Mrs. Chu, Fenton Li as Mr. Chu, and Christina Liang as Lucy Chu.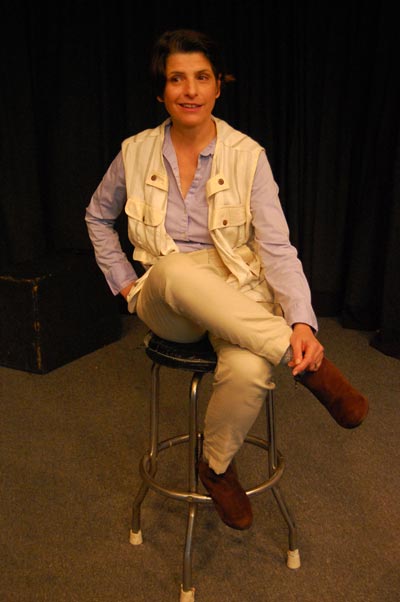 Jersey City Theater Center Presents "2B or Not 2"
(JERSEY CITY, NJ) -- An aspiring but out-of-work actress takes a job as theater teacher and discovers a surprising truth: the real world of her students was far more engaging than the world of the classic characters she wanted to play.  That's the premise behind 2B or Not 2,  which is continues the Truth series at Jersey City Theater Center (JCTC) on Friday, March 23 at 8:00pm.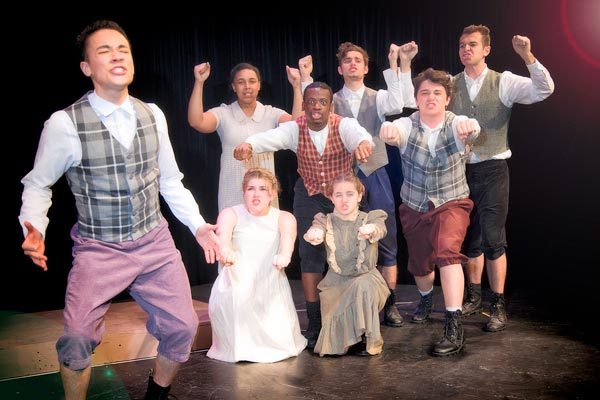 MCCC Theatre/Dance Program to Present "Spring Awakening"
(WEST WINDSOR, NJ) -- The fraught and poignant passage from adolescence to adulthood takes center stage as the Theatre/Dance program at Mercer County Community College (MCCC) presents the groundbreaking musical Spring Awakening. Set in 1891 Germany, the grown-ups are in firm control – except that their teenage children have other plans. This unforgettable coming-of-age tale comes to MCCC's Kelsey Theatre Fridays, April 6 and 13 at 8:00pm; Saturdays, April 7 and 14 at 8:00pm; and Sundays, April 8 and 15 at 2:00pm.