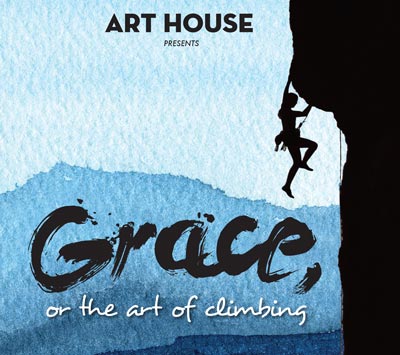 (JERSEY CITY, NJ) -- Art House Productions (Meredith Burns, Executive Director) will present the spring mainstage theater production of Grace, or The Art of Climbing by L M Feldman from March 15th - April 1st. Making its east coast premiere, Grace will be directed by Adin Walker. The play follows the journey of Emm, who faced with a painful chapter in her life and fighting the inertia of depression, decides to enter the world of competitive rock-climbing. Her quest through the rugged and humorous terrain of physical training and personal relationships charts the journey of a young woman suspended between muscularity and vulnerability, falling and climbing, parents and children, and the ardor and grace of being human.
"I love L's worlds – to live inside them is an honor and dream." says Walker. "Our brilliant scenic designer, Claire DeLiso, is transforming the space in a way that feels like an immersive climbing gym, and I am so excited to play play play and dive in with our fearless acting company, our imaginative designers, and our adventurous audience members!"
The cast includes Emily Kitchens*, Lawrence Street*, Paulo Quiros*, Tiffany Iris, Javan Nelson, Thomas Muccioli, and Hank Morris.
For Grace, or The Art of Climbing, Art House is partnering with the Hoboken-based rock climbing gym, Gravity Vault, who has generously provided climbing training to the actors. Art House will be hosting a Gravity Vault members night on the second weekend of the run.
"Our programs do not survive without the generous support of our community partners and Gravity Vault has really stepped up in support of our artistic vision for this show," says Executive Director, Meredith Burns.
---
The article continues after this ad
---
---
Additionally, in keeping with Art House's mission of making the arts accessible, the Art House Access Committee will be providing audio interpretation and sign language interpretation on Sunday, March 18th. Please email info@arthouseproductions.org or call 201-918-6019 for more information and additional requests.
Performances of Grace, or The Art of Climbing run March 15th - April 1st, Thursday-Saturday at 7:30pm; Sundays at 3:00pm. Tickets: $25. Students & Seniors: $18. To purchase, visit arthouseproductions.org or call 201-918-6019. Art House Productions take place at 837 Jersey Ave in Jersey City, New Jersey.
*Appearing courtesy of Actors' Equity.