---
Tune into Radio Jersey with Lee Mrowicki every Monday through Friday from 6pm to 8pm
Broadcast on Asbury Music!
---
Amy Rigby To Perform At The Saint
originally published: 02/14/2018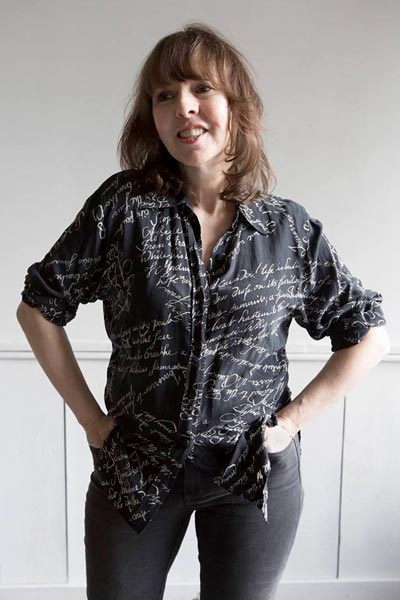 (ASBURY PARK, NJ) -- Singer-songwriter Amy Rigby will perform at The Saint in Asbury Park on Wednesday, March 14 shortly before heading out to the UK for a series of dates. Rigby has made a life out of writing and singing about life. With bands Last Roundup and the Shams in eighties NYC East Village to her solo debut Diary Of A Mod Housewife out of nineties Williamsburg; through a songwriting career in 2000s Nashville and during the past decade with duo partner Wreckless Eric, she's released records on visionary independent labels Rounder, Matador, Signature Sounds and reborn Stiff Records as well as her and Eric's own Southern Domestic Recordings. 
The Old Guys, her first solo album in a dozen years, measures the weight of heroes, home; family, friends and time. Philip Roth and Bob Dylan, CD/cassette players, touring, the wisdom of age and Walter White, groupies, Robert Altman, egg creams and mentors are paid tribute. Twelve songs written by Amy and recorded by Wreckless Eric in upstate New York, The Old Guys is the sound of a good girl grown up, never giving up.
The New York Times said, "Her whimsical, often autobiographical songs are masterful. Funny and enticing, she is up there with the likes of Paul Simon and Randy Newman." The Village Voice wrote, "Rigby combines formidable aural craftsmanship with blunt, self-deprecating honesty."
The Saint is located at 601 Main Street in Asbury Park, New Jersey.
---


Hard Rock Hotel & Casino Presents Motor City Live: A Motown Christmas
(ATLANTIC CITY, NJ) -- Hard Rock Hotel & Casino Atlantic City has extended Motor City Live: A Tribute to Motown through the month of December with a special Motor City Live: A Motown Christmas. Along with your favorite Motown classics, you'll hear some Motor City versions of your favorite Holiday songs sprinkled in like "Rudolph the Red-Nosed Reindeer" from The Temptations, Aretha Franklin's "Winter Wonderland," "I Saw Mommy Kissing Santa Claus" and "Santa Claus is Coming to Town" from the Jackson 5, Smokey Robinson's "Jingle Bells" and much more.
---
Wisin & Yandel To Perform At Prudential Center
(NEWARK, NJ) -- Latin music's most iconic duo, Wisin & Yandel, announced their first U.S. tour today since their five-year hiatus with the Como Antes Tour 2019. The 15-city tour will kick off May 23 and make a much-anticipated stop at Prudential Center on Sunday, June 16. Yandel is managed by Andy Martinez and Wisin is managed by Walter Kolm.
---
Grunin Center Presents Canadian Brass
(TOMS RIVER, NJ) -- The award-winning Canadian Brass takes the stage at the Jay and Linda Grunin Center for the Arts  on Friday, December 14 at 8:00pm to present "Christmas Time is Here."   Now in its 47th season, the Canadian Brass has performed in virtually every major concert hall in the world, has been seen by hundreds of millions of people on television, sold two million of its approximately 100 albums worldwide, and contributed nearly 600 new works and arrangements to the brass quintet repertoire. Renowned for genre-bending versatility and joyous performances, Canadian Brass is almost single-handedly responsible for elevating the art of the brass quintet to what it is today.
---
Papa Roach To Perform At Stone Pony
(ASBURY PARK, NJ) -- Alternative rock quartet Papa Roach will bring their summer 2019 headlining run, the Who Do You Trust? Tour,with Asking Alexandria and Bad Wolves to The Stone Pony Summer Stage on August 9, 2019.  The tour will also have an area date at Philadelphia's Metropolitan Opera House on August 7th.
---
Uli Jon Roth To Return To Newton Theatre
(NEWTON, NJ) -- Uli Jon Roth returns to The Newton Theatre on Friday, May 3, 2019 at 8:00pm.
During his five year tenure as a member of Germany's number one rock band, The Scorpions, Uli built the foundation for his status of guitar legend. He quickly established himself as one of the main songwriters in the band and soon gained an international reputation as one of the most important innovators of the electric guitar.


---


An Interview with Chip Davis Of Mannheim Steamroller Christmas
You can experience the magic of the holidays — Steamroller-style — when Mannheim Steamroller Christmas by Chip Davis makes a tour stop this Thursday, December 6, 2018, at New Brunswick, NJ's historic State Theatre.
---
Max Weinberg's Jukebox LIVE! at the Grunin Center
Something is different about tonight's November 18, 2018 concert at Toms River, NJ's Grunin Center for the Arts starring Max Weinberg, celebrated drummer from Bruce Springsteen's E Street Band!
---
PHOTOS: Matt O'Ree Band at The Stone Pony in Asbury Park
(ASBURY PARK, NJ) -- The Matt O'Ree Band returned to The Stone Pony in Asbury Park on Friday, November 16 and photographer Estelle Massry of Coucou Photography was on hand to take some photos.  David Bryan from Bon Jovi was one of the special guests that night.
---
"How Could You Not Love Them?" The Buckinghams and Herman's Hermits LIVE! at BergenPAC
Although it's a chilly Saturday, Nov. 17, 2018 evening in Englewood, NJ, music lovers are lined up outside the Bergen Performing Arts Center waiting to hear classic songs of the '60s as performed by two quintessential groups of the era — The Buckinghams and Herman's Hermits starring Peter Noone!
---
If It Ain't Baroque... Bach's Brandenburg Concertos With Symphony in C
You know the old joke: If it ain't Baroque, don't fix it? Well, put away those tools, dear reader. Bach's Brandenburg Concertos ARE Baroque, so no fixing necessary. This Saturday, December 1, Symphony in C is performing Johann Sebastian Bach's Brandenburg Concertos Nos. 2 through 6 at the Rutgers-Camden Center for the Arts. Officially presented in 1721, these collective works are considered to be some of the finest orchestral compositions of the Baroque era (generally 1600 to 1750). These six concertos are among the most recorded, performed and beloved works by Bach. – And that's J.S. Bach, for those of you keeping score at home. There are a LOT of Bachs.
---
Event calendar
Wednesday, Dec 12, 2018
---
MUSIC

---
SONIC 5

@ Lobby Bar at Hard Rock Hotel and Casino Atlantic City, Atlantic City - 7:00pm
---
---
---
---
THEATRE

---
---
---
---
View all events
---