originally published: 07/16/2020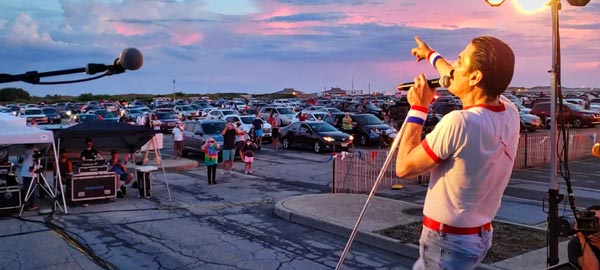 Today, there are dozens of bands around the world who pay tribute to the legendary act Queen, but back when Almost Queen started nearly 16 years ago, there were next to none. On Wednesday, July 29th, the band will perform at the second music concert in the Drive-In Live series presented by the Count Basie Center for the Arts at Monmouth Park. For Joseph Russo, who portrays lead singer Freddie Mercury, it's a hometown show.
Russo grew up in nearby Middletown, attending Thompson Junior High and graduating from Middletown North. In addition to him, Steve Leonard – who portrays guitarist Brian May – is from Oakland, NJ. Rounding out the band is a pair of guys from Long Island: John Cappadona as Roger Taylor and Randy Gregg as John Deacon. They not only sound like Queen, they make every effort to look like the band as well.
Almost Queen is one of the most popular tribute bands in the country, regularly selling out shows along the east coast and midwest. The band originally started out just for fun – an idea to play a few shows a month with songs that the band members all loved. Russo had been doing musical theatre at the time, with a few tours in Europe, when the bass player in Unforgettable Fire (a U2 tribute band featuring Russo's brother as Bono) left to form a new project. Over the years, the band's lineup has changed as members moved on (including the original bassist), but their fanbase has continued to grow each year.
And things really heated up for them once the "Bohemian Rhapsody" film was released.
"We went from getting maybe one or two offers a week to getting 10 to 15 - sometimes 10 offers in a single day," said Russo. "Even now it's pretty brisk. In the past month, we've been getting bookings for next year and next year's almost filled up already."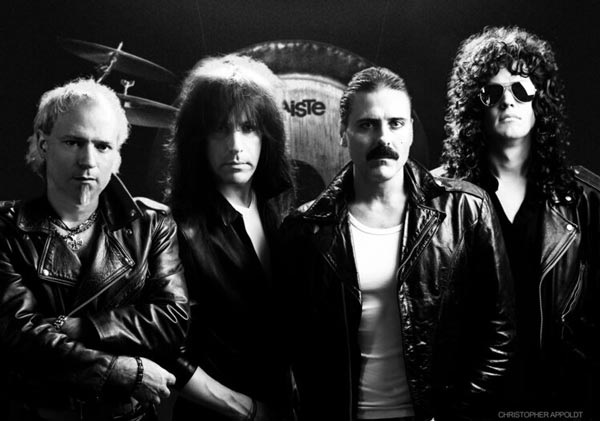 Part of this is because the film reminded people of just how many great songs are in Queen's catalog. In addition to the film's title track, songs like "You're My Best Friend," "Somebody to Love," "We Are the Champions," "We Will Rock You," "Under Pressure," and "Radio Ga Ga" are still heard daily on radio stations across the globe.
The show at Monmouth Park in Oceanport will be unlike any Almost Queen show in the area before; a concert series born out of necessity due to COVID-19 shutting down all of the venues. The band will perform on stage in front of a parking lot of 1,000 cars in a setting first used by Southside Johnny and the Asbury Jukes a few weeks earlier. It's a view few bands have ever seen before, but it won't be new for Almost Queen.
On June 27th, Almost Queen performed what was likely the first drive-in concert in New York state. They were a last-minute replacement for the Billy Joel tribute band Michael DelGuidice and Big Shot. That band had to drop out when New York Governor Cuomo set up a mandatory two-week quarantine for people visiting the state. With DelGuidice based in Florida, he and the band were unable to play. Almost Queen, which has done many shows with Big Shot over the years, was able to fill in.
Since the show was last minute, it meant a lot of changes were necessary. Almost Queen needed some immediate rehearsal time, guys needed haircuts, and Russo needed to shave his quarantine-grown beard back to Freddie Mercury's famous mustache. But everything worked out and made for a memorable show.
"There were about 1,000 cars and everyone was wonderful," said Russo. "From the crew to the spectators, it was just a great day. Two days' notice and we were able to do it. So we have a little experience with this type of show. Not much, but we do have one day under our belt."
Almost Queen is well known for an explosive live act that has led to a devoted fan base who comes back show after show. The drive-in shows are designed with more separation between the performers and the audience than bands are used to, so artists have to be a little creative. As the front man, much of this falls to Russo.
"One of the first things I said was, 'If you can't cheer or scream, just beep your horns and light your lights and have a good time,'" he recalled. "It was a little strange - especially after the first song finished and you're hearing car horns instead of applause. It took a few songs to get used to that, but you adapt."
Russo and the band turned what could have been a negative into a positive. He even led Freddie's famous "Day-o" audience response segment into a callback with car horns.
"There's one long one I do," said Russo. "It was incredible to hear 1,000 car horns go off at once for about 10 seconds. It was pretty cool."
The Queen song, "I'm in Love with My Car," will certainly have its moment this year, as the band has drive-in shows scheduled for the Mohegan Sun arena parking lot (Wilkes-Barre, PA), Cheshire Fairgrounds (Swanzey, NH), and Monmouth Park (Oceanport, NJ) in July alone. The song, which is usually in Almost Queen's set list anyway, was something of a running joke in the "Bohemian Rhapsody" film. Russo says he enjoys having the song in the show because it's sung by the drummer, giving his voice a brief rest. In addition, the parking lot setting offers him the perfect opening to the number.
The film created a new generation of Queen fans. Russo believes it doubled Almost Queen's fan base, leading to fans wishing to book the band for birthday parties for their kids. Even though the band turns down such offers, Russo loves knowing that there are now 8-year-olds who know the words to every Queen song.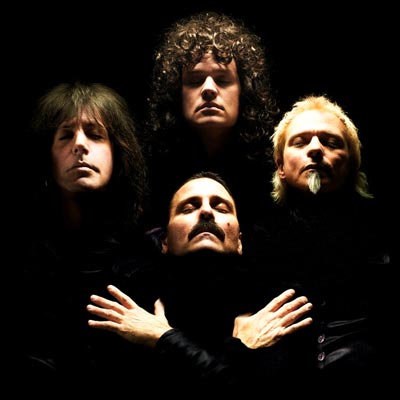 "When the movie was announced, I said if it flops it won't hurt us," explained Russo. "But if it does well, it's going to help us, and it really did. Honestly, we were ready to hit the ground running. We had been doing this act for over 10 years, so when our bookings tripled, we were ready to take them on."
Part of what has led Almost Queen to reach the upper echelon of tribute acts is their dedication to the show. They not only look like the band members, but they do everything in the exact key as Queen did. They take pride in that fact. Russo says he is singing better now than he ever did, admitting that quitting cigarettes a few years ago has played a large role. But it's also the combination of growing up in musical theatre and performing these songs for the last 16 years that has aided him as well.
Looking back, Russo thinks there were probably 20 Beatles tribute bands in New York City alone when Almost Queen began, but nobody was performing the songs of Freddie Mercury. Today, there are several that make their rounds in the same venues that Almost Queen plays. One is Queen itself, who tours with Adam Lambert as lead singer. Standing out from the pack is one challenge. Performing the songs of Queen is another; one that Russo and his bandmates relish.
"It's something that is challenging," he notes. "It was a challenge just to get close to it. The name of the band – Almost Queen – is a tip of the hat to them. I mean, nobody could ever be Queen. We can almost get there, but nobody can get there."
Almost Queen performs on Wednesday, July 29 at 7:00 p.m. at Monmouth Park, 175 Oceanport Ave, Oceanport. The comedian Iliza Shlesinger performs the following night. Both concerts will benefit The Count Basie Center for the Arts, with a portion of the proceeds going to the New Jersey Arts and Culture Recovery Fund. For full details regarding the show and its unique setup, visit http://thebasie.org/drivein.