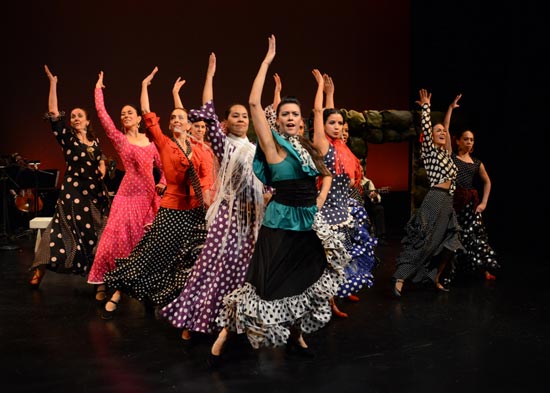 Celebrate the past, present and future of the widely acclaimed Alborada Spanish Dance Theatre on Friday, September 25 at 7:30pm for a special anniversary production "20 Years of Flamenco and Spanish Dance in New Jersey", at Crossroads Theatre (located at 7 Livingston Avenue, New Brunswick, NJ).  Tickets are $30 VIP/Front Row Seating; $25 General seating and $18 Seniors/Students.  Order tickets on-line at http://alborada.bpt.me or call 800-838-3006.   For more information AlboradaDance.org.
See what has made Alborada New Jersey's premier Flamenco & Spanish Dance Company -"awhirl in drama and color" (according to the New York Times) - for the past 20 years.  Experience the rich diversity of Spain's dances and music with your favorite choreographies by principal artists Eva Lucena,  Lisa Botalico and Gisele Assi, as well as new dances pointing to the future.  Featuring guest artists Chavela, flamenco singer Dominico Caro and guitarist Arturo Martinez, highlights include Spanish classical and flamenco dances, including the famous "Siguiriyas" of Eva and Chavela, the "La Petenera" dance drama of their acclaimed Sephardic Connection concert (called "great excitement" by dance critic Robert Johnson), "Castilla" - an 18th century style "Escuela Bolera" dance performed in authentic costumes of the era, the "Zapateado" (emulating the rhythmic sounds of horse's hooves - with original choreography dating back to 1910), a revival of a special "Sevillanas" by the company's co-founder María Alba, and much more.
Celebrate 20 years of passion and power of Alborada Spanish Dance Theatre!
Crossroads Theatre is made available through the generosity of Johnson & Johnson, Inc., Middlesex County Cultural and Heritage Commission/Board of Chosen Freeholders and the New Brunswick Cultural Center.
This program is made possible in part by funds from the New Jersey State Council on the Arts/Department of State, a Partner Agency of the National Endowment of the Arts, through a grant provided by the Middlesex County Cultural & Heritage Commission/Board of Chosen Freeholders.
---