This article is from our magazine. To view it in its original format, click here
Alborada Spanish Dance Theatre Celebrates 20 Years
originally published: 09/20/2015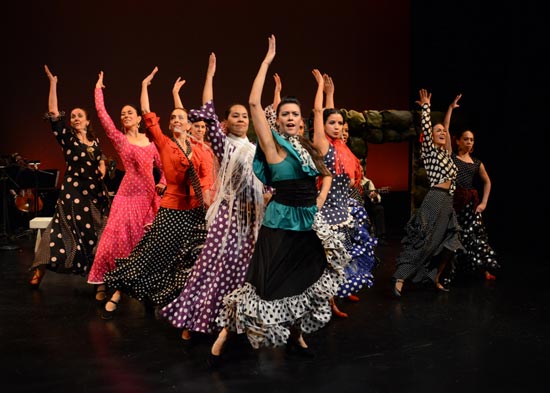 Celebrate the past, present and future of the widely acclaimed Alborada Spanish Dance Theatre on Friday, September 25 at 7:30pm for a special anniversary production "20 Years of Flamenco and Spanish Dance in New Jersey", at Crossroads Theatre (located at 7 Livingston Avenue, New Brunswick, NJ).  Tickets are $30 VIP/Front Row Seating; $25 General seating and $18 Seniors/Students.  Order tickets on-line at http://alborada.bpt.me or call 800-838-3006.   For more information AlboradaDance.org.
See what has made Alborada New Jersey's premier Flamenco & Spanish Dance Company -"awhirl in drama and color" (according to the New York Times) - for the past 20 years.  Experience the rich diversity of Spain's dances and music with your favorite choreographies by principal artists Eva Lucena,  Lisa Botalico and Gisele Assi, as well as new dances pointing to the future.  Featuring guest artists Chavela, flamenco singer Dominico Caro and guitarist Arturo Martinez, highlights include Spanish classical and flamenco dances, including the famous "Siguiriyas" of Eva and Chavela, the "La Petenera" dance drama of their acclaimed Sephardic Connection concert (called "great excitement" by dance critic Robert Johnson), "Castilla" - an 18th century style "Escuela Bolera" dance performed in authentic costumes of the era, the "Zapateado" (emulating the rhythmic sounds of horse's hooves - with original choreography dating back to 1910), a revival of a special "Sevillanas" by the company's co-founder María Alba, and much more.
Celebrate 20 years of passion and power of Alborada Spanish Dance Theatre!
Crossroads Theatre is made available through the generosity of Johnson & Johnson, Inc., Middlesex County Cultural and Heritage Commission/Board of Chosen Freeholders and the New Brunswick Cultural Center.
This program is made possible in part by funds from the New Jersey State Council on the Arts/Department of State, a Partner Agency of the National Endowment of the Arts, through a grant provided by the Middlesex County Cultural & Heritage Commission/Board of Chosen Freeholders.
---



State Theatre Presents STOMP In January
(NEW BRUNSWICK, NJ) -- State Theatre New Jersey presents the return of the smash hit, STOMP for three performanceson Friday, January 11, 2019 at 8:00pm and Saturday, January 12, 2019 at 2:00pm and 8:00pm. From its beginning days as a street performance in the UK, STOMP has grown into an international sensation over the past 20 years, having performed in more than 50 countries and in front of more than 24 million people.  Tickets range from $35-$98.  
---
NimbusPRESENTS Jersey City Nutcracker
(JERSEY CITY, NJ) -- For the 9th consecutive year, NimbusPRESENTS its local holiday favorite: Jersey City Nutcracker. Set to Tchaikovsky's renowned orchestral score, Jersey City Nutcracker tells the story of two children's city adventure, following them through fantasy, adversity, and celebration with lessons about friendship and community along the way. This year's performances feature two exciting new components: video mapping and projection design by award-winning video artists Laia Cabrera & Isabelle Duverger. Also new: families can enjoy a pre-show Winter Carnival with games, concessions, and holiday craft vendors. Public performances run from Friday, December 14 to Saturday, December 22.
---
NJPAC Presents Bring It! LIVE - The Dance Battle Tour
(NEWARK, NJ) -- New Jersey Performing Arts Center (NJPAC) presents Bring It! LIVE- The Dance Battle Tour, Saturday, July 13, 2019 at 8:00pm. Back by popular demand, legendary Coach Dianna Williams and the Dancing Dolls of Lifetime's hit series Bring It! return with their 2019 live tour, an all-new, hotter-than-ever evening jam-packed with heart-pounding dance routines, lively audience interaction, and much more. Tickets range from $33.75 to $63.75.
---
State Theatre presents The Nutcracker performed by American Repertory Ballet With a live orchestra and choir
(NEW BRUNSWICK, NJ) -- State Theatre New Jersey presents American Repertory Ballet's Nutcracker for five performances from December 21 through December 23. American Repertory Ballet (ARB) brings the beloved classic Nutcracker to the stage with Tchaikovsky's magnificent score, stunning sets, thrilling choreography, and a cast of more than 100 performers.  All five American Repertory Ballet performances include a live orchestra and the Princeton Girlchoir.Tickets range from $25-$65. 
---
Peak Performances Presents "Smashed"
(MONTCLAIR, NJ) -- Peak Performances' 2018-2019 season of genre-and-convention-defying performances continues with Smashed, Gandini Juggling's acclaimed work inspired by the choreography of Pina Bausch, directed by Sean Gandini and assistant directed by Kati Ylä-Hokkala. Smashed comes to the Alexander Kasser Theater at Montclair State University (1 Normal Ave., Montclair, NJ) December 13-16.
---


NJPAC's "The Hip Hop Nutcracker"
Celebrate the season with the New Jersey Performing Arts Center's holiday smash, "The Hip Hop Nutcracker." Tchaikovsky's classic ballet gets an urban makeover in this fresh retelling of the timeless tale. With contemporary dance moves and a New York City backdrop, this festive tradition feels new once again. Join Jesse and Dave as they talk to the creators of this bold show, which explodes onto the stage in Newark on Friday, December 14.
---
It's a Shore Holiday: The Atlantic City Ballet LIVE! at Caesars
On Saturday, November 24, 2018, The Atlantic City Ballet celebrated Christmas early with a production of It's a Shore Holiday at the Circus Maximus Theatre located inside Caesars Hotel and Casino in Atlantic City, NJ.
---
Dracula: The Atlantic City Ballet LIVE! at Lakewood's Strand Theater
On Saturday, Oct 21, 2018, The Atlantic City Ballet celebrated Halloween early with their production of Dracula at The Strand Theatre in Lakewood, NJ.
---
Ballet, Boxing and Street Dance Gangs?! An Artist Profile of Mark Roxey
Mark Roxey's been thrown in a garbage can, part of street dance gangs (who knew those were really real?!) and spends a whole lot of time in the boxing gym. He is also the founder and director of the Roxey Ballet Company, associate director of The Mill Ballet School, and has had a distinguished career with numerous American dance companies, including The Joffrey Ballet. You have to hear Mark's story in our latest artist profile.
---
Swan Lake: The Atlantic City Ballet LIVE! at The Strand Lakewood
On Saturday, September 22, 2018, The Atlantic City Ballet presented their version of Tchaikovsky's Swan Lake at The Strand Theatre in Lakewood, NJ. Featuring spellbinding choreography by Phyllis Papa, the talented members of the ACB transported an enthusiastic audience of all ages to another world, and Love Imagery was on hand to capture the magic in this photo-essay.
---
Event calendar
Thursday, Dec 13, 2018
---
MUSIC

---
---
JERRY BLAVAT

@ Lobby Bar at Hard Rock Hotel and Casino Atlantic City, Atlantic City - 12:00pm
---
---
---
---
---
---
THEATRE

---
---
---
---
---
FILM

---
On the Map

@ Pollak Theatre @ Monmouth University, West Long Branch - 7:30pm
---
MISC

---
---
View all events
---