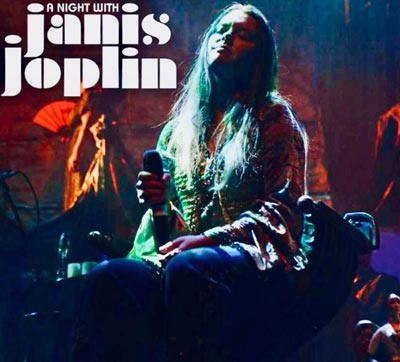 (RED BANK, NJ) -- Like a comet that burns far too brightly to last, Janis Joplin exploded onto the music scene in 1967 and, almost overnight, became the queen of rock & roll. The unmistakable voice, filled with raw emotion and tinged with Southern Comfort, made her a must-see headliner from Monterey to Woodstock. Her music will fill the Count Basie Theatre in Red Bank on January 17, 2018 with A Night With Janis Joplin starring Katrina Rose, seen on The Voice season 13.
Fueled by such unforgettable songs as "Me and Bobby McGee," "Piece of My Heart," "Mercedes Benz," "Cry Baby" and "Summertime," a remarkable cast and breakout performances, A Night With Janis Joplin, written and directed by Randy Johnson, is a musical journey celebrating Janis and her biggest musical influences—icons like Aretha Franklin, Etta James, Odetta, Nina Simone and Bessie Smith, who inspired one of rock & roll's greatest legends.
That voice—high, husky, earthy, explosive—remains among the most distinctive and galvanizing in pop history. But Janis Joplin didn't merely possess a great instrument; she threw herself into every syllable, testifying from the very core of her being. She claimed the blues, soul, gospel and rock with unquestionable authority and verve, fearlessly inhabiting psychedelic guitar jams, back-porch roots and everything in between. Her volcanic performances left audiences stunned and speechless, while her sexual magnetism, world-wise demeanor and flamboyant style shattered every stereotype about female artists—and essentially invented the "rock mama" paradigm.
Katrina Rose Dideriksen is a contestant in season 13 of The Voice on NBC. B'Way/Off-B'way: Hairspray (Tracy Turnblad); A Night with Janis Joplin (u/s Janis, Joplinaire swing); RENT(female ensemble); Jerry Springer: The Opera(Shawntel,Eve); BloodSong of Love (Whore in Boots, etc.); Things To Ruin- The Songs of Joe Iconis (lead player). Regional/Tour: A Night With Janis Joplin (Janis Alt./ Alley Theatre); RENT (Mimi Marquez/Surflight); GREASE!(Rizzo/Surflight); Legally Blonde (Enid Hoops/Ogunquit). NY Workshops/Concerts: FOUND! (Denise); Rock & Roll Refugee (Genya Ravan); Sleeping Beauty Wakes (Cheryl). Recordings: T2R: The Songs of Joe Iconis (Sh-K-Boom & Ghostlight Records); Rock & Roll Jamboree (Sh-k-Boom & Ghostlight Records); Kerrigan & Lowdermilk LIVE (Yellow Sound Label). 
The Count Basie Theatre is located at 99 Monmouth Street in Red Bank, New Jersey.
---
The article continues after this ad
---
---
About Janis Joplin: Born in Port Arthur, Texas on January 19, 1943, Joplin fell under the sway of Leadbelly, Bessie Smith and Big Mama Thornton in her teens, and the authenticity of these voices strongly influenced Janis' decision to become a singer. A self-described "misfit" in high school, she suffered virtual ostracism, but dabbled in folk music with her friends and painted. She briefly attended college in Beaumont and Austin but was more drawn to blues legends and beat poetry than her studies; soon she dropped out and, in 1963, headed for San Francisco, eventually finding herself in the notoriously drug-fueled Haight Ashbury neighborhood.
She returned to Texas to escape the excesses of the Haight, enrolling as a sociology student at Lamar University, adopting a beehive hairdo and living a generally "straight" life despite occasional forays to perform in Austin. But California drew her back into its glittering embrace in 1966, when Janis joined the Haight-based psychedelic-rock band Big Brother and the Holding Company. Her adoption of a wild sartorial style—with frizzed-out hair, bangles, and extravagant attire that winked, hippie-style, at the burlesque era—further spiked her burgeoning reputation.
The band's increasingly high-profile shows earned them a devoted fan base and serious industry attention; they signed with Columbia Records and released their major-label debut in 1967. Of course, it was Joplin's seismic presence that caused all the commotion, as evidenced by her shattering performance in June of that year at the Monterey Pop Festival, which was captured for posterity by filmmaker D.A. Pennebaker; in the film, fellow pop star Mama Cass Elliot can be seen mouthing the word, "Wow," as Joplin tears her way through "Ball And Chain."
Big Brother's "Piece of My Heart," on 1968's Cheap Thrills LP, shot to the #1 spot, the album sold a million copies in a month, and Joplin became a sensation—earning rapturous praise from Time and Vogue, appearing on The Dick Cavett Show and capturing the imagination of audiences that had never experienced such fiery intensity in a female rock singer. Her departure from Big Brother and emergence as a solo star were inevitable; she put together her own outfit, the Kozmic Blues Band, and in 1969 released I Got Dem Ol' Kozmic Blues Again Mama!, which immediately went gold. That year also saw her give a historic performance at Woodstock.
Joplin assembled a new backup group, the Full Tilt Boogie Band, in 1970; she also joined the Grateful Dead, the Band and other artists for the "Festival Express" railroad tour through Canada. Her musical evolution followed the earthier, rootsier direction of the new decade, as reflected in her final studio album, the landmark Pearl. Embracing material such as Kris Kristofferson's gorgeous ballad "Me and Bobby McGee" and her own a cappella plaint, "Mercedes Benz," the disc showcased Joplin's mastery of virtually all pop genres. The latter song was, along with a phone-message birthday greeting for John Lennon, the last thing she recorded; she died in October of 1970, and Pearl was released posthumously the following year. The quadruple-platinum set became the top-selling release of Joplin's career and, in 2003, was ranked #122 on Rolling Stone's "500 Greatest Albums of All Time."
In the years since, Janis Joplin's recordings and filmed performances have cemented her status as an icon, inspiring countless imitators and musical devotees. Myriad hit collections, live anthologies and other releases have kept her legend alive, as have shows such as the hit Love, Janis (which Joplin's sister, Laura, helped create) and 2009's Edinburgh Festival Fringe "Best Solo Performance" nominee Janis. A documentary film, produced by Alex Gibney and Jeff Jampol and directed by Oscar nominee Amy Berg, is currently in production. In 1988, the Janis Joplin Memorial, featuring a bronze sculpture by artist Douglas Clark, was unveiled in Port Arthur.
Joplin was inducted into the Rock and Roll Hall of Fame in 1995 and posthumously given a Grammy Lifetime Achievement Award in 2005. But such honors only made official what rock fans already knew: that she was among the greatest, most powerful singers the form had ever known—and that she'd opened the door for countless artists across the musical spectrum.