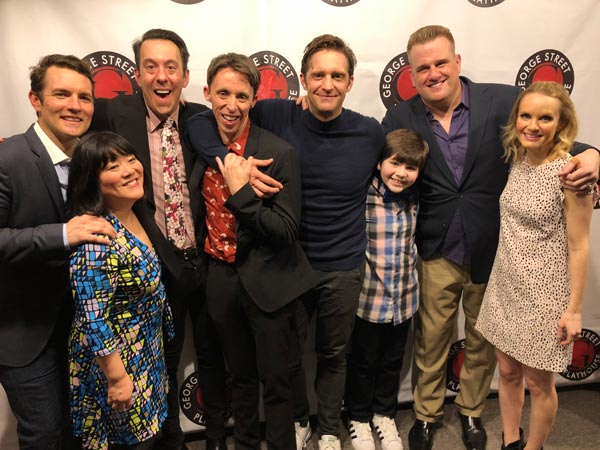 Before there was "American Idol" there was "Star Search," and before there was Carrie Underwood there was Kevin Cahoon.
Cahoon won a singing championship on "Star Search" in 1985, when he was 13, and now he's directing "The Nerd" for the George Street Playhouse.
A lot happened in the interim.
His most recent project is a play written by the late Larry Shue.
The Nerd, a two-act farce that premiered in Milwaukee in 1981, has had a successful history, including runs on Broadway and London's West End, and it still turns up frequently in regional and community theaters.
---
The article continues after this ad
---
---
The action swirls around Willum Cubbert of Terre Haute, Indiana, an architect who is designing a hotel for a client whose taste in design tends toward the Soviet.  
Although he was a noncombatant, Willum was injured during service in Vietnam and survived only because a wounded GI who came across him dragged him more than a mile to safety.
Willum was not conscious during the ordeal and never met his savior, though he did learn that the man's name was Rick Steadman, and the two exchanged some greetings through the mail.
But Willum got a little careless with his greetings and issued the kind of invitation that one issues while thinking that it will never be accepted: "If you're ever in Terre Haute …."
At a moment when his chronic indecisiveness is muddying both his romantic and professional lives, he gets a phone message to the effect that Rick is in town and is calling in his marker.
Willum is excited at first, but then his visitor arrives—an annoying, nervy, myopic character who offends everyone he meets and creates chaos wherever he goes.
This is the kind of play in which cottage cheese is introduced as a subplot, and Cahoon said that the silliness has to be orchestrated.
"You want to have it build,'' he said. "You want to make sure there is not too much anarchy too soon. You want to save the peak comedic mayhem for the right moment.''
At the same time, he said, the audience has to accept what's happening to the characters on stage as plausible.
"You have to ground it in reality," he said. "Rick has to be enough of an oddball to make these things real. The character comes in and hijacks their lives, and we should feel that way as we watch the play as well."
Although it's a farce, and quite broad at times, Shue gave The Nerd a couple of serious themes—one having to do, as Cahoon put it, with "not being completely  consumed with one's own "sturm und drang" and the other with "doing an unselfish act for another person that, in turn, will be more fulfilling for you."
"I think this play is accessible to every audience member," Cahoon said. "It's hilarious, and it has a big heart."
This is not Cahoon's first directing assignment. He has overseen productions at the Bay Area Houston Ballet and Theatre and at the Ars Nova Theatre in New York.
He has a long acting resume on stage, television, and film, including roles in the Broadway productions of Tommy, The Lion King, The Wedding Singer, Chitty Chitty Bang Bang, and The Rocky Horror Picture Show.
He has also had a career in music, including gigs at many New York venues with his band, Kevin Cahoon and Ghetto Cowboy.
The Houston native began performing when he was very young, appearing in rodeos in Texas and Oklahoma, and he began acting in local theaters when he was 10.
"I have spent my life as part of the arts," he said. 
"My mom saw something in me. I was obsessed with the circus and rodeo—events where people were watching a spectacle. I loved it.
"When I was seven or eight, she said, 'Let's put him in a creative-arts summer program and see if that's an interest. Let's give him what he wants.'"
Cahoon said his father had appeared in rodeos and his parents met at a rodeo club when they were in high school, so they had a little taste of the sawdust.
"They supported me every step of the way," he said. "I have been very lucky."
The Nerd runs through May 20 at George Street's temporary location, 103 College Farm Road, New Brunswick.
PHOTO: (L to R) Zach Shaffer, Ann Harada, Jonathan Kite, Kevin Cahoon, Colin Hanlon, Hayden Bercy, Stephen Wallem and Kate Reinders. Photo credit: George Street Playhouse.