By Gary Wien
originally published: 04/19/2017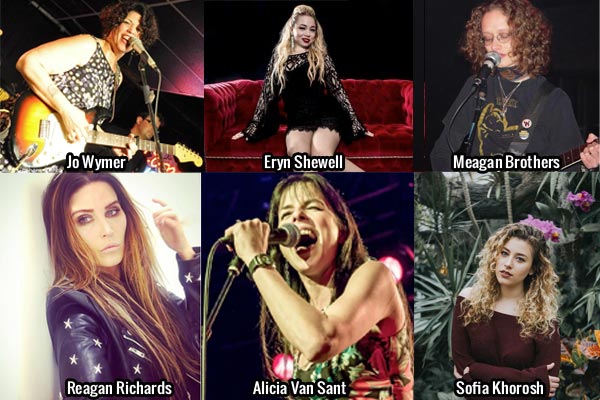 For the third issue of 2017, New Jersey Stage featured an interview with Ann Wilson of Heart as the cover story. Thinking back to the classic rock songs from Heart got us wondering who were the female artists that inspired artists in the area.  We spoke with 11 artists.  In this piece we talk with Reagan Richards (from Williams Honor) Eryn Shewell, Meagan Brothers, Sofia Khorosh (SØF), and Alicia Van Sant (from The Wag).  This is part one of two features.  Click here for the first part. 
Who was the first female led band or artist you remember?  Did seeing a female artist inspire you to become a musician?
Reagan Richards: Blondie… Debbie Harry.  I remember as a little kid going to a library in Pittsburgh with my cousin & getting Parallel Lines out. I'd keep renewing it and finally my family bought it for me at the store. I knew every word to every song & even at my young age, I knew there was something about her that was special. 
From an early age I knew I wanted to be a musician because my Mom was a big band singer...talk about "female led bands!). I always had that inspiration from her from the start. Then I start to get into seeing people like Blondie, Cyndi Lauper and Madonna on tv and your world becomes bigger than life. It becomes standing in your room with your hairbrush as a microphone and practicing your Grammy speech. So I think seeing these people only strengthened what I would have been doing anyway.
Eryn Shewell: The first female led band for me was Heart.  I was a bit obsessed with them when I was a teenager.  My aunt gave me a burnt CD of a greatest hits album that I played till the foil started coming off the CD! 
---
The article continues after this ad
---
---
Seeing female artists was definitely inspiring but I was singing even before I knew that.  I grew up singing with my family when I was a little girl.  I didn't know that it wasn't normal.  I thought everyone broke out into song at every family event.
Meagan Brothers:  Cyndi Lauper is the first person who really sticks out in my mind - I know my mom played a lot of female artists like Stevie Nicks, Carly Simon, Barbra Streisand.  But Cyndi Lauper was the first girl singer I remember seeing on MTV and being really enamoured with.  She almost seemed like a cartoon character, like she'd burst through from some magical technicolor Oz where everyone had fun pink hair and wore layers of tulle and plaid.
I was 100% inspired by Patti Smith to pick up a guitar.  At 20, 21 years old, I thought I was too old to learn, and then I read an article about how she'd just started really learning her chords in her 40s or so.  I remember thinking, well, there goes that excuse.
Sofia Khorosh: The first female artist I remember listening to and falling in love with was Christina Aguilera. I loved her confidence and her powerful voice, and I always wanted to emulate it. 
I've wanted to be a singer for as long as I can remember. I think I would have ended up where I am today no matter what circumstance. While I've certainly been influenced by other female artists, my dream wasn't sparked by the career of anyone in particular. 
Alicia Van Sant (The Wag): Hmm... I have a terrible memory, but I'm gonna have to say Linda Ronstadt of the Stone Poneys. I've loved what's considered "oldies" since I can remember, & "Different Drum" is one of my favorite songs from that era - I love it so much that my band covers it sometimes! 
I definitely would have been a musician no matter what. I taught myself what I know on piano/keyboard, starting with noodling around on a keyboard & learning things by ear, & then around age 11, getting a "Teach Yourself Piano" book & doing just that. Through my whole childhood, I played keys with my dad playing guitar - just in our living room, mind you, but the hours certainly racked up! I didn't have a single piano lesson until my senior year of high school. So while there are female musicians whom I definitely admire, I wouldn't say that any of them inspired me to become a musician.
Who is your favorite female artist of all-time?
Reagan: I adore Patsy Cline. I had the privilege of playing Miss Cline in her life story in a 10 night sold out show right here in Monmouth County. It's called Always, Patsy Cline, a show from the eyes of her best buddy, Louise, who started off as a fan of Patsy's. Patsy was the first country crossover artist. She really knew what she wanted when she went into the studio. It was incredibly sad her life was cut short at 30 years old. 
Being a musician, there are obviously many that I truly do love for different reasons. I could give you a pretty decent sized list. Judy Garland, Madonna, Chrissie Hynde, Linda Rondstadt, Debbie Harry, Cyndi Lauper, Loretta Lynn, Faith Hill, Miranda Lambert, Alanis Morrisette, Lady Gaga. I'd have to say that Patsy is up top.
Eryn: My favorite female artist of all time is a tough one.  I'd say it's a toss up between Eva Cassidy and Aretha Franklin.  I love them both and for completely different reasons.  
Meagan: It's way too hard to narrow it down to one, but my Top Five would probably be Patti Smith, PJ Harvey, Debbie Harry, Liz Phair, Sharon Jones, and Neko Case. (Wait, that's 6!  Sorry!)
Sofia: That's a tough one. I'm so deeply inspired by so many female artists. I genuinely don't think I could narrow it down to just one. I love everything from the rawness of Alanis Morissette to the creativity of Lady Gaga and the flexibility of Rihanna. I think my favorite voice would have to be Ella Henderson's, but the artistry of so many other female singers really stands out to me too.
Alicia: People are gonna laugh at me, but I don't care - no pleasure is guilty when it comes to what music you like. Speaking vocally (ha!), I have to say Celine Dion. I wish I had that set of vocal cords - she is just amazing. Besides Celine & her voice, it's actually hard for me to say, because I tend to like songs, not really thinking about the artist, but a few that I do like are Shakira, P!nk, Norah Jones, Grace Slick (we cover "White Rabbit", & while nobody can be Grace but Grace, I do my best to do her justice), & Stevie Nicks (my dad says I sound like her, so now I've become partial to her).
Finally, is there any special camaraderie among female artists you see on the road?
Reagan: Absolutely. I personally have a big group of female artists that I hang with and call my friends. We love what we do and we respect and appreciate what everyone brings to the table. Everyone brings something different. I love these girls and we always have a really good time when we're together.
Eryn: If you find the right women then there is a huge bond working with other women.  We all understand the trials of being a female in a mans world so on some level I would say yes I think so.
Meagan: Well, I'm not on the road anymore as a musician, but I remember definitely feeling a sort of automatic recognition when you'd meet another girl in a band.  Like, you knew you were both on the same page in a certain way. I don't remember having any catty or bitchy encounters with other women in bands, but maybe they were all being nice to my face and bitchy behind my back!  If they were, don't tell me, I don't want to know!
Sofia: There certainly is. I'm currently at a songwriting retreat where majority of the songwriters and artists happen to be female. There's a sense of "girl power" here and it's so inspiring. We all need to lift each other up and support one another.
Alicia: I do think that there is. I mean, I think that there's camaraderie between artists anyway, no matter what the gender (or lack thereof), but I think there are fewer female artists in "the scene" (I hate that phrase!) anyway, & definitely fewer female-fronted bands. And let me just state for the record that I don't feel that my band is female-fronted - we're all equals, & I do about 1/3 of the lead vocals (Brian & Don doing the other 2/3s, & Joshua doing a song or two when he plays with us, which will hopefully be more often). For all of us, when not singing lead, we're singing backups/harmonies. So it's very much a group effort. But to get back to your original question, yes, I do feel there's a special camaraderie among the female artists. We're a unique subsection of a much larger group, & we have to stick together! And I think we all know that & feel that. 
It's pretty rare that my band will play a gig on a bill with other bands & one of those bands will actually have a female person in it. That's just how it happens. Happily for me, camaraderie can develop beyond just that, & into real friendship - such as the one I share with Arielle, who plays bongos with us but is sadly moving next month, & also my dear friend Deirdre Forrest, solo artist & half of the May Darlings, along with another dear friend of mine, Michael Brett.
Photo of Alicia Van Sant by John Posada
---
Gary Wien has been covering the arts since 2001 and has had work published with Jersey Arts, Elmore Magazine, Princeton Magazine, Backstreets and other publications. He is a three-time winner of the Asbury Music Award for Top Music Journalist and the author of Beyond the Palace (the first book on the history of rock and roll in Asbury Park) and Are You Listening? The Top 100 Albums of 2001-2010 by New Jersey Artists. In addition, he runs New Jersey Stage and the online radio station The Penguin Rocks. He can be contacted at gary@newjerseystage.com.
---