---
BIG NEWS! Here's the latest Issue of NJ Stage Magazine -- Click here
---
Nai-Ni Chen Dance Company Celebrates the Year of the Rooster
By Jesse & Dave, JerseyArts.com
originally published: 01/19/2017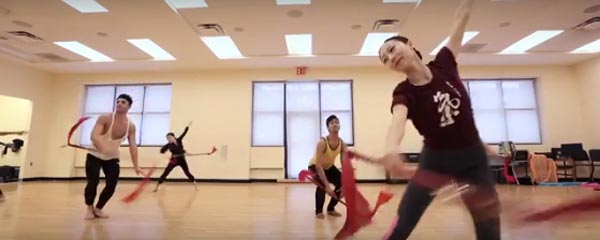 A taste of China, right here in New Jersey. The Nai-Ni Chen Dance Company brings the sights and sounds of China's Spring Festival to the New Jersey Performing Arts Center in Newark with "The Year of the Rooster." Featuring dancing lions and beautiful Chinese music and costumes, the show offers an immersive cultural experience. Join Jesse and Dave at rehearsal to find out more from the dancers and acrobats about this vibrant production celebrating the Spring Festival.
Nai-Ni Chen Dance Company will perform "Year of the Rooster" Saturday & Sunday, January 28 & 29 at 2:00 p.m. in the Victoria Theater of NJPAC. For tickets and more information about demonstrations and fun activities staged in the lobby before the performance, visit NJPAC's website.
---
About the author: Jesse is a digital content producer living in New York. His work has been seen in Entertainment Weekly, People, The New York Times, Broadway.com, and 92nd Street Y. He is also the editor and founder of Stage Rush. Jesse is also a chicken fried steak connoisseur and loves a good roller coaster. | Dave Tavani is a freelance video story teller and photographer. In addition to contributing to Jersey Arts, Dave works mainly for nonprofit and arts organizations in the Philadelphia area. His recent clients include Visit Philadelphia, The Pew Center for Arts and Heritage, McCarter Theatre Center, Philadelphia Magazine, The Food Trust, Association for Public Art, and the John S. and James L. Knight Foundation. He lives in Philadelphia with his wife and basset hound.


Content provided by

Discover Jersey Arts

, a project of the ArtPride New Jersey Foundation and New Jersey State Council on the Arts.






New Jersey Ballet To Perform Its Annual Holiday Classic at Mayo
(MORRISTOWN, NJ) --  New Jersey Ballet's seasonal presentation of the holiday classic Nutcracker comes to Mayo Performing Arts Center for 14 performances beginning Friday, December 14 at 7:30pm and ending on Thursday, Dec. 27 at 1:00pm. New Jersey Symphony Orchestra will provide live orchestral accompaniment. Tickets range from $29-69.  
---
Rowan Percussionists and Dancers To Share The Stage
(GLASSBORO, NJ -- The Rowan Percussion Ensemble features an original dance piece as part of its fall semester concert on Monday, November 19 at 8:00pm in Pfleeger Concert Hall. Under the direction of Dr. Matthew Witten, the ensemble will present a collaboration with choreographer and performer Melanie Stewart, associate dean of the College of Performing Arts at Rowan, on a dance piece set to John Cage's "Credo in Us." The work, developed in collaboration with California-based performer, choreographer, and educator Lorelei Bayne, will feature 18 Rowan students.
---
Roxey Ballet Enters 25th Year Of Presenting The Nutcracker For The Holidays
(EWING, NJ) -- Roxey Ballet will present its 25th Annual American Holiday Classic "Nutcracker" from November 24-December 2 at The College of New Jersey's Kendall Main Stage Theater. This acclaimed annual holiday event has become a favorite tradition of area residents and visitors alike. Both adults and children marvel at the magical spectacle created by the collective vision of Mark and Melissa Roxey, founders of both The Roxey Contemporary Ballet and The Mill Ballet School. It's the perfect way to begin the holiday season.  
---
AC Ballet Kicks Off The 2018 Holiday Season With It's A Shore Holiday
​​​​​​​(ATLANTIC CITY, NJ) -- This Thanksgiving weekend the Atlantic City Ballet will be bringing back It's A Shore Holiday to help kick off the holiday season. It's A Shore Holiday blends classical and contemporary dance set to beloved holiday tunes. This "Radio City-esque" review will feature the AC Ballet Professional company along with live singers and a six piece band. Performances will take place on Saturday, November 24th at 7:00pm in Circus Maximum Theater (inside Caesars Hotel) in Atlantic City and Sunday, November 25th at 3:00pm in the Stafford Township Arts Center in Manahawkin.
---
State Theatre Presents Parsons Dance
(NEW BRUNSWICK, NJ) -- State Theatre New Jersey presents Parsons Dance on Thursday, November 15, 2018  at 8:00pm. The program includesWolfgang by David Parsons, The Duet from Finding Center by David Parsons, Ma Maison by Trey McIntyre, Microburst by David Parsons, Caught by David Parsons, and Whirlaway by David Parsons. Tickets range from $19-49.
---


Dracula: The Atlantic City Ballet LIVE! at Lakewood's Strand Theater
On Saturday, Oct 21, 2018, The Atlantic City Ballet celebrated Halloween early with their production of Dracula at The Strand Theatre in Lakewood, NJ.
---
Ballet, Boxing and Street Dance Gangs?! An Artist Profile of Mark Roxey
Mark Roxey's been thrown in a garbage can, part of street dance gangs (who knew those were really real?!) and spends a whole lot of time in the boxing gym. He is also the founder and director of the Roxey Ballet Company, associate director of The Mill Ballet School, and has had a distinguished career with numerous American dance companies, including The Joffrey Ballet. You have to hear Mark's story in our latest artist profile.
---
Swan Lake: The Atlantic City Ballet LIVE! at The Strand Lakewood
On Saturday, September 22, 2018, The Atlantic City Ballet presented their version of Tchaikovsky's Swan Lake at The Strand Theatre in Lakewood, NJ. Featuring spellbinding choreography by Phyllis Papa, the talented members of the ACB transported an enthusiastic audience of all ages to another world, and Love Imagery was on hand to capture the magic in this photo-essay.
---
A New Ballet Company Launches At The Shore
Monmouth County has long been a hub for the arts, with a celebrated music scene, thriving original theatre and artists throughout the area, but one thing was missing – the area did not have its own professional ballet company.
---
Kennedy Dancers Take On Anderson Park
Trust me when I tell you that the Kennedy Dancers do it all. No joke. The company, which is based in Jersey City and was founded in 1976 by Artistic Director Diane Dragone, is a professional dance company (performing all manner of styles), a pre-professional training company, a dance school and a producer of a television show.
---
Event calendar
Tuesday, Nov 13, 2018
---
MUSIC

---
---
---
---
---
---
---
---
THEATRE

---
Seeger

@ The Theatre at Raritan Valley Community College (RVCCArts), Branchburg - 1:00pm and 7:00pm
---
THE CHOIR OF MAN

@ Bergen Performing Arts Center (bergenPAC), Englewood - 8:00pm
---
---
---
View all events
---