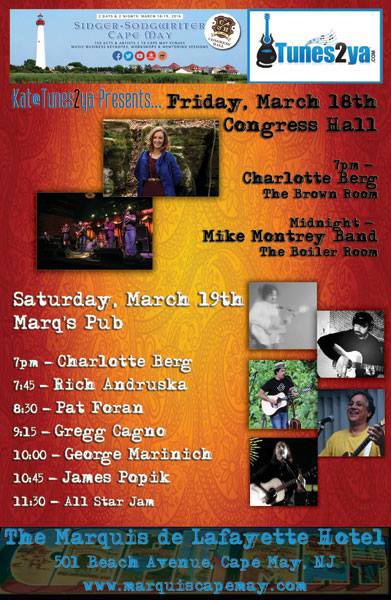 (CAPE MAY, NJ) -- The 9th annual Singer-Songwriter of Cape May Conference & Showcase will be held March 18 & 19, 2016 at the historic Congress Hall and 16 stages in Cape May, New Jersey.  Music industry professionals and over 150 original acts and artists will participate in the weekend conference and showcase. Participating again for the 9th year, Kathleen Lini Falcey, owner of www.tunes2ya.com, also known as Kat@Tunes2ya Unlimited, LLC, will have her showcase on Saturday March 19, 2016, at The Marquis de Lafayette.
Kat's showcase will feature musicians from her roster with Gregg Cagno, a 2006 ASCAP Award winning Folk Artist, originally from Clinton, NJ, now residing in Philadelphia, PA.  Grammy nominated Artist James Popik, from Hopewell, NJ, specializing in Jazz, Americana, Southern Rock, Country, and Rock. Pat Foran from Lambertville, NJ, a past student of Berklee School of Music, who hosts his own Singer Songwriter Series every Wednesday night at Havana, in New Hope, PA.  Along with Rich Andruska from Hazlet, NJ and George Marinich from Long Valley, NJ.
"Each and every year, this event gets better and better and one that I look forward too. Much more intimate and unique in that it lends itself to a boutique styled music conference and festival. Some artists return every year and some are fortunate to be accepted to perform, sharing their singer songwriting skills," says Kat.
For the past 18 years Kat has represented and supported local and worldwide acoustic musicians and other than her once a year trip to Nashville to attend the AMA's, Kat hopes to always be a part of this New Jersey Music Conference and Festival.
Under direction of John Harris, Kat feels fortunate to be able to showcase her quality musicians from year to year. She is extremely excited that this year, The Mike Montrey Band, from New Brunswick, NJ, a band that Kat has worked with for over 10 years, will be performing at midnight, on Friday March 18th, in the Boiler Room inside Congress Hall.
---
The article continues after this ad
---
---
Charlotte Berg is a new artist with Tunes2ya.com, originally from Harrisburg, Pa, living in Australia for three years and now residing in Nashville, will be performing on Friday March 18th, at 7pm on piano in The Brown Room, inside Congress Hall, the hub of the conference. Both exceptional acts, are not to be missed.
For more information visit the event's www.sscapemay.com or www.tunes2ya.com