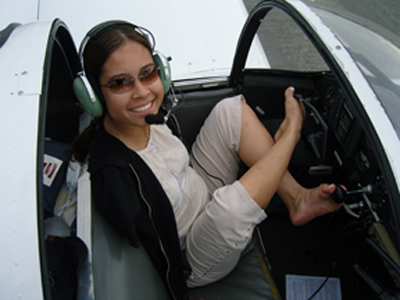 Here is an interview I conducted with Nick Spark, Director of Right Footed:
Nigrin:  In your documentary film Right Footed which tells the amazing story of Jessica Cox – a person who was born without arms as the result of a severe birth defect. Tell us about what brought about the making of this film.
Spark: I first became aware of Jessica Cox while watching another documentary film about aviation where she made a brief appearance.  I was simply captivated by her story and wanted to meet her, and sent her an email.  I didn't have any thoughts about working with her or making a film about her – and didn't give it much thought until she wrote back explaining that she'd soon be visiting Los Angeles, to plan her wedding, and did I want to meet her.  Well I did -- and was immediately struck not only by her dexterity with her feet (she sat next to me drinking from a tea cup with her toes, that made an impression!) but her tough and resilient personality.  I immediately grasped how she could be a positive role model and inspire both able-bodied people and people with disabilities.  But I still had no interest in making a film about her, because I did not see what the storyline would be.  Two things began to make me believe that I should reconsider.  The first was that she explained that she was trying hard to use the opportunities she'd be given -- the press attention and five minutes of fame that comes along with that -- to inspire children with disabilities and their families.  She'd just come back from a short trip to Africa and seeing how people with disabilities were treated there, had opened her eyes to the idea that she could help create change because simply by being who she is, she undermines all the stereotypes.  The second thing, and honestly what really touched me, was when I asked Jessica about her wedding.  You see she did not want to speak about her dress or the catering, or the bridesmaids or the venue.  The only thing she wanted to talk about in fact was about how there were three girls who she'd been mentoring who were coming to the wedding.  Each had a limb difference like Jessica.  "I think it's so important to them to see me find happiness," Jessica confided, explaining that when she was a young girl she did not imagine being able to have a family or get married.  When I realized that the most important thing to Jessica was to use her wedding to inspire these girls to have a better self-image, and imagine a future for themselves, I was really floored.  I told Jessica that I did not know how I would do it, or where I would get the resources, but that I was firmly committed to filming her and the girls at the wedding.  Somehow I managed to do just that, and it's one of the most wonderful parts of the film.  Little did I know of course that it would end up being just one part of a much longer, much deeper portrait of Jessica — that would take three years to complete.
Nigrin:   Jessica is now a certified airplane pilot, a mentor, and an advocate for the disabled. Tell us a bit more about this and what viewers can expect when they come to see your film.
Spark: Jessica Cox's story is an inspiring one for all sorts of reasons.  Obviously she is someone who was born with a so-called disability, who managed to succeed despite that.  I think many people may have heard of her and are aware of the accomplishment that put her in the Guinness Book of World Records – learning to fly an airplane with her feet.  That is an astonishing achievement and a story told in our documentary, but it's actually not the heart of our film.  The film is really about the journey Jessica took in the wake of the fifteen minutes of fame she received from earning her pilot's license.  Some people would have been content to get all that exposure and leave it at that; but Jessica wanted to do more.  She wanted to use her story and her achievement to inspire children with disabilities and their families, and you'll see that journey and her growth as a disability rights advocate, over the course of the film. 
---
The article continues after this ad
---
---
There are many things that people can and do take away from seeing the film.  For some the film is about overcoming challenge and our perception of what is and isn't possible for us as individuals.  In Jessica's case being born without arms, you'd just figure there's no way you could ever fly a plane.   But of course she did it, and a lot of what that's about is just believing that it might be possible and then finding a way to do it.  For others the film is about the power of mentoring, because Jessica herself benefited so much from meeting someone with a similar disability who challenged her to succeed; and now Jessica herself works as a mentor.  I've thought all along that Jessica is a terrific role model, especially for young girls who might be caught up with issues of beauty, identity, and self-perception.  Jessica throughout her young adulthood had the most obvious form of difference that one can imagine, but she achieved despite that.  So whatever difference or identity issue viewers face in their own life, obvious or not obvious, Jessica's story can inspire them.
Nigrin:   How long did it take you to make this film and how was it working with Jessica?
Spark: This film was a three year journey for me – two years of production and one of editorial.  It was a grueling experience for all sorts of reasons – not the least of which is that it required a lot of patience waiting for things to happen and for various storylines to develop.  I didn't know when I started filming that Jessica would be invited to go to Ethiopia and the Philippines, and that we'd need to accompany her to document those journeys.  Trying to decide what to shoot, and what not to spend precious resources filming, was agonizing.  Fortunately I think I made good decisions for the most part. 
Working with Jessica and Patrick was relatively easy but of course on a project like this you need to develop a level of trust, and spend time with your subjects to the point where they practically forget you are there.  I worked extremely hard to make our first work together productive, and edited the pitch reel that I made from that material for over a month until it provoked an emotional response from everyone who saw it.  Jessica had been on TV many times before but she confided to me that many people told her that the pitch reel was the most powerful rendition of her story that they'd seen.  That went a long way to giving her confidence that I was the right person to entrust with her story.
Incidentally I made this film entirely through donations from hundreds of individuals and groups.  Even today we continue to raise money -- because we still have debts.   I would be lying if I didn't say that at some moments during the production I became despondent and wondered if we'd ever be able to complete the film, mostly for financial reasons.  But I always was quick to remember that Jessica has done so many things that seemed impossible, and that gave me a lot of confidence that we could do it.  
Nigrin:  Were there any memorable stories while you made this film or any other info about your film you can rely to our readers?
Spark: Without giving too much away, I think my favorite moments in the film are the unexpected ones.  At one point Jessica was asked out of the blue by an NGO named Handicap International to journey to Ethiopia, and help inspire change there in terms of how people with disabilities are perceived.  We found out about a boy who like Jessica was born without arms, and had him come to the Addis Ababa airport to witness her fly an airplane.  He'd never seen a person with no arms like him before, so they made an immediate connection.  Later his mother told us that he'd decided he wanted to become a pilot like Jessica.  Of course in Ethiopia there are fewer opportunities and he will face a difficult road, but clearly he was forever changed by meeting Jessica and you see that happen in the film.
At another moment, we were visiting Washington D.C. and doing some filming with Jessica and her husband Patrick in front of the Capitol Building.  All of the sudden a woman accosted us, in tears.  She quickly explained that she'd just learned that her best friend who was pregnant, had an ultrasound that revealed her child was going to have no arms.  Jessica was immediately able to comfort her and offered to call the parents and speak to them.  It was an astonishing moment and fortunately my cameraman kept rolling throughout.
Here is the trailer for Right Footed: https://vimeo.com/123513333
---------------------------------------------------------------------------------------

Right Footed will be screened with an insightful short film Catching Up on Sunday, September 27. Here is more info on this program:
Catching Up - Bill Crossland (Philadelphia, Pennsylvania)  physically disabled high school teacher seeks assistance from his cynical friend after falling in love with an able-bodied co-worker. A funny and dramatic examination of disability, sex, and love. 2015; 11 min. With an introduction and Q+A session with Director Bill Crossland!
Right Footed - Nick Spark (Los Angeles, California)  Born without arms as the result of a severe birth defect, Jessica Cox never allowed herself to believe in limitations.  She is now a certified airplane pilot, a mentor, and an advocate for the disabled. Directed by Emmy Award-winning filmmaker Nick Spark, Right Footed chronicles her extraordinary story and follows her over a period of two years, as she works on behalf of disabled children and adults in the U.S. and abroad. 2015; 80 min.
Sunday, September 27, 2015 at 7:00 p.m.


Voorhees Hall #105/Rutgers University


71 Hamilton Street, New Brunswick, New Jersey


$10=General; $9=Students+Seniors; $8=Rutgers Film Co-op Friends


Information: (848) 932-8482; www.njfilmfest.com
Free Food courtesy of Jimmy Johns of New Brunswick will be given out prior to this screening of the New Jersey Film Festival!