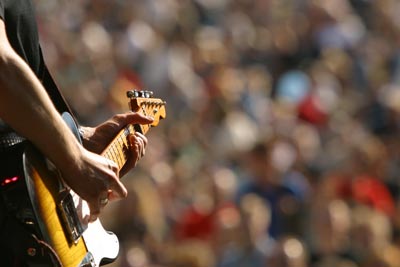 As the season in the sun comes to a close we have a case of the summertime blues here at SoundPress.net. But, that's only because some great blues CDs have arrived in the office.
First up, the next wave of British blues guitar heroes has emerged in the form of 19-year-old phenom Tom Killner and his anxiously awaited debut, Hard Road. Killner surprises on 11 strong tracks comprised of originals and covers that sound as though they could have been recorded in the late 60's or early 70's. That old school feel is by design as his three-piece combo is modeled after classic bands like Cream and Taste. The album is chock full of expressive licks bolstered by a solid rhythm section.
Killner's vocal delivery is often reminiscent of southern rock singers so the overall effect is a unique hybrid of two distinct rock and roll genres. Killner tackles "Feeling Good" recently covered by guitar god Joe Bonamassa. That got us thinking that Tom's debut has elements of Joe's early pre-Kevin Shirley albums. It's rough, gritty and raw but that's a good thing because Tom Killner has just begun his journey and the road before him seems full of promise.
Randall Bramblett is a well respected solo artist, songwriter and sideman. His latest release, Devil Music, is built on a foundation of R&B and soul combined with a spirit of improvisation. Much of Devil Music was inspired by a biography about Howlin' Wolf. The guitars and vocals are intense on this 11-track record as stories of lost souls are revealed. "Dead in the Water" is the opening snappy yet serious tune with fine fret work from guest Mark Knopfler. Song two with its tempting tempo tells the tale of Wolf's encounter with his estranged mother who turns her back on him because he plays "Devil Music." Derek Trucks adds strange yet stellar slide guitar tones to "Angel Child" which flows into the saucy "Pride In Place." The second half of the album is equally as strong with dark, descriptive lyrics layered over riveting riffs and rhythms. Randall Bramblett may be playing Devil Music like Howlin' Wolf but it sure sounds heavenly.
Andy T and Nick Nixon both had impressive musical histories before joining forces in 2011. Together these journeymen traveled through Chicago to the swamps of Louisiana crafting traditional blues with a modern twist. Their latest release Numbers Man (Blind Pig Records) stars an ensemble of potent players presenting covers and originals. Guitarist Andy T Talamantez is well rooted in the blues of B.B. King, T-Bone Walker and more. Andy T adds just the right expressions to Nick Nixon's smooth and smoky singing. Nick's R&B vocal style is reminiscent of Billy Eckstine and Jimmy Witherspoon. Their 14-track CD has it all - sassy songs about women such as the tantalizing "Tall Drink of Water" and the engaging "Pretty Girls Everywhere" to a sorrowful "Blue Monday," Numbers Man is old school blues at its best.
---
The article continues after this ad
---
---


Zac Harmon opens his Right Man Right Now (Blind Pig Records) CD with "Raising Hell." Along with angelic singing the first song features fiery guitar leads from Harmon, thus setting the high standard for the next 10 tracks. Zac is supported by a talented team who play down and dirty blues paired with contemporary clean production. In "Long Live The Blues" Harmon laments that rock music stole from the genre yet counters it with a lively refrain declaring that "the blues is here to stay." Zac's version of John Lee Hooker's "I'm Bad Like Jesse James" could be a modern day gangster story told in a deep, smooth yet sinister voice. The title says it all-Zac Harmon is the Right Man Right Now.
Veering just slightly from the blues theme, Southside Johnny & The Asbury Jukes have returned with their first platter of all new material in five years and it's full of soul and R&B. Soultime! is an apt title. Southside Johnny and The Jukes unleash the full power of the Jersey Shore on 11 horn-soaked tracks that celebrate the transformative capacity of 70's soul music. The album literally starts off "Spinning" with a showcase and clinic on all things Jukes with the South sounding in good voice to get the disc launched nicely.  "Looking for a Good Time" is a logical follow-up to Johnny Lyon's greatest hit with punchy horns and a party vibe. This one's got soul and is highly recommended!
From Asbury Park, New Jersey by way of Nashville, Tennessee comes the highly anticipated debut from Williams Honor. Comprised of rock stalwart Gordon Brown and sultry singer Reagan Richards.  The duo are putting their own stamp on country music with the recent delivery of their self-titled album. Brown made his name in Mr. Reality while Reagan honed her chops with the legendary Les Paul. Together they have created an appealing disc full of modern country that is rounded out with rock, Americana and more traditional styles. The CD starts off with the uptempo "Loser" that is a winner in the opening slot. "All Your Heart" features a believable duet between the two principals with a more laid back approach with vocals, piano and crisp picking up front. "What Did You Get Yourself Into" sounds a little more old school while "No Umbrella" is poured out with power and pain. "You're the Kind of Guy (That Taylor Writes About)" is about a shifty player that has radio airplay written all over it. The 11 tracks here are all solid and prove that even Tillie likes some twang now and then!
The hardest working indie rocker John Taglieri has New Jersey roots but recently he has branched out across the East Coast from Florida to Massachusetts to expand his fan base. In a live setting he regularly converts casual listeners into True Believers of his talent with his passion for delivering potent music with a positive message during his 220 shows per year. His latest EP reveals Taglieri mining the harder side of his rock persona with six songs that draw from the alternative era. John says if Extreme and Godsmack had lunch and decided to write a bunch of songs -- it would sound like this. The sonic assault begins with "Don't Ask Why" which sets the template and tempo of this record's six songs. The title track is John's personal heavy testimony while "Way Out" slows the pace only slightly with more melodic and anthemic approach. We believe, we believe!
EVEN MORE NOTABLE RELEASES! False Advertising hails from Manchester, England and on their sonically pleasing debut they pay tribute to the grunge movement and the sound of Seattle. The self-titled offering has been called raw, gritty, sassy and ambitious and we agree. The female fronted group have un-leased  an audaciously loud album loaded with dirty riffs, oozing plaid from every pore and crackling with an electrifying fuzz primed to set your hair on end... Long Island-based Mint State have lovingly prepared End Of An Error after years of touring locally, finalizing lineups and weaving every second of music just the way they wanted. And make no mistake about it - the winners of Gorilla Music's Battle of the Bands - Matthew Drangsland, JT McIntosh, Nicholas Balzano and Sean Cashman - have a winner on their hands with this EP. Take for instance the part punk, part melodic "Annie, Keep Running" and you can see this group is off to the races... Barely more than one year after the release of the band's debut album Nebulae, which caught the attention of rock, progressive, metal press and fans alike, Heylel deliver their second effort Flesh. Here the band from Porto, Portugal sounds less experimental or synthesized and more guitar-based, giving the band a more straightforward rock sound. This doesn't mean the ambiance and odd structures on Nebulae were completely lost. They are still pretty noticeable but, contrary to its predecessor, Flesh, it isn't a concept album. It's a collection of songs that show a more raw and direct approach to music...  Not to be confused with his blues-guitar slinging fellow countryman, David Knowles is himself a singer, songwriter and finger-picker hailing from Scotland who has recently released his debut full-length CD, Footsteps. At times lo-fi with melodic melancholy throughout but always expressive and heartfelt, Knowles is winning fans on both sides of the Atlantic Ocean and drawing comparisons to world class talent like Eddie Vedder and Damien Rice. It's clear he's taking all the rights steps in the direction of success on the strength of this album... See ya next month!
---
Richard J. Lynch and Laura Turner Lynch are the founders of
MusicCityNashville.org
, an Internet-based music industry magazine and review site, online since 1999. Laura is a published author of the inspirational (
Positive Power Secrets From A to Z
). Rich regularly interviews famous rock stars for the site's radio show and he has recently launched his own recording career at (
www.richlynchband.com
)
---