By Jennifer Pricci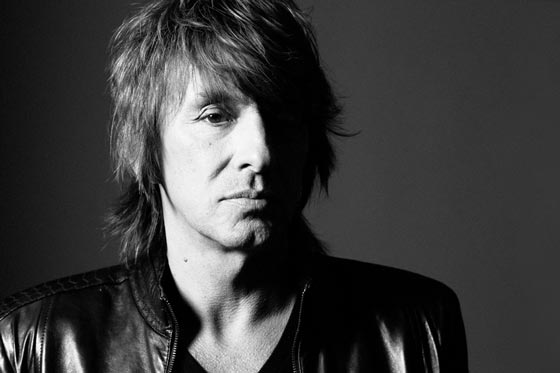 Les Paul is a guiding light in the life of Richie Sambora and it seems he still is, shining a 'spot' on his man from above. On July 22 and 23, in honor of the legendary Les Paul, Sambora delivered his blues-based vocals and signature guitar sound to an intimate room of 170 lucky fans at The Iridium Theatre in Manhattan. For those whose fortune's wheel landed on "Sold Out," the series of 3 shows - meant to mark the late Les Paul's birthday and raise funds for the Les Paul Foundation - will air on Public Television's Front And Center this Fall.

What was immediately evident to any onlooker were Sambora's vocal chops, opening with a bare-bones version of Leon Russell's intimate "Song For You." Sans guitar, Sambora solidified his Frontman-worthy status. His dramatic interpretation introducing the audience to the man beyond the axe. A talent more than the gifted artisan famous for the complimentary glow and grit he's brought to Bon Jovi's generation-transcending sound.

The show quickly ascended toward huge riff rockers. Diehard Sambora fans made their presence known by singing each word to every song off Sambora's series of impressive solo albums, including the underrated 2012 Aftermath of the Lowdown. Their faces pained by the excruciating reality that the live for television performance meant cheeks had to stay in seats and fists couldn't pump. But faces mirrored the exhilaration that Sambora delivered to the 170 pairs of electrified eyes.

Yes, electrified. And that's what brought everyone, including Sambora and his band of bonafied musicians, to the Iridium that night. Les Paul's brainchild - the solid-body electric guitar. An utterly baffling invention presented to Gibson long before today's most glorified rock'n'roller's had jobs.

Sambora recently recalled to MusicRadar the experience of meeting Les for the first time.

It was during a small birthday party at his home, nearly 30 years ago, that his mentor made a surprise appearance, a truly pivotal moment for Sambora as excessive recording demands had him very overwhelmed.

"You're kiddin' me! I mean, when does this happen in life, ever?

"I grabbed Les, and he and I went out to the dock. I told my assistant, 'Nobody gets past this point until I'm done.' Les and I stayed on the dock talking for, like, two hours. It was the best. If we had grown up together, we would've been friends. Which is a weird thing when you think about it, him being the father of the electric guitar and the inventor of multi-track recording. Somehow, I was able to distinguish that line – 'There's the legend and there's the man.'"

He brought Sambora a gift that night. A white Les Paul and a piece of advice; "Son, here's the sword. Go cut the shit."

And cut it he did. Sporting that white Les Paul and recounting to the audience with great sentiment its history, Sambora delivered arena-sized versions of Aftermath tracks "Nowadays," "Taking A Chance On The Wind," "Seven Years Gone" and the debut single "Every Road Leads Home To You." He brought the house down with one of his beloved classics, "Stranger in This Town," perfect for showcasing his distinctive vocals drenched in soul and splashed with gut and vibrato. A voice perfectly suited to his unequivocal fretwork and earth-shattering, primal, blues-based guitar solos. And with just a few Bon Jovi tracks thrown in for good measure, Mr. Bluesman – as he's affectionately known – treats his fans and introduces new ones to carnal versions of regnant #1 Billboard Hits… and hopefully the message that he served as co-writer behind each and every one.

Much has been made about Sambora's recent departure from Bon Jovi… the who, the what, the why…? Jon has successfully built a multi-million dollar corporation known as Bon Jovi, of which he is – among other things – CEO. Every corporation needs a solid business strategy to thrive, and what's particularly fascinating about Bon Jovi is how they rode to explosive success based largely on the strength of their business model. Conversely, Sambora flourishes when breaking the mold. He understands and values the importance of improv – and he excels at it. He is a talent that throws a kink in the Henry Ford assembly line, plucking the expressive objective of his craft from its model and changing the process – offering a dynamic and impassioned music experience that can span an evening… or a career.

Richie Sambora is an innovative talent. His mentor? An innovator. And as the spot shined brightly on Sambora that night – a musician's musician whose licks, trills, timing and style make him an icon of rock, blues and guitar – there is no doubt Les was looking down, on his feet, and pumping his fist for the legend-to-be.
---
For more information on Front And Center visit their official website at www.frontandcenter.com.
To see Richie Sambora's televised Tribute to Les Paul check your local PBS listings at www.pbs.org.
---