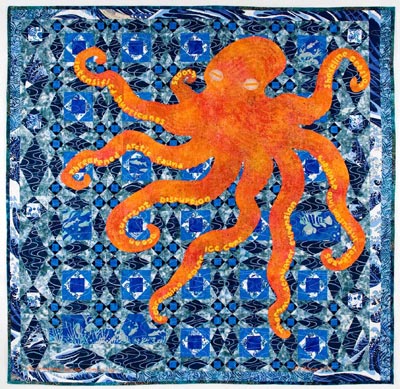 (Morristown, NJ)— The Morris Museum is pleased to present "Semper Tedium - The Slow Art of Quiltmaking", an exhibition of art quilts created by four internationally renown artists: Katherine Knauer, Paula Nadelstern, Amy Orr, and Robin Schwalb. The tongue-in-check title of the exhibit, Semper Tedium, celebrates the ritualistic act of creation for its own sake, a laborious and satisfying process. The exhibit runs from June 24 through August 16, 2014.
Each of the four artists in this exhibition has spent decades evolving a unique voice and vision centered on craftsmanship and creation. Katherine Knauer designs and prints fabrics on a specific theme, often environmental or political issues, and combines them into tradition-based quilt design. Paula Nadelstern explores in depth the symmetry of kaleidoscopes in geometry and expressively detailed color. Amy Orr creates sculptural wall pieces from repurposed post-consumer materials referencing traditional quilt patterns. Robin Schwalb focuses on language and images from her travels incorporating meticulously hand-stenciled texts and humorous visual responses to contemporary events.
The artists featured in the exhibition have met twice a year for the past decade. These cherished, multi-week, artist retreats reinforced the artists' shared dedication to integrity of construction and pursuit of unique personal visions, in spite of societal pressure to work faster and produce more.
Katherine Knauer: I'm currently working on a series of quilts dealing with environmental concerns. Each quilt focuses on one of the four elements – Earth, Air, Fire or Water – which were once thought to comprise all of the earth, and how those elements relate to current concerns about environmental degradation. Pairing a traditional quilt pattern chosen by its title with a contemporary topic is what I think of as a "visual pun" and intrinsic to my process of quiltmaking. I create this link by printing my own fabric. In juxtaposing a medium conventionally associated with comfort and warmth against dynamic surface imagery I am imbuing the quilt with personal meaning and the energy of an unexpected fusion.
Paula Nadelstern: My quilts combine the symmetry and surprise of a kaleidoscope with the techniques and materials of quiltmaking. I try to free myself from a conventional sense of fabric orderliness, seeking a random quality in order to imitate the succession of chance interlinks and endless possibilities synonymous with kaleidoscopes. There are two kinds of surprises: the meticulously planned kind and the happy coincidence. Making kaleidoscope quilts allows me to synthesize elements of both, to merge control and spontaneity to spark something unexpected. Often effects more wonderful than I imagined occur, making me both the one who makes the magic and the one who is surprised.
Amy Orr: I make quilts from a pallet of post-consumer materials including twist ties, chicken bones, shattered auto glass, junk mail and credit cards. I am drawn to commonplace artifacts for their abundance, color and inherent content. Process and excess drive my collection of materials and art-making rituals as I assemble non-traditional materials into traditional quilt compositions. I anchoring the found materials with excessive stitching, beading and embellishment. In a culture of speed, My work takes an inordinate amount of time to complete. For several years I have been working with plastic cards. I collect them like a quilter collects fabric squares. This includes credit cards, ID cards, health insurance, gift, membership and special offers. I am attracted to their color, abundance and intrinsic content. These seductive color chips hold information and personal stories. I cut them up in order to obscure personal information; then reassemble the plastic fragments into lush patterned surfaces creating quilts, sculpture, jewelry and graphic compositions.
Robin Schwalb: I explore a number of themes in my graphic quilts and fabric collages. I am particularly interested in the rich variety of the written word, the urban environment, and clothing mannequins. A wry sense of humor informs my choice of image and text, which are manipulated and combined for maximum visual impact. I use a variety of surface design techniques including photo silkscreen printing, stencilling, painting, and elaborate appliqué.
The Morris Museum is a Blue Star Museum, offering free admission to active duty military personnel and their families, from Memorial Day to Labor Day. The Museum is located at 6 Normandy Heights Road (at the corner of Columbia Turnpike) in Morristown, NJ, and is open Tuesday, Wednesday, Thursday, Friday and Saturday, 11:00am to 5:00pm and Sunday, 12:00 to 5:00pm. In addition, the Museum is open evenings from 5:00 to 8:00pm on the second and third Thursday of the month. Admission to the museum is $10 for adults and $7 for children, students and senior citizens. Admission is always free for Museum members and is free to the public every second and third Thursday of the month between 4:00 and 8:00pm. For more information, call (973) 971-3700, or visit www.morrismuseum.org.
---
IMAGE: Katherine Knauer, Storm at Sea, 2008, image courtesy of the artist
---