---
For great Jersey music and much more, tune into our radio station at AsburyMusic.com
---
The Return of Upstage Magazine... Ten Years Later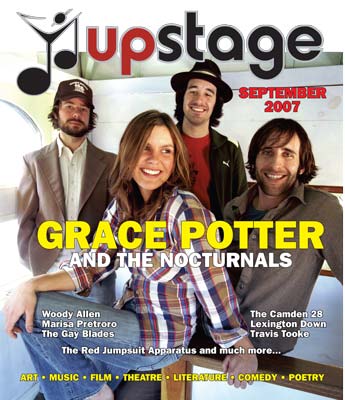 (BELMAR, NJ) -- A little over ten years ago, a publication called Upstage Magazine began covering the arts in Central New Jersey. The monthly newspaper contained news and features on both local and national artists, shining a spotlight on a region that included several Equity theatres, performing arts centers, comedy clubs, and numerous rock and roll venues. The independent publication eventually reached a circulation of 25,000 and earned an Asbury Music Award for Top Music Publication before its run was over. Fast-forward to today and Gary Wien, the original publisher of Upstage, plans to bring the magazine's concept back as New Jersey Stage… only this time as a digital magazine.
"I believe the time has come to take advantage of the benefits of going digital," said Wien. "Instead of simply talking about a new film, we'll be able to show the trailer; instead of one photograph for a story, we can offer an entire gallery; and we'll be able to take people inside the making of a new theatrical production with backstage videos. It's exciting!"
New Jersey Stage is raising funds for the new magazine via an Indiegogo.com crowd funding campaign - the campaign, which hopes to raise $3,000, is in its last two weeks.
"We've got great rewards for those who contribute to the campaign," said Wien. "There are theatre ticket packages from NJ Rep and George Street, film festival packages, autographed CDs and books, concert tickets, and great promotional packages for artists that include advertising, photography, and press release services."
New Jersey Stage is one of two new digital magazines to be produced by Wine Time Media. The other will focus on wineries along the east coast.

"New Jersey Stage is sort of the rebirth of Upstage Magazine," said Wien. "That magazine gave many artists their first press coverage and we intend to do the same with this publication. And to be able to do it digitally is simply amazing… Just imagine someone reading an article they like in a digital magazine. With the click of a button, they can simply email a link or the actual magazine to a friend. They can post the link on social media sites like Facebook or Twitter and help spread the word to thousands instantly. Articles can literally circle the globe — within a few minutes, more people could read that article and get copies of the magazine than you could ever print!"
In addition to the monthly digital magazine, New Jersey Stage covers art, music, theatre, film, comedy, poetry, literature, and museums throughout the state on a daily basis at http://www.NewJerseyStage.com.


Center Players Presents "The Emperor's New Duds"
(FREEHOLD, NJ) --  Center Players Dessert Theater will present a family-friendly production of "The Emperor's New Duds" at Center Playhouse, 35 South St, in downtown Freehold, NJ from December 7 – 16. A musical adaptation of Hans Christian Anderson's the "Emperor's New Clothes," the play was written by Bernice Garfield-Szita, who co-directed the production with Enid Bush.
---
Centenary Stage's Young Performers Workshop presents 2018 Winter Festival of Shows
(HACKETTSTOWN, NJ) -- Based on the Gospel According to St. Matthew with music and new lyrics by Stephen Schwartz, Godspell is composed of various musical parables from The Gospel. Jesus Christ recruits a group of followers and teaches them various lessons through song and dance. Toward the end of the second act, the show begins to follow a more linear narrative as Jesus is betrayed by Judas and eventually crucified. Performances are Sunday, December 9 at 5:00pm; Saturday, December 15 at 8pm and Sunday, December 16 at 7:30pm.
---
The Shakespeare Theatre Presents "The Winter's Tale"
(MADISON, NJ) -- The Shakespeare Theatre of New Jersey's concludes its 56th season with its sixth and final Main Stage production, The Winter's Tale. Last seen at The Shakespeare Theatre in 2008, Artistic Director Bonnie J. Monte directs this production of Shakespeare's tragicomedic romance. Veteran company members Jacqueline Antaramian, Jon Barker, Erin Partin, John Keabler, Raphael Nash Thompson,Seamus Mulcahy, Patrick Toon, and Ames Adamson are among a cast of 20 actors. Performances run from December 5 to December 30. 
---
American Theater Group Announces Full Cast & Creative For "Tell Them I'm Still Young"
(SOUTH ORANGE, NJ) -- American Theater Group has announced the full cast and creative team for its World Premiere production of Tell Them I'm Still Young, a new play by Julia Doolittle, which will run at the South Orange Performing Arts Center from January 24 - February 3, 2019. Joining the previously announced Andre Braugher (Homicide: Life on the Streets, Men of a Certain Age, Brooklyn Nine-Nine) andMichele Pawk (Hollywood Arms, Hairspray, Mamma Mia) are Janice Amaya (Seen/Unseen) and Seth Clayton (The Madrid).
---
Holmdel Theatre Company Presents 'ART'
(HOLMDEL, NJ) – The Holmdel Theatre Company (HTC) will present 6 performances of Yasmina Reza's 'ART'  from December 7th through December 16th. Translated from French by Christopher Hampton, the play tells the story of what happens when Serge buys an expensive painting, and the reactions of his two closest friends, Marc and Yvan, to his purchase. As what begins as a discussion about the quality of the painting that Serge has purchased quickly devolves into petty jabs and personal attacks, the three men border on destroying their friendships.
---


Broadway's Mandy Gonzalez LIVE! at Toms River's Grunin Center
Broadway is in the house at Toms River, NJ's Grunin Center for the Arts with a Fearless live concert performance by Broadway star, Mandy Gonzalez!
---
"The Spitfire Grill" and Caitlin Geisser Return To Their Roots
"I saw something in her that you rarely come across," recalled Ted Wioncek III, Artistic Director at Eagle Theatre in Hammonton. "She's more than wise beyond her years; I believe she's going to be a game-changer and a trendsetter for this art form."
---
Broadway's Next H!T Musical LIVE! at Toms River's Grunin Center
It's Friday, October 26, 2018, and the Broadway's Next H!T Musical cast is just about ready to take the stage at the Jay and Linda Grunin Center for the Arts, located on the campus of Ocean County College in Toms River, NJ.
---
The Last Apple Pie: "Apples In Winter" Opens At Centenary Stage
Jennifer Fawcett's new play centers around a mother in a kitchen, doing something countless people across America will take part in over the upcoming holiday season: making an apple pie.
---
See Andrea McArdle LIVE! in Annie at Deal Park's Axelrod PAC!
Leapin' Lizards! Annie's finally made it to the Axelrod Performing Arts Center in Deal Park, NJ, and it stars Broadway's original Annie, Andrea McArdle, as Miss Hannigan!
---
Event calendar
Sunday, Nov 18, 2018
---
MUSIC

---
Allen Stone

@ House of Independents, Asbury Park - 8:00pm
---
---
---
---
---
---
---
---
---
THEATRE

---
Annie

@ Broad Street United Methodist Church, Burlington - 2:00pm
---
---
Annie

@ Axelrod Performing Arts Center, Deal Park - 3:00pm
---
Apples In Winter

@ Centenary Stage Company - Kutz Theater of the Lackland Center, Hackettstown - 2:00pm
---
---
---
---
Pinocchio

@ The Newton Theatre, Newton - 3:00pm
---
---
---
---
---
---
DANCE

---
---
---
KIDS

---
---
---
LECTURE

---
---
View all events
---