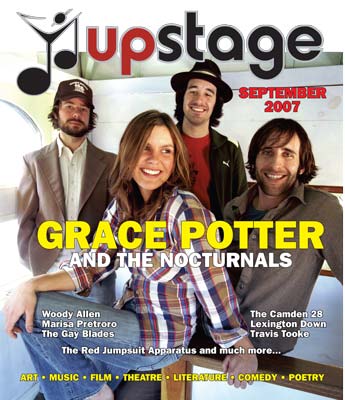 (BELMAR, NJ) -- A little over ten years ago, a publication called Upstage Magazine began covering the arts in Central New Jersey. The monthly newspaper contained news and features on both local and national artists, shining a spotlight on a region that included several Equity theatres, performing arts centers, comedy clubs, and numerous rock and roll venues. The independent publication eventually reached a circulation of 25,000 and earned an Asbury Music Award for Top Music Publication before its run was over. Fast-forward to today and Gary Wien, the original publisher of Upstage, plans to bring the magazine's concept back as New Jersey Stage… only this time as a digital magazine.
"I believe the time has come to take advantage of the benefits of going digital," said Wien. "Instead of simply talking about a new film, we'll be able to show the trailer; instead of one photograph for a story, we can offer an entire gallery; and we'll be able to take people inside the making of a new theatrical production with backstage videos. It's exciting!"
New Jersey Stage is raising funds for the new magazine via an Indiegogo.com crowd funding campaign - the campaign, which hopes to raise $3,000, is in its last two weeks.
"We've got great rewards for those who contribute to the campaign," said Wien. "There are theatre ticket packages from NJ Rep and George Street, film festival packages, autographed CDs and books, concert tickets, and great promotional packages for artists that include advertising, photography, and press release services."
New Jersey Stage is one of two new digital magazines to be produced by Wine Time Media. The other will focus on wineries along the east coast.

"New Jersey Stage is sort of the rebirth of Upstage Magazine," said Wien. "That magazine gave many artists their first press coverage and we intend to do the same with this publication. And to be able to do it digitally is simply amazing… Just imagine someone reading an article they like in a digital magazine. With the click of a button, they can simply email a link or the actual magazine to a friend. They can post the link on social media sites like Facebook or Twitter and help spread the word to thousands instantly. Articles can literally circle the globe — within a few minutes, more people could read that article and get copies of the magazine than you could ever print!"
In addition to the monthly digital magazine, New Jersey Stage covers art, music, theatre, film, comedy, poetry, literature, and museums throughout the state on a daily basis at http://www.NewJerseyStage.com.