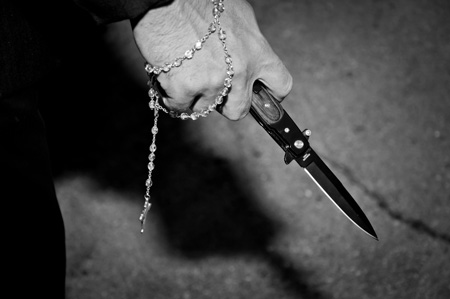 (ASBURY PARK, NJ) -- The Garden State Film Festival returns to the area April 4-7 with screenings in five locations throughout Asbury Park. One film that looks pretty interesting is "Stiletto", a tale of vengeance, love, and decay. The director recently emailed us and gave us some information about the film, which will be presented on Saturday, April 6 at 2:45pm at the Urban Nest (631 Lake Avenue, Asbury Park).
In STILETTO, justice is an elusive mistress for Pete Davis, a present-day District Attorney attempting to prosecute an Archbishop for the sexual abuse of a child. When the victim commits suicide, Pete is given only two days to find additional evidence that will make his case. Aided by his partner, a detective familiar with the corruption of big-city politics, Pete reluctantly accepts the help of an old flame, the madame of the city's highest-end brothel. Together, the three construct a trap to bring down their powerful adversary, unaware of the true nature of the monster they will ultimately confront.
"STILETTO has been receiving quite a bit of buzz since we premiered it to a crowd of over 1,000 in 2012," said Kyle Thomas, the film's Director. "Since then, it has been screened several times throughout the Midwest. Hesperidian Productions was awarded '2012 Filmmaker of the Year' for STILETTO by the Chicago Chapter of the nation's largest organization of independent artists, RAW: natural born artists. STILETTO will be making its East Coast Premiere at the Garden State Film Festival."
The film both honors and recontextualizes a classic genre by blending contemporary themes with the visual style, narrative conventions and character archetypes of film noir. STILETTO's gritty context, contemporary plot and Chicago setting add a fresh dimension to a popular dramatic style. STILETTO's color-blind casting has been drawing a lot of attention because it resulted in two talented African-American leads in an otherwise Caucasian-dominated genre. By bringing color-blind casting into the world of noir, STILETTO breathes new life into an enduring cinematic style. African-American film-goers have reacted enthusiastically to the film and the stellar performances of Kristin Anderson and Warren Feagins.
For more information on Kyle's production company visit http://www.hesperidianproductions.com.