originally published: 10/13/2020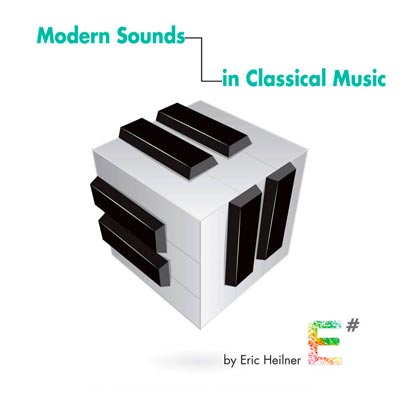 Veteran musician Eric Heilner releases his versatile compositional debut album titled Modern Sounds in Classical Music out on Friday, October 23, 2020. After decades of playing blues, rock and R&B keyboards, Heilner switched musical gears at the seasoned age of 66 and began studying composition at the Evening School at Juilliard. 
Six years later, Heilner has recorded his first album, which was produced and engineered by two industry legends, Jack Douglas, producer (John Lennon, Aerosmith, Patti Smith, Cheap Trick, and more) and Jay Messina, lead engineer (Eddie Palmieri, Patti Smith, Aerosmith, KISS, Miles Davis, John Lennon, Cheap Trick, Peter Frampton, and more). Featured musicians on the album include violists Leah Asher, Laura Thompson and Nardo Poy, pianists Erika Dohi and Henry Hey, flutist Laura Cocks, clarinetist John Hong, guitarist Teddy Kumpel, violinists Michael Roth and Robert Chausow, cellist Jesse Levy, soprano sax Lou "Blue Lou" Marini, alto sax Lawrence Feldman, tenor sax Todd Groves, baritone sax Roger Rosenberg, and "The Hum-dingers." 
The music on the album is rigorously through-composed, but in a unique way that blends poly-rhythms, Motown bass figures, and Heilner's keen ear for melody - as well as his wry sense of humor. The combination has created a singularly accessible style, made all the more impactful by Douglas' signature production techniques. Pre-Orders are available now at Bandcamp.  
---
The article continues after this ad
---
---
Eric Heilner comes from a storied musical lineage. His father Irwin Heilner, was a life long composer of classical music. In the 1920s and 30s, Irwin Heilner studied composition with Robert Sessions and the legendary Nadia Boulanger, and was a member of Aaron Copland's Young Composers Group. Heilner's sister, Deborah Holland, is an accomplished singer/song writer most well-known for leading the group Animal Logic – which included Stewart Copeland, drummer of the Police, and world-famous bassist Stanley Clarke.
As a child, Heilner grew up in a household imbued with classical music. He took piano lessons starting at age 6 and advanced so far as to tie for third place in a New Jersey children's piano competition at age 13. As a teenager, Heilner abandoned the piano to pursue girls and other social activities. But in 1967, as a freshman in college, after hearing the Doors song 'Light My Fire', he realized that he could pursue both girls and music at the same time and took up playing rock and roll. After graduating from college, with his degree in Physics in hand, Heilner was briefly a research assistant at Bell Laboratories. But to the dismay of his parents, he gave up his day job to become a world famous rock and roll star.
In the 1970s, Eric toured the East Coast with a variety of different bands playing both the club and college concert circuit and "opened up" for the such acts as The Byrds, The Raspberries (remember them?), and the then rising Bruce Springsteen. His closest brush with fame and fortune was when he recorded on an album produced by Jack Douglas – most well known for producing John Lennon, Aerosmith, etc, etc.
However, after turning 30, he gradually retired from the music business, tucked his electric piano in the corner of the attic, and become a respectable member of society.  Until his recent retirement he worked for a software company and developed applications used by big business, government institutions and hospitals. 
One evening in 2003, he was attending a show of a comedy improv group called The Lunatic Fringe. The regular piano player did not show up. Eric was rudely yanked out of the audience as a substitute and thrust back in the limelight. With the encouragement of his wife and family, Heilner slowly came out of musical retirement and started playing R&R and R&B. Heilner now appears regularly with some of the top blues and rock groups in the North Jersey area.
In the early 2010s, with his children grown up, Heilner found that he actually had free time on his hands. He was drawn back to his classical roots, he rediscovered Mozart, Bach, and Chopin – and started studying piano at the Evening School at Juilliard. However, he was increasingly drawn to composition.  Musical themes – entire pieces – would play through his mind as he walked down the street.  Realizing the change it would make in his life, Heilner resisted it as long as he could, but he eventually gave in to internal peer pressure and in the fall of 2014 took up studying composition at the Evening School at Juilliard. Within a few years, Heilner was composing fully developed pieces for chamber ensembles. He joined several New York based composer societies and has had public performances of his compositions at various venues in New York City and most recently in Moscow.