By Gary Wien
originally published: 10/07/2020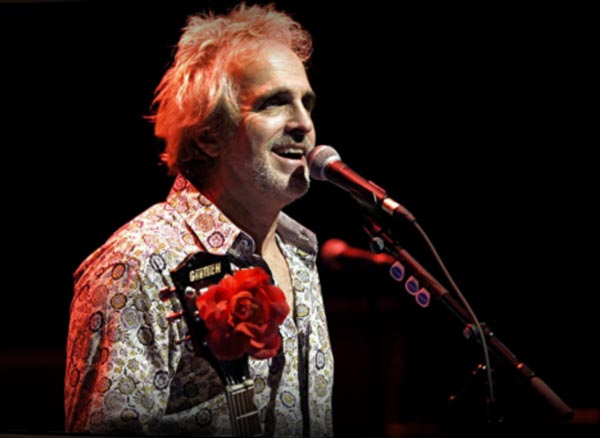 On Sunday, October 18, Glen Burtnik will perform in concert as part of the Sundays on St. John's series presented by the Asbury Park Music Foundation.  What makes this show special is that Glen will be performing his original songs - probably for the first time in the local area in a decade or longer. Around the music world some people know him as a member of Styx, some for his popular tribute shows (Summer of Love, Beatles, Xmas shows, etc.), and some for his current band - The Weeklings; but before any of those became part of his resume, he was known for his original songs like "Here Comes Sally," "Little Red House," and "Follow You."
After years of playing in popular Jersey Shore acts like LaBamba & the Hubcaps and Cats On A Smooth Surface, Glen burst out nationally with Talking In Code on A&M in 1986.  That album was followed by Heroes & Zeros, which landed him a Top 65 single in "Follow You" in 1987. In the years that followed, songs of his became Top Ten hits for Patty Smyth ("Sometimes Love Just Ain't Enough") and Randy Travis ("Spirit of a Boy, Wisdom of a Man"), while other songs reached the Top 40 for artists like Jo Dee Messina and Styx.
New Jersey Stage believes Burtnik is one of the best songwriters in the Garden State.  We've been fans of his since his debut album and are excited to see him returning to these songs.  We reached out to him to learn more about the show and why its been so long since he's performed his original songs. 
You are playing a sold out show in Asbury Park featuring your own songs for the first time in quite a while. After years of tribute bands & tribute shows, how does it feel to know fans still want to hear your originals?

Feels great and I am grateful.
Now what I'm probably supposed to do here, given this brave new Orwellian world, is brag about my accomplishments, hit records, song writing awards, movie soundtracks, etc. in some self-promotional, narcissistic way.
---
The article continues after this ad
---
---
But fuck that. That ain't me. I am a modest musician, fortunate enough to have made a lifelong career making music, including highs and lows, happy and proud to still be kicking around.
Back to your question, the thing that surprises me most is the reaction of the fans of my music - a very sweet thing for a working musician such as I.
I've been at it forever and I've pretty much accepted the idea that playing familiar hit songs is what the majority of audiences want to hear. So the idea that my songs are what so many people want to hear is a lovely gift. It's nice Asbury Park Music Foundation asked me to perform.
During the pandemic, you've done some virtual shows and have shot video takes of some of your favorite songs and originals - many you likely have not played in a long time. What is harder to remember when you play a tune from say your first album - remembering the lyrics or the music?

I decided to undertake a self imposed online assignment; a quarantine series, posting a selfie video singing a different song daily for 100 days. It was good for me. I revisited some of the music that's been meaningful to me personally, as well as tunes my audience might enjoy.
As far as remembering my own songs???? I've written way too many. It can be an exhausting, almost forensic exercise at times. I remember much of the accompaniment, the chords, the melodies, but it's just all those damn words I struggle with.
But then, I suppose this could help stave off Alzheimers Disease a week or two. (I tell my friends they can call me Al Zymers.)
You've asked fans to request songs for your virtual shows and for this show in Asbury Park. What are some of the song requests that surprised you the most?

Well, there are the super completist types, fans who dig into my history. They kinda like to blow my mind by requesting obscure songs that no one else would recall except me. For instance, asking for "I Hate Disco Music", the single Marshall Crenshaw and I made, or something off the Jan Hammer album I did or something so terribly obscure that can only found on discontinued albums. I mean, these are often not great and I couldn't do the tunes justice and I wouldn't want to include such zany, forgotten early tunes just for the lone character who gets a kick out of my reaction.
Having said that, I completely understand (I'd LOVE to see Stevie Wonder or Todd Rundgren playing some of their early, lesser known hits, for example).
I am blown away by some of the obscure requests. It cracks me up and reminds me of my past but maybe someone else should perform those ancient ditties which I don't necessarily consider my best song writing...
How does it feel to know you have fans that have followed you from throughout your career (manville to today) and all have their own personal favorites of your songs?
Humbling, but it also is kind of a blessing and a curse. It's wonderful knowing so many different songs have reached as many people, but it also kinda means I can't please everyone simultaneously. There're no show climaxing mega hits that'll be remembered by the entire audience - no 'Born To Run', no 'When Doves Cry', etc.
Oh well. As you can tell, I guess I'm just complaining about a very fortunate ride I've been given.
I am truly grateful to know there are those who've stayed with me. I am a lucky guy!
Do you ever get tired of playing "Follow You" or is it still cool to have a signature song like that which most (if not all) of your fans know?

See, that's an example. I'd say a good portion of fans of my Styx tunes ('Love Is The Ritual', 'Kiss Your Ass Goodbye') don't actually know "Follow You." I guess it's kind of a signature song being it was my highest charting single and MTV video as a solo artist, but it wasn't really the big statement and most don't remember it. Nor do I consider it my best song.
But it IS fun to play! It's not too complicated, so that's cool. While I perform it I can think more about if I'm striking a cool enough 'rock pose' for the cell phone captures.
You've written several new songs over the years - two which might make your setlist ("Where Music Lives" and "Baby Cinderella Monkeyshine"), plus tracks that were first written for Rick Barry's old show, some written and performed with other artists, and songs for the Weeklings.  Why did you stop releasing Glen Burtnik albums?

As is often attributed to Albert Einstein, Benjamin Franklin and/or any number of other people who probably never said it, "The definition of insanity is doing the same thing over and over again and expecting a different result."
Making a good album is a lot of work, it takes a lot out of me and I like to make really good records. So it's a fairly disappointing outcome, especially when you're freaking name is on the product. Not to mention, albums really are an antiquated concept, although a lovely format.
These are issues shared by all artists who've been around – from the Rolling Stones to Madonna. You just can't keep an audience's intensity forever.
I enjoy recording with The Weeklings because it's not all on my shoulders. Collaboration can be a wonderful way to be productive and you can share the triumphs and dissapointments.
Speaking of the Baby Cinderella song... what can you say about Emily Grove who will be performing as well? I'm sure there's at least one song ("Sometimes Love Ain't Enough") that fans will hope to see you two perform. Are you planning to do a few songs together?

I'm sure she will. She's been a friend for years and I just admire the living crap out of her and her amazing instrument. There's no affectation, nor noticeable imitation or influence in her voice, it's pure - pure vocalizing - coming from this small but mighty musician.
After seeing some of the requests that came to you on Facebook, I was wondering if you ever considered doing a career retrospective show from your earliest days as a teenager, through everything from Helmet Boy to The Weeklings? 

A career retrospective show would bore ME, not to mention lull the audience into a confused slumber. And it'd last a week or three. We'd all have to bring pajamas.
Finally, I'm curious if the idea of doing an originals show was your idea or if your wife might have helped make it happen. I know you've always downplayed the idea that people still want to hear your originals.  Was it just time to start playing them again?

Christina encourages me at every turn and her advice is golden, with the priority being my happiness.
The Asbury Park Music Foundation was kind enough to ask me to do a show. So I wondered, 'what should I do?' I really am a songwriter, have made a living writing songs, it'd be kind of ridiculous if you were to go to a Glen Burtnik show and hear me singing somebody else's songs.
Right now, in 2020, for this outdoor performance on this magic little island in Raspberry Park, what makes me happy is the idea of singing my own goddam songs!
---
Gary Wien has been covering the arts since 2001 and has had work published with Jersey Arts, Elmore Magazine, Princeton Magazine, Backstreets and other publications. He is a three-time winner of the Asbury Music Award for Top Music Journalist and the author of Beyond the Palace (the first book on the history of rock and roll in Asbury Park) and Are You Listening? The Top 100 Albums of 2001-2010 by New Jersey Artists. In addition, he runs New Jersey Stage and the online radio station The Penguin Rocks. He can be contacted at gary@newjerseystage.com.
---