originally published: 06/29/2020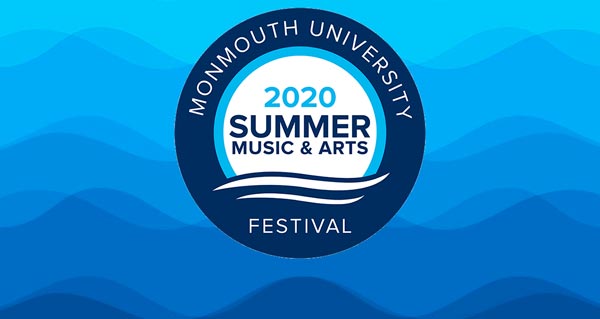 (WEST LONG BRANCH, NJ) -- Monmouth University presents its inaugural 2020 Music and Arts Festival, offering a wide array of virtual arts experiences ranging from musical acts to exhibitions, including special performances by the Garden State Philharmonic. The festival will premiere on their YouTube channel on July 3 at 7:00pm. and will be available to stream on the channel anytime afterward.
Free and open to the public, the festival celebrates the themes of women's suffrage and civil rights in acknowledgement of the 100th anniversary of the passage of the Nineteenth Amendment, guaranteeing and protecting women's constitutional right to vote.
Featured artists include: The Garden State Philharmonic, Actor Bill Timoney, Author Colm Tóibín, Lakehouse Music Academy, Visual Artist Julie Dzikiewicz, and singers Katie Coffman and Joseph Marano, as well as student performances by the Blue Hawk House Band and the Sea Sharps.
"The Music and Arts Festival was designed to provide the local community, along with the students, faculty, and staff at Monmouth University, with the opportunity to enjoy a top-flight Jersey Shore music and arts event each summer," said Kenneth Womack, festival coordinator and professor of English and popular music. "In the years to come, we plan to attract nationally and internationally acclaimed musicians and other fine artists to our campus to supplement our arts education programming and provide visitors with opportunities to experience premiere concerts and exhibitions right here on the Shore."
To properly adhere to mass gathering and social distancing requirements, the 2020 festival will be prerecorded, with production directed remotely by recent university graduate Sara Wojciehowski '20 and graphic design efforts overseen by Honors School student Darika Lara-Rodriguez. Student performances by the Blue Hawk House Band and the Sea Sharps will also be featured. The program runtime will be between 60-85 minutes.
---
The article continues after this ad
---
---
The Music and Arts Festival is an interdisciplinary, university-wide event sponsored by the FirstEnergy Foundation, with additional support from Metrovation and Cammack Retirement.
---
PROGRAM:
BLUE HAWK HOUSE BAND, "What's Going On," Marvin Gaye (1939-1984)
Bill Timoney, American actor, "William Lloyd Garrison, The Liberator"
Lakehouse Music Academy, "Go," Amy Ray (1964-)
Colm Tóibín, Irish author, "Elizabeth Bishop"
Katie Coffman, soprano, "Will There Really Be Morning," Richard Hundley (1931-2018)
Joseph Marano, tenor, "Oh, What a Beautiful Morning," Richard Rodgers (1902-1979) and Oscar Hammerstein II (1895-1960)
THE SEA SHARPS, Monmouth University a cappella choir, "Just Got Paid," Johnny Kemp (1959-2015)
JULIE DZIKIEWICZ (1962-), American artist, She Persisted (including "Suffrage Cat," "Ida B. Wells," "The Story of the Ham")
GARDEN STATE PHILHARMONIC, Diane Wittry, conductor and music director
Selections from West Side Story ("America," "Prologue," "Somewhere," "Mambo"), Leonard Bernstein (1918-1990)
"Starburst," Jessie Montgomery (1981-)
"Portraits of Langston: Harlem's Summer Night," Valerie Coleman (1970-)
"Perhaps," Reena Esmail (1983-)
"Tango from Two Latin Dances," Lauren Bernofsky (1967-)
"Stars and Stripes," John Philip Sousa (1854-1932)
---
PERFORMANCE GROUPS:
Blue Hawk House Band: George Wurzbach (Director, conga, production), Sara Wojciehowski (bass, production), Jason Caprioni (engineer), Bruce Davis (vocals 1), Jenae Louis-Jacques (vocals 2), Shadiyah Jai (vocals 3). Dillon Schindler (piano, arrangements), Max Adolf (guitar), Zach Sandler (saxophone), Danielle DiMeola (drums), Mark Rodriguez (synth).
The Sea Sharps: Katie Coffman (arranger/president), David Wilderotter (soloist), Antonio Gonzalez (vocal percussionist/music director), Kaylee Figalora-Torres (music director), Arina Martin (music director), Mitchell Hendricks, Jamie Burch, Jason Castillo, Kyle Anderson, Anastasia Francisquini, Gabriella Estrada, Jordan Dilone, Delaney Rivera, Ruby Branyan, Nate Wilkie
The Garden State Philharmonic: Diane Wittry (Director/Conductor), Ruotao Mao (violin), Uli Speth (violin), Nick Pappone (violin), Krisztina Kiss (viola), Jameson Platte (cello), Nathan White (bass), Allison Kiger (flute/piccolo), Emily Tsai (oboe/production), Chris Nichols (clarinet), Melissa Kritzer (bassoon), Karl Krammer-Johansen (horn), Tom Cook (trumpet), Roger Verdi (trombone), Jay Krush (tuba), Gregory Landes (timpani/percussion); guest pianists (Garah Landes, Candace Chien, Craig Ketter, Martha Locker)
STEERING COMMITTEE: Eileen Chapman, Chris Hellstrom, Darika S. Lara-Rodriguez, Nancy Mezey, Lynda Rabens, Joe Rapolla, Michael Thomas, David Tripold, Hettie Williams, Diane Wittry, Sara K. Wojciehowski, Kenneth Womack (coordinator)