originally published: 05/04/2020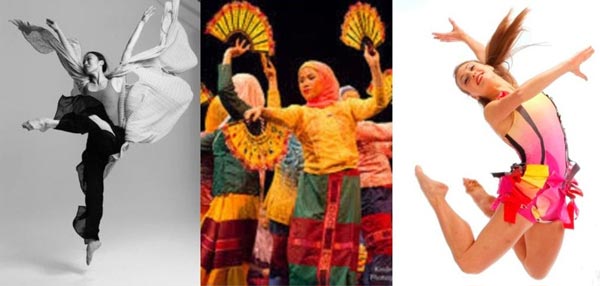 (FORT LEE, NJ) -- Every weekday at noon (EST), Nai-Ni Chen Dance Company offers a free 1-hour company class online via Zoom.  Classes are open to all dancers and you can meet the artists after the class ends. For the week of May 4th, the schedule of teachers includes: Monday: Greta Campo (Kinetic Spiral); Tuesday: Peiju Chien-Pott (Graham); Wednesday: Yuka Notsuka (Contemporary); Thursday: Potri Ranka Mantis (Philippine Moro); and Friday: Greta Campo (Kinetic Spiral). Register for classes online.
Peiju Chien-Pott joined the Graham Company in 2011. She received the Positano Premia La Danza 2014 award for Best Contemporary Dancer, was named one of the year's "Best Performers" in 2014 and 2017 by Dance Magazine, was an honoree of the "Women's History Month" by Hudson County and received a 2017 Bessie award for Outstanding Performer. Ms. Chien-Pott has created lead roles by many of the world's most celebrated choreographers including Nacho Duato, Mats Ek, and Andonis Foniadakis. She graduated with a BFA. from Taipei National University of the Arts, and has since been honored with their Outstanding Alumni Award. She recently received an Outstanding Dance Artist Award from the government of Taiwan.
Potri Ranka Manis Queano Nur is the Founder/Artistic Director and Tradition-Bearer of Kinding Sindaw. In July 23,2005 Potri was enthroned as Bai a Labi a Gaus sa Borocot by the representatives from the 17 Pagawidan a Ranao in Marawi City, Lanao del Sur. Potri was born and raised in the Southern Philippines, she is a daughter of the late Sultan a Gaus of the Royale House of Borocot the 15th Pagawidan of the Pat Pengempong a Ranao. She also learned the traditions of the neighboring indigenous communities. She has written and directed many plays as a resident artist of LaMaMa. She founded Panata and co-authored and performed the Oratoyo-Bells of Balanggiga and acted a lead role in Dis-oriented, a feature film of Francisco Aliwalas. She was in Draupadi directed by Ellen Stewart, La Mama Great Jones Repertoire. She is a artist-teacher faculty of Lotus Fine Arts. She a practitioner of Theater of the Oppressed and a producer and actor in Newyorkustan directed by Steven de Castro. Potri is an artist-activist who campaigns for self-determination of the Moro and its indigenous people.
Greta Campo is the Associate Artistic Director of the Nai-Ni Chen Dance Company, She began her dance training in her native Milan at the Carcano Theater, where she was first introduced to Martha Graham's work. She performed with the Martha Graham Dance Company in their 2012 New York Season and later on their international tour. Greta is a recipient of the 2016 Rising Star Award from the Fini Dance Festival.
Yuka Notsuka was born in Fukuoka, Japan. She began her Ballet training in her hometown at age four. Later she broadened her training to include Jazz and Tap. Later Yuka moved to New York City to further pursue her career as a dancer. In 2015 she entered the Ailey School as a scholarship student. She performed in Ailey Spirit Gala Concert at Lincoln Center choreographed by Tracy Inman (Co-Director, The Ailey School) and Robert Battle (Artistic director of Alvin Ailey American Dance Theater). Yuka joined the Nai-Ni Chen Dance Company in 2017. She also has been in training and served as Teaching Assistant at the Luigi Jazz Dance Center under Francis J. Roach.
---
The article continues after this ad
---
---
In Upcoming Weeks:
Hailed as a Spiritual Choreographer by Dance Magazine and recipient of multiple choreographic fellowships from the National Endowment for the Arts and New Jersey State Council on the Arts, Nai-Ni Chen has been creating dances professionally for over thirty years in the United States. She has built a diverse repertory of over 80 original works and toured to major venues in the US and international contemporary dance festivals in 12 countries. She will be teaching her signature technique KINETIC SPIRAL which is a blend of the dynamic, ever-evolving spirit of contemporary dance and the grace and splendor of the Chinese artistic traditions. 
Xin Ying, choreographer and principal dancer with Martha Graham Dance Company, graduated from Nanjing University of Arts's choreography major in 2004. Her work received China Lotus award in 2008. And as a choreographer toured with Sichuan University of Arts to Hong Kong, Hungry and Germany, as 3rd section director for National Sports Opening and worked with more than 7000 performers. She joined Martha Graham Dance Company in 2011 to presume her professional dance career and now is a principal dancer and has worked with renowned choreographer all over the world. She made her own version of "Lamentation Variation" into dance film. Her work "巢"(the nest) using google 3D paint brushes and VR technology was presented by Graham Dance Company at Google. She has collaborated with Kate Spade, Barney NY, Norma Kamali, Black Berry, Tracy Reese, NYC Dance Project, and the Ballerina Project.
Zhongmei Li began her dance training at the Beijing Dance Academy, China's foremost dance institution, and continued in the U. S. winning full scholarships to study at both the Alvin Ailey and Martha Graham schools. She performed on Broadway in the long-running musical "The King and I," and she earned a master's degree in fine arts at the Tisch School at New York University. In 1994, she created the Zhongmei Dance Company, with which she performed all over the United States. In addition, she has performed in many other countries, including Singapore, France, Israel, and Brazil. She is a regular guest performer with the Aspen Santa Fe Ballet. Zhongmei's story is available in a non-fiction book, "A Girl Named Faithful Plum," by Richard Bernstein.
Yuki Ishiguro is an up-and-coming choreographer who has had diverse training from ballet to breakdance in Japan. He moved to NY in 2009 to study contemporary dance. From his experiences he created his own dance style and signature movements, which has been praised by several dance reviews. Yuki has worked and toured with Roxey ballet, Catapult entertainment, Emery LeCrone dance, etc. From 2018 Yuki started his own company Yu.S.Artistry. His energetic and athletic work has been presented at several contemporary dance festivals around the US and abroad.
Guru. Smt. Akhilaneshwari Akhila Chetan is a skilled artist in Nritta - Pure Dance Form, and rasabhinaya - aesthetic communication with creative interpretation of the lyrics and the music. She had decades of practice under great gurus and legends in Bharathanatya. The vast amount of skills received by legendary tutors has made Akhila one of the most sought after talented and creative artists. She is the recipient of prestigious "Purandara Anugraha" Award – 2014 for her services in the dance field by TTD, Trust, Tirupati, Government of AP, India and has received various titles and awards from reputed organizations in recognition of her work in India & the USA. 
Barkha Patel is an Indian classical Kathak dancer, choreographer, and educator. As a preservationist of Kathak dance, Barkha believes in sharing stories through abhinaya, deep facial expressions, and nritta, traditional and innovative movement. Recently, Barkha completed her choreographic fellowship with Jersey Moves and received the prestigious Choreographer Fellowship from the New Jersey State Council on the Arts. As an educator, Barkha conducts dance classes and master workshops in New York and New Jersey.
Evan Matthew Stewart, originally from Buffalo, NY, began his dance training at Miss Barbara's School of Dance and at the age of ten continued to advance his training at David deMarie Dance Studio in styles varying from contemporary to tap and ballet to jazz. Evan also attended the Royal Academy of Ballet (Buffalo, NY) under the direction of Beth Waddell and while in college, attended the Joffrey School of Ballet New York City summer intensive to further his skills in ballet. In 2016, Evan graduated from the University of Buffalo with his BFA in dance and minor in counseling. During his time at the University at Buffalo, Evan was a member of the dance program's pre-professional company Zodiaque under the direction of Thomas Ralabate and Tressa Gorman-Crehan. Since moving to NYC, Evan has had the opportunity to work with Ebony Williams and perform for her at Jacob's Pillow. Evan is also a dancer in the upcoming film "In the Heights" directed by Jon Chu and choreographed by Chris Scott.
---
Bridging the grace of Asian elegance and American dynamism, the Nai-Ni Chen Dance Company is a premier provider of innovative cultural experiences that reflect the inspiring hope and energy of the immigrant's journey. The company's ground-breaking works have focused on themes from ancient Chinese legends that reflect issues of the present time to purely abstract, contemporary dances inspired by the art of Chinese calligraphy.  An Asian American company that celebrates the cross-cultural experience, the Company's productions naturally bring forth issues of identity, authenticity, and equality.
Choreographer/Dancer, Nai-Ni Chen is a unique choreographer whose work crosses many cultural boundaries.  Each of her dance reflects her personal vision as an American artist with deep roots in the Asian culture, working on new dances influenced by cultures around the world, reaching beyond the perceived limitations of time, distance, and traditions.  The company's accomplishments are evident in its extensive performance schedule and its powerful and elegant productions which have been presented at some of the most prestigious concert halls such as the Joyce Theater in New York, Lincoln Center, Cerritos Center for the Performing Arts in California, the Raymond F. Kravis Center, Tampa Bay Performing Arts Center in Florida, and the New Jersey Performing Arts Center as well as appearing on a number of television specials on PBS/NJN, ABC, WNYC and others as well as eight international tours spanning the globe.
Commissioned dances from the company include Peach Flower Landscape for the Lincoln Center Institute, Qian Kun for the Joyce Theater Foundation, Unfolding for Dancing in the Streets, The Three Riddles of Turandot for New Jersey Ballet, Unconquered Warriors for Dancing Wheels, and Water and Tiger Lily for Ballet Met, The Way of Five – Fire for Townson University; Dragons on the Wall, a collaboration with Nobel Literature nominee Bei Dao and internationally acclaimed composer Joan La Barbara for the Alternate Roots Festival curated by Baraka Sele of New Jersey Performing Arts Center.
Advancing Dance Education, the Nai-Ni Chen Dance Company is currently in residence in New Jersey City University creating a new dance program for the university in collaboration with the Joffrey Ballet School as well as pioneering a program with the University's A Harry Moore Laboratory School on teaching dance to children with multiple disabilities.  In addition to these educational activities, the company has an award-winning Arts in Education residency programs in urban school districts to bring culture and arts into educational settings   Nai-Ni Chen's assembly and residency program, the Art of Chinese Dance for Chinese American heritage education has been selected by the Chinese Language Teacher's Association for Primary and Secondary Schools as a new model for collaborative language and arts education.
Programs of the Nai-Ni Chen Dance Company are made possible by the National Endowment for the Arts, the New Jersey State Council on the Arts/Department of State, a Partner Agency of the National Endowment for the Arts, the New Jersey Cultural Trust, the New York State Council on the Arts with the support of Governor Andrew M. Cuomo and the New York State Legislature, the Geraldine R. Dodge Foundation, the Hyde and Watson Foundation, E.J. Grassman Trust, The Horizon Foundation for New Jersey, the Cultural Ministry of the People's Republic of China,  the Live Music for Dance Program of New Music USA, the Blanche and Irving Laurie Foundation, the Rapid Response Program of American Dance Abroad, the Association of Performing Arts Presenters' Cultural Exchange Fund, supported by the Andrew W. Mellon Foundation, PSEG, Proskauer, WAC Lighting and the Glow Foundation.