originally published: 04/16/2020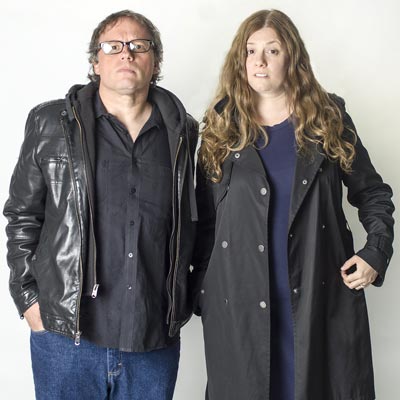 This week also features Brighton Bar, New Brunswick Cultural Center, Crawfish Festival, Makin Waves Fest, Mint 400, Lump 'N' Loaf, Telegraph Hill, Nick Ryan & the Mess, Dano, and Tony Appleseed.

Hillsborough husband-and-wife two-piece Naughty Clouds have released another stunning duet, "Live Your Life," which might be misconstrued as a liberty anthem at a time of crisis if just going by the title, but it's about living your life to the best of your ability. I love the second verse, "Make the greedy people go away. Give them nothing, they've got nothing to say. Join forces, find a better way for everyone here. Help the people standing next to you. Tell them do that with the next one too. Pretty soon, we'll all know what to do and live without fear." Just imagine if we could do that, how much better off the world would be, and the greedy could take the ignorant and apathetic with them.
I also love the soulful vocal blend of Ray Kubian and Alexis Moon that rides above a sparse lo-fi but energetic accompaniment. Like the often environmental-minded 2018 "Everything's Hard" LP, the new single also rides the fence between sincere and sardonic, tells truths and speaks them to power. "Live Your Life" prefaces a second album, "We're All Gonna Die (I Wanna Die with You)." If I don't die, I hope to see Naughty Clouds again soon. In the meantime, check out their living room concerts on Facebook at @naught.clouds.
Are you a fan of Melissa Etheridge? If so, you are going to love Jersey Shore singer-songwriter Brianne Nealon. Having once opened for Kelly Clarkson at PNC Bank Arts Center with her brother, Brian, and sung the national anthem for the New York Red Bulls soccer team, Brianne recently dropped her hearty debut single, the soulful "Playing with Fire." No idle hands for Miss Nealon during the pandemic, she already has readied a follow-up track that will be released on April 24. Brianne regularly performs on her Facebook @briannenealon. Definitely check her out!
Have you seen the video for 2019 Makin Waves Male Artist of the Year Frank Lombardi's gorgeous song "Gracefully?" The vid produced by the Elevation Ten Thousand marketing firm is equally gorgeous and deservedly won a Silver ADDY Award, a prestigious honor granted by the American Advertising Federation. Blending images of Lombardi as a minstrel in the scenic wilderness with him in his familiar setting of a dimly lit nightclub, the clip was directed by James Pickett, edited Blake Cortright and shot by both. Check out Frank's Facebook @franklombardimusic, where he regularly performs live.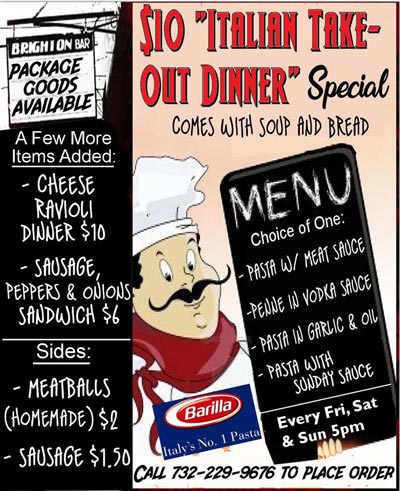 That bastion for all that is indie, the Brighton Bar, pandemically has reinvented itself as a takeout Italian restaurant on weekends. Wanna support the local music scene? Then support the Brighton Bar because no venue in the state is more supportive of local music! And in so doing, you can treat yourself to a variety of delicious entrees with soup and bread for only $10, including pasta with meat sauce, penne in vodka sauce, pasta in garlic and oil, pasta with "Sunday Sauce," cheese ravioli, and sausage sandwich with peppers and onions. Sides of homemade meatballs or sausage are $2 or less. All are available starting at 5 p.m. Fridays through Sundays and can be ordered at 732-229-9676.
"Eclipse" by digital collage artist JoAnn Telemdschinow is one of the pieces featured in a virtual gallery organized by New Brunswick Cultural Center.
New Brunswick's annual Hub City Music Festival that benefits the Elijah's Promise food justice and empowerment program has been rescheduled for September and specific details will be announced when available. In the meantime, organizer New Brunswick Cultural Center is sponsoring two weekly series of socially distanced events on Instagram, both of which are co-organized by Hub City great DRKBXT, aka Derrick Braxton. Record Riot Wednesdays will continue April 22 with DJ Quinn at @quinxbee and April 29 with Chris Maestro (@bierwax). Hosted by rapper Silent Knight, Friday Live next will present Rorschach (Rabbit) on April 17 (@spookyscaryghost) and Rugburn on April 24 (@ruggyburn). Performances stream live from each of the artists' Instagrams. All start at 6 p.m.
Also, New Brunswick Cultural Center is presenting a virtual art gallery on Instagram at @ArtsNewBrunswick and @HubCityMusicFestival and on Facebook at @NewBrunswickCultural Center. Submissions for the virtual art gallery can be submitted to info@centraljerseyartscouncil.org.
Michael Arnone's 31st annual Crawfish Festival has been rescheduled to Aug. 21 to 23 at Sussex County Fairgrounds in Augusta. As much of the original schedule as possible will be retained. Performers on three stages were scheduled to include Anders Osborne, Tab Benoit, Samantha Fish, Christone "Kingfish" Ingram, Southern Avenue, Elektric Voodoo, Bonerama, Big Sam's Funky Nation, Erica Falls, New Orleans Suspects, Honey Island Swamp Band, Ally Venable, Jonathon Long, Amanda Fish, Pine Leaf Boys, Soul Project NOLA, Marcella Simien, Jeffery Broussard and the Creole Cowboys, Terry and the Zydeco Bad Boys, Jesse Lege and Bayou Brew, Big Mamou, and United By Music. Hopefully, they all still can make it, along with a couple of tons of the best crawfish you ever had north of Louisiana, as well as other Creole 'n' Cajun culinary delights, such as crawfish etouffee, alligator sausage, smoked sausage jambalaya, pork jambalaya, red beans & rice, beignets, grilled oysters, and shrimp, oyster and catfish po' boys, which are delicious New Orleans-style subs on French bread with lettuce, tomato, pickles and rémoulade, Creole-spiced mayonnaise.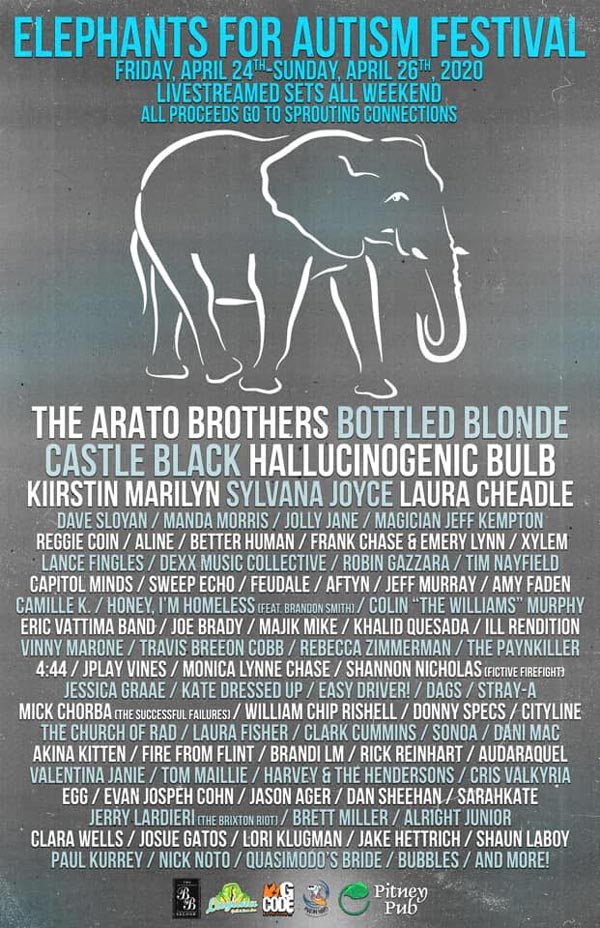 The annual Elephants for Autism Festival will continue as planned April 24 to 26, but online. Online donations will be collected for Sprouting Connections, a nonprofit that helps create job opportunities for those with autism and other special needs. Performing will be more than 70 acts, including The Arato Brothers, Bottled Blonde, Castle Black, Hallucinogenic Bulb, Kiirstin Marilyn, Sylvana Joyce, Laura Cheadle, Better Human, Capitol Minds, Honey I'm Homeless, Kate Dressed Up, Easy Driver!, The Church of Rad, Sonoa, Alright Junior, Mick Chorba of The Successful Failures, and Jerry Lardieri of The Brixton Riot and many more! May the rock gods bless organizer Jerry Ryan, the greatest supporter of local music in South Jersey!

As f0r Makin Waves Fest, the venues hosting it still are closed. If they reopen by May 22, the festival will go on as scheduled. If not, the festival will be canceled, but some of the shows may be rescheduled and/or presented virtually. Whether Makin Waves Fest continues, I encourage you to make donations to its three beneficiaries: Asbury Park Music Foundation, Food for Thought and Jersey Shore Food Not Bombs, all three of which have a huge impact on the Asbury Park area.
Working as hard as anybody to support independent music, especially the Garden State variety, Mint 400 Records has a bunch of tasty new LPs out, including the sleazy, bluesy North Jersey swamp rock of Reese Van Riper's "Electric City," earnest but exotic-sounding singer-songwriter Don Ryan's "Warwalking, Pt. 1," NJ indie faves Guilty Giraffe's self-titled outing, the Minneapolis-mined dark folk of Murzik's "Who Is Gone," and Splendid Engine's "These Songs Will Destroy Us," featuring members of label mates The Bitter Chills and Fairmont, who released the cover project "Songs from the Radio" earlier this year. And then there's "Press Start," the EP by Dave Mooney and Viewers Like You, which was the Makin Waves Record of the Week last week. Look for a Makin Waves review of the Don Ryan record on June 11. May Mint 400's many nurturing shows start up again soon.
Following "Go Home Drama, You're Drunk, and Other Tales of Going Through Hell to Escape the Evil Monkey," the best-ever album by the veteran New Brunswick geek-rock outfit A Halo Called Fred, Central Jersey-based Lump 'N' Loaf Records will take a similar single-by-single approach with Zigman Bird's Keith Beck, one single at a time until an LP comes to fruition. The first outing is the energetic but pretty rocker "White Bouquet," which blends the stinging ring of guitars with beautiful plinks of piano. 
In other LNL news, The Number Theory's David Devine has a new project called DDA. He's currently recording his debut album, but has been releasing live acoustic demos through his Youtube page.
Another great supportive fixture, especially of the Asbury Park music scene, is Telegraph Hill Records, which musically has grabbed the pandemic by the tail. Telegraph Hill nobly has assembled a playlist of live music on a variety of platforms as a big fuck-you to being forced to socially distance in order to stay alive and not infect. Entitled "Crowd Noise: Live from Asbury Park," the collection ranges from several of the label's artists, such as Levy & the Oaks, to AP icon Bruce Springsteen. You can check out "Crowd Noise" on Spotify, YouTube and Apple Music.
"There's a reason the nightlife in Asbury is so vibrant," label co-founding engineer Joe Pomarico said. "The musicians here cut their teeth in front of an audience. From Inkwell open mics to the famed Stone Pony, they've played and won over every kind of audience you can imagine with music, personality and stage presence. 
"Among Bruce Springsteen's many live albums available on streaming services now, only two tracks were actually recorded in Asbury Park," he continued. "I'm sure there are more people out there that will hear what I hear on this playlist – the history of rock 'n' roll being made in front of the discerning local crowds that make or break a band's success." 
Both of the Springsteen tracks Joe mentioned are featured in the playlist. Check it out to see which ones they are, and you'll also find much music history spanning from Bruce's fellow Sounds of Asbury Park architects Southside Johnny, Little Steven and Clarence Clemons to Lynyrd Skynyrd, King Crimson and Umphrey's McGee passing through to today's crowd-pleasing Lowlight, Bobby Mahoney and the Seventh Son, and Remember Jones, who, like Levy & the Oaks, have new or forthcoming releases on Telegraph Hill, as do The Foes of Fern and Taylor Tote feat. Nicky Ryan. 
A "Crowd Noise" online benefit concert for Asbury Park Music Foundation will take place 8 p.m. April 23 here with Pamela Flores, Connor Bracken and the Mother Leeds Band, The Foes of Fern, and Des & the Swagmatics.
Speaking of Nick Ryan, the longtime Taylor Tote (more recent Levy & the Oaks) guitarist has released his debut single with his own band, The Mess. Fans of John Waite, Glen Burtnik, Tom Petty and Bruce will dig "Waiting," which will make for a live stunner once this great band can assemble in public. A mix of lyrical pop-rock and well-meaning sax-driven soul, the track simultaneously will make you move and think.
Congrats to quirky Asbury Park singer-songwriter Dano, whose funny tale of jilted love, "Girlfriend," won Megan O'Shea's third annual Anti-Valentine's Day Contest. Fans of Katy Perry's "Kissed a Girl" will dig it. Expect more as soon as possible from this emerging artist.
Well-respected Jersey Shore producer-engineer Tony Appleseed, who's worked with Candy Cavity, Bone + Marrow, Thomas Wesley Stern, as well as Accidental Seabirds, with whom he also is a member, will drop a new video for "Fragile, Pt. II." The tune is one of the poppier songs off Tony's eclectic 2019 LP, "Entropy," yet, like most of the album, intertwines electric and analog instruments across a variety of music time periods. Like Sting's "Fragile," the lyrics look at the fragility of life on a planet that is being failed, yet certainly will survive without us. 
"Right now, we only have one planet which we are able to inhabit, and our carelessness and pollution is killing the bees, a creature essential to the human food supply chain," Tony explained. "We get caught up in the details of our lives, yet we forget how insignificant we are on a cosmic level. The planets will continue to rotate with or without us, so we may as well try to love our fellow man, and do the best we can."
Tony plans to follow the clip with a five-song EP, as well as video loops for additional songs. On the production front, the Berklee College of Music-trained audio auteur's recent recordings include rockabilly rocker Billy Penn and singer-songwriter Jules Murtha. He's also been mastering Little Big Toe's latest, all at his own AntFARM studio in Freehold.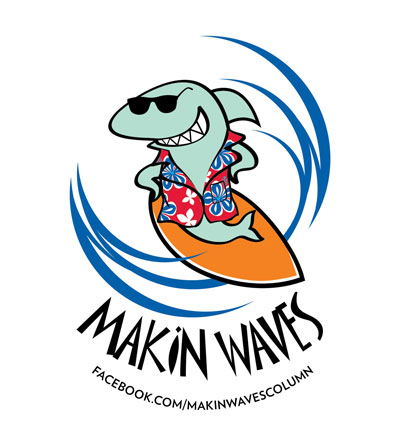 Bob Makin is a reporter for MyCentralJersey.com and the former managing editor of The Aquarian Weekly, which launched this column in 1988. Contact him via email and like Makin Waves on Facebook.