originally published: 03/12/2020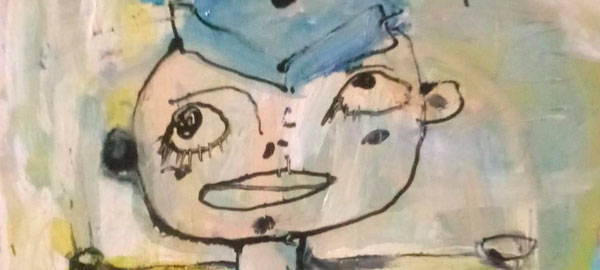 Hamlet Manzueta was many things in his nearly six decades on earth. A fashion designer. A drag queen. A TV host. A longtime Jersey City resident.
He was also a painter and artist, whose work often featured dark colors and cartoonish but gritty figures with large heads, big eyes, and exaggerated mouths.
Even as a debilitating illness made it difficult to move and communicate, Manzueta kept creating art until his died last March at age 56.
"His last drawing was simply a dot on a piece of paper," says Joe Zappa-Costa, a friend who helped care for Manzueta in his final years.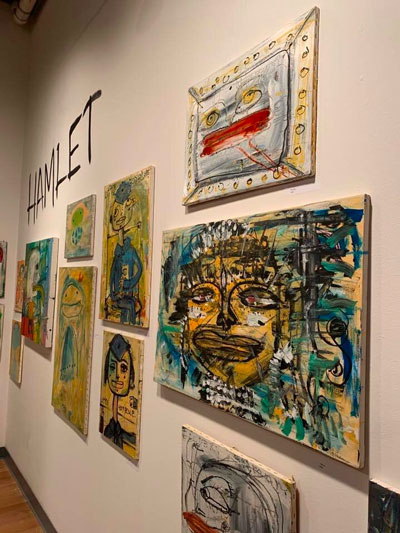 Now, 12 months after Manzueta's death, a new exhibit in Jersey City is keeping his memory — and art — alive. "One Year After," a free show that runs through March 28 at Art House Gallery, features dozens of the paintings and other pieces that Manzueta left behind.
To Zappa-Costa, it's a celebration and reminder of his friend's productive and effervescent spirit.
"Everything here speaks volumes of him," Zappa-Costa, 65, says. "He was open. Open to people. His heart was huge."
Manzueta was raised in the Dominican Republic but moved to New York City in 1982 and soon graduated from the Fashion Institute of Technology.
In the '90s, he became active in the city's drag community. One memorable character he created was named Dolores.
Manzueta also hosted a local cable-access TV show called "The Pot" and held a position designing for shoe and apparel company Fila.
But the last two decades of his life were challenging. Suffering from AIDS, Manzueta spent his final 15 to 20 years living in a care center in Jersey City.
Zappa-Costa met him through a mutual friend in 2017. He took Manzueta on as a patient, visiting him two to three times a week. Eventually, he brought Manzueta to his own house, where the artist continued to paint.
A painter himself, Zappa-Costa wasn't a fan the first time he saw Manzueta's art.
"At first, I said: 'Are you kidding?'" Zappa-Costa recalls. "I'm serious."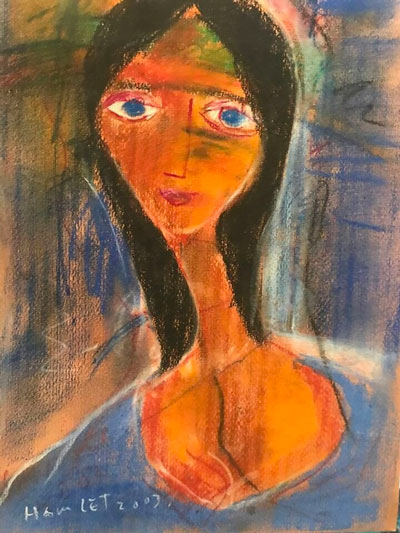 To him, it looked childish or unfinished.
"But we went through every one of his pieces, and I got to know him really well," Zappa-Costa says.
His perception of the work changed.
"It grew before my eyes," Zappa-Costa remembers. "When you stop and just focus on one, it just has a life of its own."
Andrea McKenna, Art House's gallery director and the curator of this exhibit, notes that Manzueta actually had two phases of artwork. His early pieces were "a little more structured," she says.
"After he became ill, it became a little more of this sort of light-hearted, light-touch whimsical drawing, with a lot of color," she explains.
And what may immediately seem immature is really quite deliberate, McKenna says.
"You can see the layers of paint he was using," she says. "He was very intentional about the different smiles he put on them. Sometimes I think it was intentional to look like a child."
"He referred to a lot of these pieces as 'God,'" McKenna adds. "A lot of people would say children are probably the closest to what God is. I think that's kind of in that realm of child-like."
That makes sense, Zappa-Costa says.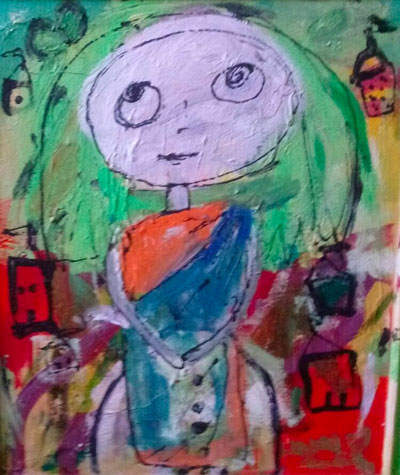 "He was a big believer of your inner child," he says of Manzueta. "He felt that was something we should never lose. That's where your fun comes from, your bliss, not taking life seriously."
Talking was a problem for Manzueta when Zappa-Costa met him a few years ago. With no teeth left in his mouth, it was difficult for Manzueta to pronounce words.
Instead, he spoke with his eyes and expressions, Zappa-Costa says. Often, he motioned his finger toward a person's forehead.
"He was always pointing to your third eye — meaning, 'I see you,'" Zappa-Costa says. "That was his spirituality — his showing his oneness with people."
Manzueta left Zappa-Costa his trove of artwork. And a few months after Manzueta's death, Zappa-Costa visited Art House and suggested a show focused on his friend. Not just to celebrate Manzueta's legacy, but to allow friends, fans, and visitors to buy the pieces on display. (All of the artwork in "One Year After" is for sale.)
McKenna jumped at the idea. She met Manzueta only once — at a retrospective show on his work about three years ago at another gallery in Jersey City. But even though he was ill and relegated to a wheelchair, McKenna was immediately struck by his aura.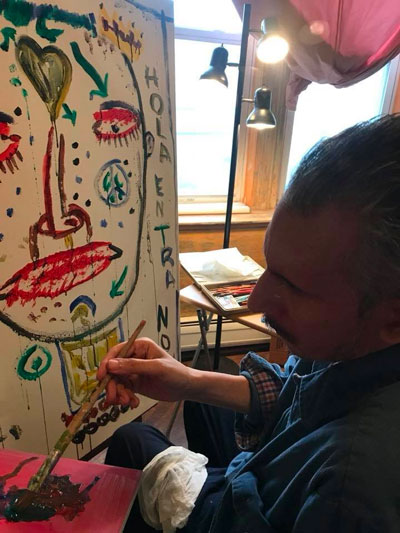 "He just kind of looked over at me and motioned me to come by him," she recalls. "He wasn't really speaking well at that point. And I came over to him and I said hello and I congratulated him on the show, and he just smiled at me."
"One of his friends I spoke to a couple days ago said, 'He was kind of like that person that just got into your soul and made you feel at home, made you feel good,'" McKenna continues. "He just had that ability."
Rows of Manzueta's paintings line the walls of Art House's gallery, located just off the New Jersey Turnpike, near Jersey City's border with Hoboken. (You've probably seen the building — it's the large brick one with a massive mural of David Bowie that's visible from the highway.)
There are also pictures of Manzueta on the wall (including of his drag days as Delores). And in the corner hangs a bright red robe with a black-and-white stiletto heel running down the back that Manzueta designed and painted.
Manzueta used a mix of paints — oils and acrylics. Many are done in dark shades of greens, blues, and yellows.
Zappa-Costa explains that many of the girl figures in the work represent Manzueta's nieces, while the boys often represent the artist himself.
Standing inside the exhibit, Zappa-Costa is grateful it's all come together. And he knows exactly what Manzueta would be doing if he were still alive to see it.
"He'd be here beaming from ear to ear," Zappa-Costa says. "Crying, too. Because he wore his heart on his sleeve."