originally published: 01/27/2020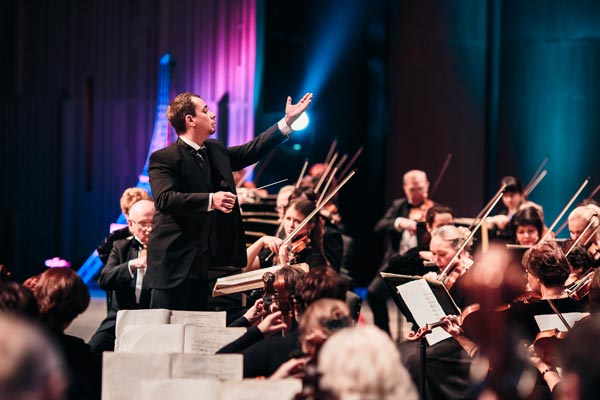 (NEW BRUNSWICK, NJ) -- State Theatre New Jersey presents the Siberian State Symphony Orchestra (SSSO) led by Music Director and Chief Conductor Vladimir Lande with violin soloist Pavel Milyukov on Saturday, February 15 at 8:00pm. Program includes Rimsky-Korsakov's Overture for the Opera Tsar's Bride and Symphonic Suite Scheherazade; Shostakovich, Violin Concerto No. 1 with violin soloist Pavel Milyukov. Tickets range from $17.50-$70.
Led by Music Director and Chief Conductor Vladimir Lande, the Siberian State Symphony Orchestra embarks on an 8-week U.S. tour with a special stop in New Brunswick. The program will include of one of the most paramount works of its kind—Tchaikovsky's Violin Concerto—performed by International Tchaikovsky Competition prize-winning violinist, Pavel Milyukov. The program continues with another master of symphonic storytelling: Rimsky-Korsavkov. The program features Rimsky-Korsavkov's overture to his dramatic opera, The Tsar's Bride, and his spectacular Scheherazade, a wondrous symphonic portrait of the fairy tale collection Arabian Nights.
The Siberian State Symphony Orchestra (SSSO) was founded in 1977. In its early history the orchestra, then led by eminent Soviet conductor Ivan Shpiller, won the reputation as one of the best orchestras in the former Soviet Union. After the fall of the Iron Curtain, the SSSO had started touring internationally to critical acclaim. In 1993, by the special Decree of the Russian Ministry of Culture, the orchestra was awarded the title of State Orchestra; and in 2009 they received the venerable status of a Particularly Valuable Object of Cultural Heritage. In 2015, Vladimir Lande became the orchestra's Music Director and Chief Conductor.
Since then, SSSO has started successful new collaborations with international recording labels such as Naxos, Delos, and Parma Records; and the orchestra's televised concerts became available for online streaming.
About the Conductor - Winner of the Clef D'or Global Music Award and the Award of the German Classical Music Critics Association, Russian-American conductor Vladimir Lande leads Siberian State Symphony Orchestra as the Music Director and Chief Conductor. In 2008, Maestro Lande was appointed Principal Guest Conductor of the St. Petersburg State Symphony, and in 2011 he led the orchestra on a 24-concert "Tour of the Americas."
---
The article continues after this ad
---
---
Lande's vision for contemporary music crosses genre boundaries in projects including Concerto for Chef and Orchestra, and, in collaboration with the perfume industry in France, The Fragrance of Sound. In June 2011, Lande successfully launched a series of video recordings for Naxos titled Concerts from the Palaces of St. Petersburg.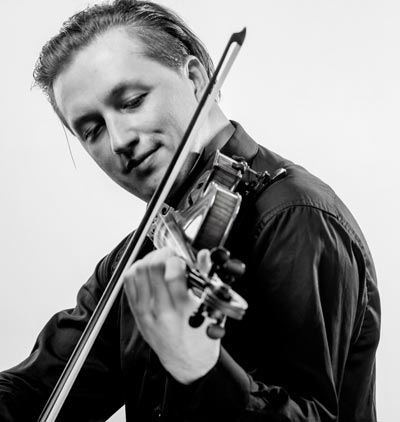 About the Soloist - Born in Perm in 1984, Pavel Milyukov started taking music lessons with Tatyana Shevtsova at the age of four, making his first appearance with a full orchestra at the age of seven. He studied at the College of Music of the Moscow State Tchaikovsky Conservatoire and at the Moscow Conservatoire (class of Vladimir Ivanov). Milyukov obtained a postgraduate degree with distinction at the Moscow Conservatoire in 2012, and another one a year later at the Universität für Musik und Darstellende Kunst in Graz (class of Boris Kuschnir). He is currently studying at the Vienna Konservatorium. Milyukov has twice received a grant from the St Petersburg House of Music and Bank Rossiya.
Since 2008, he has been a soloist with the St Petersburg House of Music. In 2012, he became a soloist with the Moscow Philharmonic. Milyukov also teaches masterclasses in Russia and Brazil.
For tickets, more information, or group discounts, call State Theatre Guest Services at 732-246-SHOW (7469), or visit us online at STNJ.org. State Theatre Guest Services, located at 15 Livingston Ave, New Brunswick NJ, is open Monday through Friday from 10am to 6pm; Saturday from 1pm to 5pm; and at least three hours prior to curtain on performance dates unless otherwise specified.  Additional ticket and transaction fees may apply.