originally published: 01/20/2020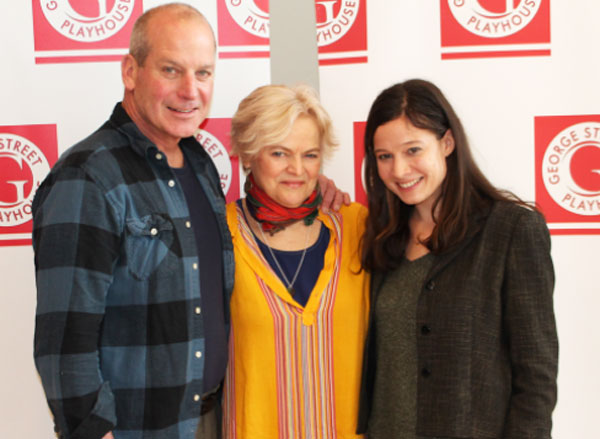 "Midwives" is a story with a sharp knife, lots of blood, a death, and a criminal trial—but no villain.
Chris Bohjalian's play, in its world premiere at the George Street Playhouse in New Brunswick through February 16, is not about evildoers but rather about a woman going about her business when something goes off the rails.
The play, based on Bohjalian's best-selling novel, concerns Sibyl Danforth, a skilled and experienced midwife in rural Vermont, who, with no time to dawdle, makes a fateful decision when a woman's labor goes wrong.
Although Sibyl would normally transfer the mother from home to a hospital in such circumstances, a relentless winter storm cuts off communications and makes travel impossible.
When it appears the mother has died, Sibyl, for the first time in her career, delivers the baby via Caesarian section, using a kitchen knife.
---
The article continues after this ad
---
---
The death of the mother—more precisely, the question of when she died—leads to a charge of involuntary manslaughter and potential ruin for Sibyl and her family.
Ellen McLaughlin plays Sibyl, and Molly Carden plays Sibyl's daughter, Connie, who was a teenager at the time of the crisis and narrates the story as an adult, now an obstetrician-gynecologist.
McLaughlin said her character came of age in the 1960s, and was first attracted to midwifery after she delivered a child without having any training.
"Everyone in the commune she was in was too stoned to deal with it," McLaughlin said, "and it was just the mother and her, and it was a revelation."
By the time of the events of this play, Sibyl, although she did not have formal medical training, had become an expert at helping mothers deliver their babies at home.
"She is somebody you would trust," McLaughlin said. "She knows what she's doing. There's a certain kinds of woman you want in the room when you're birthing a child, and I think Sibyl is that kind of person: incredibly competent, incredibly trustworthy. She's not flighty, and she can focus on another human being and on the job that needs to be done—and she's very loving."
As for Connie, Molly Carden said her character was a "precocious" child who, at an early age, had already witnessed several births, was comfortable with both the reality and the vocabulary around the human anatomy, and was always interested in knowing the truth that underlay what appeared on the surface.
"I think that comes from growing up with someone like Sybil," Carden said, "who's working on the most intimate level with these women that she's helping give birth and seeing the most raw part of their lives. And growing up around that gives Connie a certain perspective on life that is beyond the average person's."
In a sense, midwifery itself is a character in this play, because the story raises questions about the better venue for childbirth—home or hospital.
The actresses said they had learned that midwifery is much more common in western countries outside the United States and that, statistically, outcomes are better for both mother and child when the birth takes place at home.
"One of the myths about midwives," Carden said, "might be that it's a sort of hippy-dippy thing, but I think anyone who's really good at a job like that has to have some sort of fierceness about them—to be in a life-or-death situation on a regular basis. To have the confidence, and the competence, and the wherewithal to deal with that repeatedly, you can't be someone with your head in the clouds. And I think this play shows that."
And McLaughlin said, "I think it makes a real case for why women would want to have a birth at home at the same time that it's very clear about the risks of that."
She said the play presents the crisis Sibyl faced as "spectacularly rare and unfortunate, but that births at home have a quality to them that you cannot get in a hospital, and that there's a quality to midwifery that is entirely different from even the best doctors."
Still, she added, this is not a play that has a message but rather is intended to provoke discussion.
The tale Connie tells in this play is a cliff-hanger, because the outcome is not clear until it is upon the audience.
Reflecting on this, Carden said that the audience experience mirrors what the characters on stage are going through, "this sort of elongated unknown that we're living in, even after almost all of the events of the play have taken place. That's very much a part of the story for everyone."
In fact, Ellen McLaughlin said, the outcome was not what she would have expected as she was first reading the play.
"That's the way the script works," she said, "whatever you were expecting coming in. It doesn't go exactly the way anyone would anticipate."
And, McLaughlin—who herself is a playwright—said, the unexpected is an important part of Bohjalian's approach—"OK, we know what usually happens, but how do we craft an event that goes, not just differently, but that does not conform to anybody's expectations, including all of the characters. There are surprises in it for every one of the characters.
Most plays, McLauglin said, are about a break in a pattern—in this case, in the pattern of a woman's professional life.
"She has delivered 500 children, perhaps more, and this has never happened before," the actress said. "Sibyl has never been in this circumstance. And you find out about characters from what happens when things do not go according to the patterns they have come to expect."
Besides the suspense it generates, this play is unusual in that it is told, not in the linear fashion most often employed on the stage, but by alternating between the time of the birthing event and the time of the trial.
Although this technique is used in novels and movies more often than in theatrical productions, Carden said, "I think it mirrors the way we process things. We make sense of stories by jumping around in time—being ourselves in the present while reliving certain things in the past, but it is definitely challenging for an actor."
McLaughlin agreed that this process, which she called "bouncing," is the way people process trauma: "We keep on being pulled back into the story, and then bouncing out of it. You can't help but go back into it and see it again."
Another unusual characteristic of this play is that its story is driven by four women—Sibyl and Connie plus the birthing mother, Charlotte Fugett Bedford (played by Monique Robinson), and Anne Austin (played by Grace Experience) an apprentice midwife who was present when Sibyl performed the C-section.
Still, there are six male roles, including the husbands of Sibyl and Charlotte and lawyers and others involved in the trial, and they are hardly peripheral.
"I think this play is pro a certain kind of men," McLaughlin said. "There are extremely supportive, loving husbands in this play, and there are men who are trying to understand and trying to help the women. There's a kind of feminism presented that is refreshing. 
"There are no villains in this play. I think that's very intentional on Chris's part—that every single one of the characters has a legitimate point of view."
That quality of the play that does not invite easy up-or-down, yes-or-no answers, strikes Carden as especially appealing.
"This story that Chris has created," she said, "forces the audience to live in that gray area. There are characters who see it as black and white, because that's how they're coping with it, but for anyone looking at it from the outside, it's hard to chose one side or the other or to see things in only one way."
---
To purchase tickets or for more information, visit the George Street Playhouse website or call the box office at 732-246-7717.
---
PHOTO: Ellen McLaughlin, center, and Molly Carden with John Bolger, who plays Sibyl Danforth's husband, Rand, in Chris Bohjalian's play, "Midwives."
---
For more by Charles Paolino, visit his blog.
---