originally published: 01/14/2020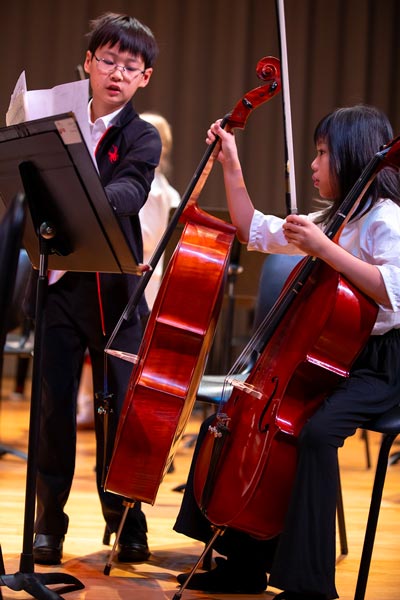 (NEW PROVIDENCE, NJ) -- The New Jersey Youth Symphony (NJYS) invites young musicians in grades 3-11 to attend open rehearsals for Bring A Buddy Week, February 9-13 at 570 Central Avenue in New Providence. Participating students are invited to visit any ensemble of their choice regardless of whether they have a friend in an ensemble. Bring A Buddy Week is free and open to the public. Due to space limitations, students must register online by February 1 at www.NJYS.org. Complete Bring A Buddy Week schedule and ensemble descriptions are available online at the website.
Says Artistic Director and Principal Conductor Helen H. Cha-Pyo, "NJYS is a welcoming community of dedicated young musicians where students can explore their limitless possibilities through high-level ensemble training. If you are looking to invigorate your musical journey, I invite you to come and visit us at any of our open rehearsals. Our professional conductors, friendly managers, and over 500 young musicians will be happy to share their love for music and answer any questions you may have."
The New Jersey Youth Symphony (NJYS), founded in 1979, is a tiered orchestral program offering ensemble education for students in grades 3-12 across New Jersey. NJYS has grown from one orchestra of 65 students to over 500 students in 15 different orchestras and ensembles, including the internationally recognized Youth Symphony. NJYS ensembles have performed in venues including the New Jersey Performing Arts Center, Carnegie Hall, and the John F. Kennedy Center for the Performing Arts. NJYS has received numerous prestigious awards for its adventurous programming from the American Society of Composers, Authors, and Publishers (ASCAP) and has had six European tours, including participation in the Summa Cum Laude International Youth Festival and Competition (Vienna), winning First Prizes in July 2014 and 2017.
Now in its 41st season, NJYS continues to achieve musical excellence through intensive instruction and high-level performance. Under the guidance of a talented artistic team of conductors, coaches, and teaching artists, students are immersed in challenging repertoire, learning the art of ensemble playing, and exploring their potential in a supportive and inclusive environment. NJYS remains committed to programming works by diverse composers and will feature 20th century African-American and women composers such as Duke Ellington, George Walker, Yvonne Desportes, Emma Lou Diemer, Julia Perry, and Florence Price this season. Youth Symphony embarks on a concert tour to Italy in the summer of 2020 that includes a world premiere by emerging composer and Jersey City resident Aferdian Stephens.
The New Jersey Youth Symphony is a program of the Wharton Institute for the Performing Arts. Wharton is New Jersey's largest non-profit performing arts education organization serving over 1,500 students of all ages and abilities through a range of classes and ensembles. In addition to the New Jersey Youth Symphony, programs include the Paterson Music Project, an El Sistema-inspired program that uses music as a vehicle for social change by empowering and inspiring children through the community experience of ensemble learning and playing in its hometown of Paterson. Beginning with early childhood music classes for toddlers, the Performing Arts School offers 500 private lessons and group classes each week, ensuring there is something for everyone of all ages and abilities. 
---